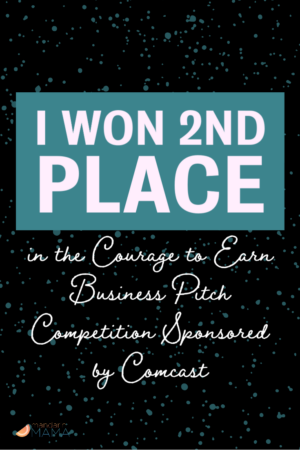 Since 2018, January is when I attend Brandi Riley's Courage to Earn More Retreat. I credit this retreat and the Mastermind that goes along with it as the main reason I am where I am today. Brandi, her tailored coaching, her inspiration, and her practical advice – along with the 100 women in the group and the approximately 25 women at each retreat – give me courage, strength, and knowledge to pursue writing, business, and my wildest and nascent dreams.
What is the Courage to Earn Business Pitch Competition Sponsored by Comcast?
This year, Comcast sponsored the Courage to Earn Business Pitch Competition at the retreat. 1st place would win $2,500, 2nd place would win $1,500, and 3rd place would win $1,000 to put toward their idea. To say I was excited to participate is putting it mildly.
I was ecstatic. Also, slightly nauseated.
My 2020 Word of the Year is Bold – to boldly pursue what I want, what I need to do, and stepping in the power and influence in the positions I already possess. So how could I not pitch even if I was afraid to want to?
What did I pitch?
As a freelance writer and creative, I grew tired of being one of a handful of Asians at industry conferences. My pitch for BrAzn AZN, the only intimate retreat for Asian, Pacific Islander, & Desi Americans (APIDAs) creatives and influencers, won 2nd place and $1,500 in the Courage to Earn Pitch Contest Sponsored by Comcast at the 2020 Courage to Earn MORE Retreat. Though APIDAs consist of 6% of the U.S. population, there are currently zero events serving APIDA influencers.
I long for a safe space for other APIDA creatives to meet, connect, and explore what it means to be an APIDA influencer, our roles and responsibilities (if any), and build relationships with others in our field. Since this is the premier event being held the weekend of 9/25-9/27/2020 in the San Francisco Bay Area, the Courage to Earn funds will go towards producing a logo, marketing content, as well as covering incidental costs for volunteers.
If this sounds like a retreat up your alley, reserve your spot now: braznazn.eventbrite.com.
Who won THE Courage to Earn Business Pitch Competition Sponsored by Comcast?
Caroline Gavin-Jefferson won the coveted 1st place prize of $2,500 for her online boutique for grieving parents. As previously mentioned, I won 2nd place and $1,500 for BrAzn AZN. And last but not least, Elisha Wilson Beach won 3rd place and $1,000 for the Mom Selfcare Series, a series of 5 events designed to build community, promote well-being, reduce stress and provide moms with the tools and skills needed to support a healthy self-care practice.
You can find out more about the Courage to Earn More Retreat – as well as all of us winners in the following article at Comcast.
Three Women With the Courage to Earn More Take the Comcast Business Pitch Competition by Storm
I'm so excited for 2020 and all the ways I will grow and be bold by the end of the year.