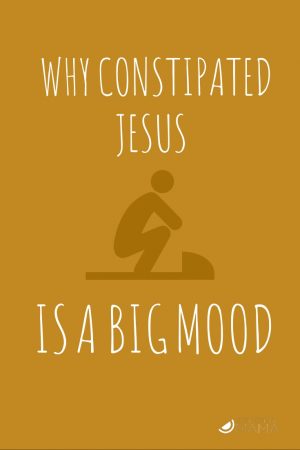 My piece, Constipated Jesus Is a Big Mood, is out today at Diverging Magazine (previously, As I Am) as Day 14 for Lent 2019. The theme for this year's Lent is SPACES [Sacred & Profane]. The first week was all about Presence. This week is all about Movement – either from the sacred to the profane or the other direction. Week 3 is Within and Week 4 is Worship.
If you celebrate Lent, please join us. The pieces are all written by members of the Progressive Asian American Christian Facebook group and I am always amazed at the talent and artistry in our community.
But back to me because it's my favorite subject.
My piece, is for lack of a better term, quite the #shitpost. (Thanks, @symphhh for the brilliant sum up!) Hmmm… that's not helpful?
FINE.
It's the best thing I've written this year thus far, puntastic, and erm, why the Incarnation is so important to me personally.
Also, I talk a lot about poop.
Also, also? I snuck in sexual innuendo.
If that doesn't highly recommend the devotion to you, then I'm not sure we can be friends. Go, already.