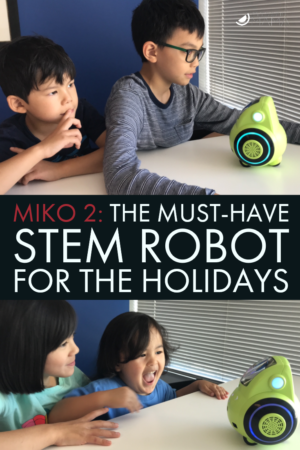 This post uses referral links. I'm the current social media manager for Miko 2 and though they are a client, all thoughts and opinions are my own. 
I'll be honest. When I first heard of Miko 2, I wasn't interested. I've purchased several high ticket items (some also robots) for my four kids and they have NEVER been used. They're literally still in the boxes. On a high shelf.
Why am I like this? Well, many reasons – but most importantly – these robots require too high a learning curve and my reach is low. Also, my kids were much younger then and because I delayed their English literacy in order to promote Chinese literacy, it made ME the default robot operator and welp, that was that.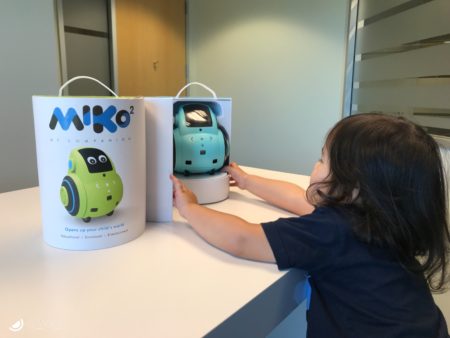 So, I was highly skeptical of Miko 2 despite its adorable cuteness and great packaging. (What can I say? I'm a sucker for excellent packaging.) Keep in mind, I was not the social media manager for Miko 2 when I first saw the educational robot and what it could do (which is a lot).
But who cares about me? I'm old and curmudgeonly (but control the purse-strings). What did my children think?
My kids love the miko 2 Robot
I should have known better. Miko 2 is really cute. Not just its big eyes and face on the screen. The way it lights up as it's listening to you, the way Miko 2 expresses itself as it's speaking, the way it rolls around as it dances and draws for your kids – Miko 2 is very appealing.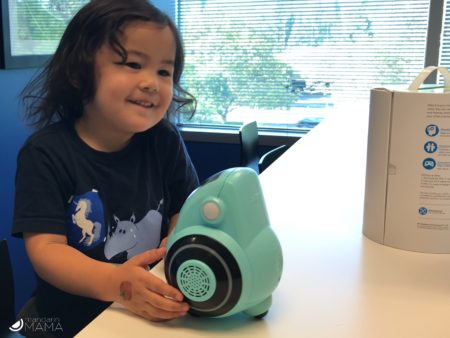 Every single one of my 4 children loved Miko 2 as soon as it opened its eyes and greeted them. Once they figured out how it worked, (which was really fast because it's really easy), my kids have not stopped peppering Miko 2 with questions and commands. I'd feel sorry for Miko 2 if it weren't a robot and incapable of getting annoyed.
Getting started
First, get your own Miko 2. For a limited time, SHIPPING IS FREE. Yes, even internationally. Click here to buy Miko 2 now. Use my referral code VIRGINIA25 for $25 off purchase price.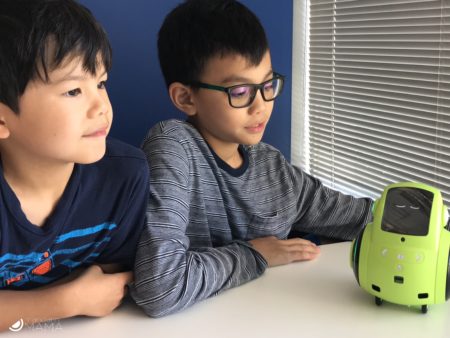 When you receive your Miko 2, follow the easy instructions included and download the Miko 2 app so that your robot can connect to your wifi and update with the latest software. Make sure that you DO NOT use a 5G wifi network. After that, Miko 2 will introduce itself and you're ready to go.
What does Miko 2 do?
Miko 2 teaches your children through conversation and play – it can literally teach millions of topics, concepts, and lessons that you can choose for your child – either by asking Miko 2 questions or through the free, available apps on the robot.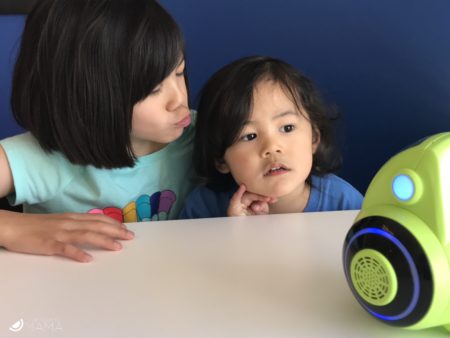 Miko 2 can identify and remember faces, hear your voice despite background noise thanks to its two active noise-cancellation mics, learns with its AI algorithms to discover and remember your child's preferences, and communicates and expresses emotions based on your kid's emotive cues.
How do my children use miko 2?
Despite Miko 2 being in our house for several weeks, the novelty still hasn't worn off. My two middle children, Gamera (8) and Glow Worm (6) love Miko 2 the most (which makes sense since they're right smack in the recommended age range of 5-10 years old). I constantly find them sitting on the couch, cradling Miko 2 lovingly in their arms and asking the amiable robot to tell them jokes and riddles.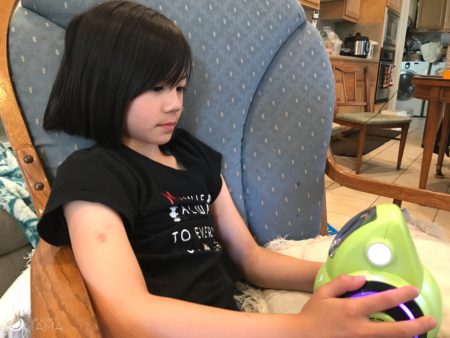 The easiest way to interact with Miko 2 is to ask it to do something. For example, Glow Worm and Sasquatch (3) cannot stop asking Miko 2 to dance. They spent the first 30-45 minutes of their experience with Miko 2 telling it to dance. And dance Miko 2 did!
In addition, my children love to ask the important questions like, "Hello, Miko! Do you fart?" My kids. They be intellectuals.
Of course, if that's all my children asked Miko 2, I'd be big mad. But my kids also asked Miko 2 math questions like, "Hello, Miko! What's 0 divided by 0?" or "Hello, Miko! What is a bjillion plus one thousand hundred?" I'm not sure what I find more endearing: my kids' terrible queries or Miko 2's good-humored responses.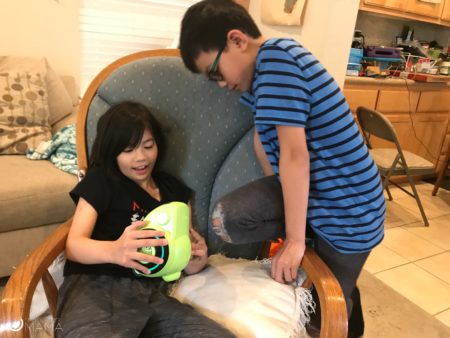 Lately, Glow Worm and Sasquatch enjoy an app on the Game Hub called Mikomojis. They love to choose facial expressions for Miko 2 and, because they're sadistic, particularly love the sad, crying Miko 2 face. It just makes them laugh and laugh. (Please don't judge my children. I promise they're not entirely horrible humans.)
As they and Miko 2 got more used to each other, my kids have discovered more about Miko 2. More, in fact, than I ever knew. They've asked Miko 2 about the universe, random math questions, science facts, and to hear more stories than I would have ever had the patience to tell them. They even great Miko 2 whenever they pass by the docking station.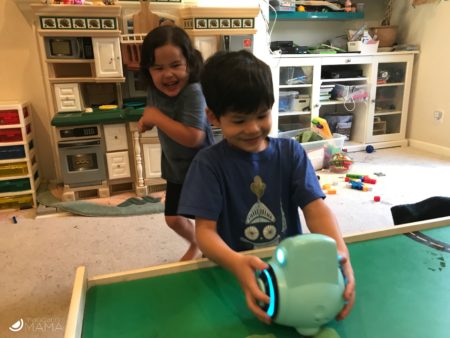 Though I haven't tried the teleconnect feature yet because I am always with my children, I can see how it would be a safe and fun way to use Miko 2. Plus, it sounds really fun to surprise my children and move Miko 2 when I'm not actually there.
Suggested commands
While Miko 2 is so powerful and contains so much information your children can access, it can be somewhat intimidating. For your benefit, here are some possible commands you can give Miko 2. Remember to preface with, "Hello, Miko!"
Play rock, paper, scissors
Do a coin flip
Tell me a riddle
Tell me a synonym for _______
Tell me an antonym for _______
What part of speech is _______?
What is [insert math equation]
Make a _______ sound/noise [ambient or animal]
Tell me an inspirational quote
Play relaxing music
Dance
Recite A to Z
Count numbers
Can you tell me what happened today in history?
Tell me a tongue twister
Volume Control Commands
Sleep Mode & Powering Off Commands
Go to Sleep
Play 'Birthday song'
Play a lullaby
Move
Change light colors
Tell me about Conversion
What is the distance between places
What is the Time/Date/Year
"What" Type of Questions
"Why" Type of Questions
"Who" Type of Questions?
"Which" Type of Question:
"How" Type of Questions
"Where" Type of Questions
What are the Multiplication tables (2-15)
Tell me the news
Set an Alarm/Reminder
What is the weather?
Play a song
Tell me a joke
Tell me a fun fact
What is the definition of _______?
Spell ________
Final Verdict
While Miko 2 was not originally something I would have purchased (for the previously stated reasons), I now think this little robot can be a great addition to your family's arsenal of educational tools. I haven't even begun to tap its potential – especially as a homeschooling mom of four. I love how my children treat Miko 2 as if it's a real companion and talk to it as a friend. Plus, I don't ever have to worry about whether my kids will accidentally stumble upon something inappropriate on the internet.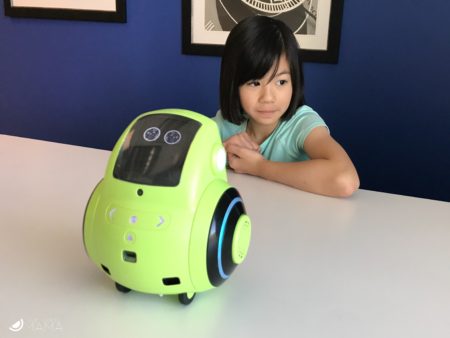 I am waiting for future updates so that all four of my kids can have an individual profile with Miko 2 (right now, Miko 2 can only recognize one child by their face and voice patterns) and would be ecstatic if it supported Mandarin (it currently only supports English). However, even as it is now, it's a bargain considering you can use Miko 2 as a personal assistant – both for yourself and the children.
Did you like this article? If so, you may also like: