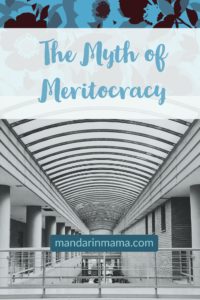 ETA: Apparently, this post has attracted a lot of attention. (Much to my surprise although Hapa Papa has graciously mocked me with, "Do you NOT know how the internet works?") At any rate, if you are new to my blog, might I kindly steer you to my Site Disclaimer & Comment Policy? You don't have to read it, but you are responsible for adhering to it. I don't mind if you disagree with me – that is totally your right. Just like it is my right to not allow any personally insulting or attacking comments. Free speech is guaranteed by the government, not my blog. 
When Hapa Papa and I were first dating, he used to mock me for using big words in common, every day speech. He told me that I was being an elitist and that no one normal could understand me so I should stop showing off. I was greatly offended. I told him, "I had twenty SAT words drilled in my head every week from the 7th grade through Senior year in high school. I read over a hundred books a year. These words are a part of my vocabulary. What the hell were YOU doing in high school? Didn't you study for the SAT?"
Hapa Papa just shrugged and said that he took the SATs once during his senior year. He didn't study for it. Didn't really know he could study for it. He just showed up to take the SAT his senior year. His parents had never spoken to him about college other than telling him he couldn't go to an expensive one. He assumed he'd attend a community college or something like that. His parents didn't encourage him to go to college. (ETA: For those of you who are new to my site, Hapa Papa is half Japanese and half German. I am Pro SCA5 even at the supposed detriment to my own children.) He knew nothing about college applications. No counselors told him what to do. He only took one AP class (he can't remember which subject: English or History) and applied only to one school, Cal State LA (CSULA), and got in (along with some scholarships). That's it.
I was astounded. More like incredulous. I thought his parents and school were horrible.
"They didn't tell you anything? You didn't study at all? You just, 'showed up' one day to take the test?"
"Yep."
"Did you go to school in the inner city? Are LA schools really that bad? How is it possible you did not know ANYTHING?"
My sheltered little brain couldn't conceive of a world in which the parents and teachers did not provide a united push for the sole goal of getting their kids into college. The thing is, Hapa Papa actually went to a pretty good school in LA. (The school where they filmed Grease.) College just wasn't a big deal for him or his parents. Even now, I still have trouble processing this fact.
This scenario of his would have NEVER occurred in my family or my friends' families. NEVER. As in IMPOSSIBLE. ZERO% chance.
By the time I was in 7th grade, the next six years of my educational life were geared solely to get into college. I had tutors. Bought SAT books. Took as many AP classes as possible. Joined extracurricular activities in order to look good on my college applications. Took summer school for "easy" throw away classes so I could make room for more AP classes. I had piano and voice lessons. I was in choir and marching band and the Colorguard. Took the SATs (both the original SATs and then the SAT I and II) multiple times in multiple years. Took PSATs. Took assessment tests for the standardized tests. Took multiple AP tests. Went to college fairs and information sessions. Our classes were geared to getting us into as well as succeeding at college.
All my friends were like me to varying degrees. My best friends made up the top 5% of my class and I rounded it out, the dumbest of all my super smart friends. And even then, my weighted high school GPA was well over 4.0. (I'd tell you the exact number but I really don't remember.) College was NEVER not an option.
Another time, we were hanging out with Hapa Papa's CSULA friends, (who incidentally, were mostly Latino), and they started reminiscing about college. Wanting to contribute to the conversation and bond with them, I started talking about the dorm life and how the cafeteria food was amazing and like restaurant quality when I realized his friends had all fallen silent and just kind of gave me a blank stare. Embarrassed, my voice petered out and never finished what I had started to say.
Later, Hapa Papa gave me shit for being completely tone deaf to the situation. His friends worked through school and either lived with their parents or in the super cheap fraternity house. Their dorms weren't fancy and they didn't have amazing restaurant quality cafeterias. He called me a spoiled little rich girl. I felt foolish and ashamed.
I remember a Latino friend at UCLA telling me how angry he was when he realized just how different his schooling was from the majority of other UCLA students. He felt constantly out of place and kept thinking he didn't deserve to be at campus even though he was in the top of his high school. He had started to think he was stupid and slow at picking things up when he realized it wasn't because he was stupid. It was because the other students had ALREADY learned these subjects in high school and were taking them again for an easy "A."
I remember a black friend at UCLA who was clearly smarter than me, worked harder than me, came from a similar socioeconomic background and completely deserved to be at UCLA and yet, people always assumed he got in because of affirmative action. Even back when I was at UCLA, a time before Prop 209 killed affirmative action, at most there were one or two black students in my classes of three hundred. There were so few black people on campus, even though the student population in the late 1990s was approximately 35,000, they knew all the other black students by sight if not by name.
Where am I going with all this?
This past week, I have seen many of my Asian friends post "No on SCA5" on their Facebook feeds, linking articles on how the bill is racist and discriminatory and how it is a new version of the Chinese Exclusion Act. SCA5 would repeal provisions of Prop 209 and allow the State of California to deny an individual or group's rights to public education on the basis of race, sex, color, ethnicity, or national origin. In layman's terms, SCA5 would re-allow CA to use race as admissions criteria for UCs and CSUs. Basically, to re-allow affirmative action in UCs and CSUs.
According to UC data, the UC's 2013 freshman class was 36% Asian, 28.1% white, 27.6% Latino and 4.2% black. At some campuses, including UC San Diego and UC Irvine, Asians are more than 45% of admitted freshmen this year. As of 2010, Asians made up only 14.9% of CA's population.
If SCA5 passes and UCs and CSUs want to increase Latino and black student populations, due to the immutable properties of math, Asian and white student populations will decrease. And since Asians make up the predominant group, it is highly likely Asians would be the most affected. Understandably, many people (especially Asians) are up in arms over this.
I get why my Asian friends are angry and upset over SCA5. When I was applying for colleges, I remember debating whether or not I should tick off "Asian" when applying. After all, that could hurt my chances to get into school. And now, if SCA5 passes and isn't repealed, when it comes turn for my children to attend university, their chances of getting into their colleges of choice will also be impacted.
It doesn't seem fair. Why should blacks, Latinos, and heck, whites, get my kids' spot just because of their race? They should work hard, get good grades and EARN their way – just like the rest of us.
But what is fair? On the surface, merit-based ONLY (the status quo) seems fair. But is it?
I want meritocracy to be true. I don't want to admit that I did not get to where I am by myself – that I had help. But truthfully, I did. I benefited from tutors, better teachers, schools, and environment. I grew up without the expectation of violence. I had trusted advisors (who had already gone to college) show me what I needed to do in order to get into UCLA or similar institutions. Many of my extra-curricular activities were possible because my family had enough money so that A) I could do these things and pay for the materials they required and B) I wouldn't have to work because I wasn't expected to contribute to the family income.
In addition, I grew up in an environment where attending college was the rule not the exception. Being Taiwanese and the daughter of two MBA graduates makes it assumed that I would make good grades and go to a good school. Whatever you think of the "model minority myth," society constantly reinforced the idea that I was smart, great at math and sciences, and would likely become a doctor.
I want to believe that I am singularly awesome and responsible for my success. I don't want to believe that the black or Latino student who didn't get into UCLA likely could've gotten in and done BETTER than I had they my advantages. Who wants to think that of themselves?
But when I honestly look at myself and my work ethic (or complete lack thereof), if situations were reversed and I was in an environment where succeeding at school was considered being a "race traitor" or I had few examples of academic success or all of society was telling me that I could only be successful as either a rap star or an athlete but never an intelligent human being and that I was most likely a thief, a thug, or a drug dealer and going to be knocked up at fourteen or incarcerated, I really don't think I would have the mental fortitude or personal strength to overcome all of that. 
Even just from the anecdotes I included at the beginning of this post, without doing any research at all (which also backs up what I am saying), it is evident that there are huge differences in student backgrounds.
Money, neighborhoods, schools, race, and cultural expectations make it impossible to have a level playing field. 
Obviously, not ALL blacks and Latinos grow up in poverty. That is clearly false. However, at 12.6%, Asians have half the poverty rates of Latinos (23.6%) and African Americans (24.2%) in California. (Whites are at 9.8%.) So, even though not ALL blacks and Latinos have to overcome immense hurdles, many do. Besides, I'm not worried about the rich and middle-class black/Latino kids. They would get into the UCs and CSUs without affirmative action. But this helps blacks and Latinos who may not have the same grades (especially weighted grades) or access to AP classes, tutors, etc. and had to overcome overwhelming odds to get the opportunity to attend school.
Furthermore, even though Asian households have the highest median income in America, that fails to distinguish between different ethnic groups with different histories. When divided up by ethnicity, the majority of economic and academic success is concentrated in Chinese, Japanese, Korean, and Indian Americans. Cambodians (14.6%), Hmong (16%), Laotians (13%), and to a lesser extent, Vietnamese (26.1%), have college graduation rates lower than the US national average (28%). Additionally, one in five Hmong and Bangladeshi people live in poverty.
These are the Asians most likely to be hurt by SCA5. (Not the vast majority of Asians who are protesting on Facebook.)
There are no easy answers. There are limited spots. But sometimes, people in privilege have to give up some of theirs in order to allow other people a seat at the table. That is the burden and responsibility of being in a "majority" or in a seat of privilege. And in this case, I would consider Asians to be in the majority since they occupy a huge portion of spots at the UCs and CSUs.
Remember, Asians benefited greatly from the advocacy and rights of blacks and Latinos. We benefit from their fights for racial equality yet rarely do anything to help out their causes when we could. We Asians think that we achieved all our successes by ourselves when we wouldn't even be in the conversation if it were not for blacks demanding their civil rights. We can't have our cake and eat it too.
How hypocritical for Asians to demand opportunities in situations where we clearly benefit but not offer others that same opportunity where we would NOT benefit? Where would we be in other areas (bamboo and glass ceilings) if many whites did not give up some of THEIR privilege? Where would we be if blacks and Latinos had not fought for equal opportunities in employment, housing, and education?
Though much of our personal successes are due to our hard work, how much of that would have mattered if our rights were not secure in the first place? We Asians forget that we stand on top of the backs of our black and Latino friends as they paved the way and fought for our right to be here. 
What good does it do us if we succeed at the expense of blacks and Latinos? Who will come to our aid when we need it? (And believe me, we will need it.)
We are too afraid and pinning too much of our hopes and dreams on getting into certain schools. The truth is, there are so many opportunities out there. It SEEMS like a zero sum game where there is one pie and fuck it we're losing some of our slice to blacks and Latinos. But in reality, our kids who would succeed at UCs and CSUs would succeed in many different schools. They will be fine. There are SO MANY pies. (Mmmm… pies…) UCs and CSUs are NOT the only game in town. There are many ways to succeed.
We do not need to fear.
Ultimately, is SCA5 fair? I don't think so. But until I see Asians rallying with equal fervency against the unfairness of impoverished schools, the many Latino and black kids in underperforming school districts, living in areas of violence, drugs, broken families, and hardship, which, unsurprisingly, leads to it being much more difficult to do well in school (especially if you may be the first kid in your family to go to college), I am going to vote Yes on SCA5.
[youtube=http://youtu.be/BEO3H5BOlFk]
Suggested Reading:
NY Times: Asian Americans in the Argument
14 Important Statistics on Asian Americans
Reflections on the Rise of Asian Americans or Don't Believe the Hype
Intelligence Squared Affirmative Action Debate (Hat Tip: Andrea Lee)
Myths and Realities of Affirmative Action for College Bound Students
Minorities and Whites Follow Unequal College Paths