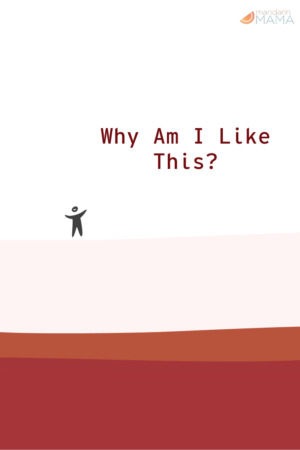 Friends, I am lowkey stressing out. Mostly because I am overthinking and not doing.
If you're new here, you might as well learn now that if something can be made more difficult and broken down into a million more steps than necessary, THEN I CAN DO IT.
I haven't written about this stuff in awhile because quite frankly, it's embarrassing at how little I progress in this area. However, I am so blocked in my writing (well, not THAT blocked, but the kind of writing I would like to do, I'm stuck on), I'm gonna shoot for another #shitpost.
Make of this what you will. You've been warned.
Here then is a list of all the things that are causing me a non-zero amount of anxiety:
1) I promised my children "fun" in Taiwan. I'm not entirely clear (even after asking them) what they mean by fun but this really ruins things for me because I hate planning fun things to do because it stresses me out. Also, all this stuff would require me to research things to do in Taiwan and it will usually lead me to a website all in Chinese and that also stresses me out.
2) Included in the above point is the need for me to book hotels for when I visit family in Kaohsiung. (Incidentally, I just had a minor freakout about how to spell Kaohsiung when Google solved that in less than a second but this just goes to show you my mental state at the moment.)
3) I don't know if you can tell or have noticed, but things have moved around a bit on my site and that is also stressing me out. Not because it's a bad thing. I mean, I paid the incomparable Kuleen Lashley to help me with SEO and site categorization and stuff but AAAAAAAAAAAAAAAHHHHHHHH it's a lot of work to do her homework and I keep forgetting that I don't have to do everything at once but honestly, it hurts everything inside of me to do things piecemeal.
4) Speaking of doing things in piecemeal, I have also been slooooooooowwwwwwlllllllyyyyyy updating my portfolio and it's also killing me. My business coach, Brandi Riley, is the genius who told me to do updates on each thing 15 minutes a day and bam! Done! Which is brilliant (and just goes to show you how lame I am for not thinking I could do that) but but but but… I am doing it. I am doing it!
5) This is also why so much shit piles up on my kitchen table and then I don't do it ever because it will take the rest of my life to sort non-junk mail and pay medical bills on time. I swear I'm not a dead beat. I'm just stupid.
6) I'm trying a new thing because of Brandi – well, it's not new, but I tried a new tracking thingy for it in my planner and it's so basic and yet, THE STRUGGLE. WHY IS IT SO HARD FOR ME TO ADULT?
7) I'm coming across really incompetent. I swear, potential clients, I am a responsible person and can write good and before deadline. 
8) I just don't understand how I am such an extreme person. My therapist mocks me all the time about how everything is all or none with me. Even I mock me about it. Is it because I'm a Virgo? Yes, let's blame it on long dead stars in random configurations based on ancient myths not of my people.
9) My 2019 Word of the Year is consistency and I'm not sure if I'm failing or succeeding at the attempt to be so. I'm gonna go with yes?
10) SERIOUSLY, WHY AM I LIKE THIS?
11) Also, am I the only one?
12) Did I mention to you that I still haven't unpacked all the bags from my Taiwan Trip 2014 and at this point, it's probably best if I just throw it away but I have looked inside the bag, deemed most things useless, and then put the bag back in the closet?
13) I AM REALLY DISTRESSED. WHY AM I THIS WAY?
14) Here's another example of what is stressing me out about Taiwan. Do I bring my super expensive bras that I recently purchased at the beginning of the year but Taiwan will destroy (and sadly, I have since gained 20 pounds WHHYYYYYYYY and now the band is TOO TIGHT BECAUSE OF BACK FAT) or do I wear my old nursing bras that make me die inside but then I don't care about them if they die and are destroyed by constant washing? OOOOORRRRRR do I go to Target and buy two cheap bras so I don't have a uni-boob but then also don't worry about ruining said bras?
15) Also, same problem re: dresses. I would wear my maxi-dresses but then they will drag in Taipei street filth and I should just wear linen pants like I always do but PANTS HAVE WAISTS AND BECAUSE OF AFOREMENTIONED 20 POUNDS I DO NOT WANT WAISTS IN TAIWAN MUGGY HUMID HEAT. So, do I bring these dresses to Taiwan or buy midi-versions of these dresses but then I will have too many clothes and Hapa Papa just told me to lay off the spending already and AAAAAAHHHHHHHHHH!!!
16) ASDL;KJFDASKLJFAAJDSK;FAJAFADK
17) WHY AM I LIKE THIS? IS THIS WHAT ANXIETY LOOKS LIKE? NOW I'M ANXIOUS THAT MY ANXIETY MAY MANIFEST DIFFERENTLY THAN OTHER PEOPLE'S ANXIETY AND MY WHOLE LIFE IS A LIE.
18) AM I ACTUALLY ANXIOUS ABOUT NOT BEING ANXIOUS CORRECTLY?
19) AAAAAAAAAAAAAHHHHHHHHHHHHHHHHHH!!!!
Oh, ahem. I promise I'm not like this normally. (THAT IS A LIE!!!!) Very well, I am like this normally. But I try not to let it show on this blog too much because who wants to read this type of brain spiraling all the time? I sure don't.
But it is helpful occasionally to show you how my brain works. (My therapist says I'm exhausting.) And also, to get this mental flotsam out so I can get on with the business of living. (The slog that it is sometimes.)
Thanks for listening. I hope if it's not boring, at least makes you feel less alone if your brain is prone to freaking out like mine is.