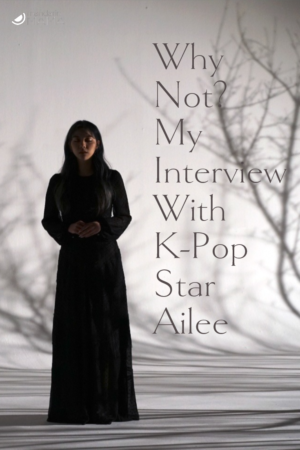 Friends!!!! I got to interview K-pop star and powerhouse vocal Ailee last week over the phone. I wanted to scream to the mountain tops to every person on Earth, but I also didn't want to jinx it. (Hey, I'm very wary of hubris, okay?)
Anyhow, I'm beyond thrilled that my profile on Ailee, her new English single "Sweater," and her career is up on the Mochi Magazine site. Being the Entertainment Editor and a K-pop fan surely has its perks. She even gave me a special message to deliver to her fans.
Below is an excerpt of my article, "Why Not? K-pop Star Ailee Dishes on Her New Motto."
Although she didn't start off the "Sweater" project expecting or wanting a certain result, Ailee explained, "Because of the songs that I've already put out for [my] fans to listen to, they wanted me to come out to the States and sing, like BTS and other K-pop artists who are trying to make it in the States." Ailee challenged herself with a new goal, just as she challenged herself when she came to Korea to start her music career. "I just thought 'Why not?' The opportunity itself just amazes me."
If you had told me at the beginning of the year that I would have interviewed a K-pop star like Ailee (or all the other actors and artists) or attended a red carpet premier, I would not have believed you. My dreams are literally coming true.