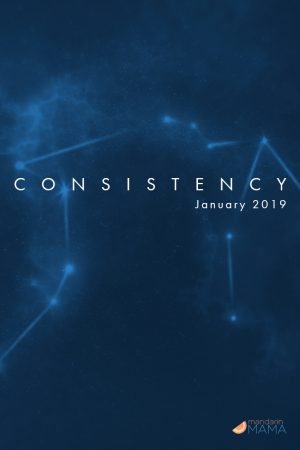 Ah, friends. I keep seeing all over the internet that January was a long year and am I the only one who felt that I blinked and it already passed?
The lack of snow days likely helped.
I know that time dilates to a billion times longer when the children are home when they're supposed to be not home but since I'm used to them being home all the time and we don't do snow here in the Bay Area, it wasn't too bad.
Oh, who am I kidding? The first two weeks of January were a wash and though they did not feel long, we also did not much at all.
My husband was displeased but quite frankly, I'm only dissatisfied because he's giving me shit about it. Not because I particularly care either way.
I really don't see how the kids think Hapa Papa is the favored parent when I clearly let them get away with more shit than he does. It's unfair, I say. UNFAIR!
Oh, wait. This post is supposed to be a check-in to see if I've been Consistent with my 2019 Word of the Year.
Very well. Here's how I've done in January. (If you want the full list of things, please visit the original post.)
1) Take Care of My Health
I am pleased to have done pretty well in this category except in terms of taking daily vitamins. But otherwise, I have been good about my previously embarrassing lack of dental and facial hygiene. I haven't been perfect, but definitely more consistent than I ever was.
One other thing I could improve on is writing daily. I have not been and how can I call myself a writer if I'm not writing and dealing with my internal crap?
Good writing always comes from a place of truth and self-awareness. Since I'm generally emotionally stunted, I need to journal in order to cut through all my bullshit to get to the heart of my thoughts. No journaling? No truthy thoughts.
2) Take Care of My Life
Hmmm… this has not been good. I have minimally tried to be more present with my family, but honestly, although it's fun to be with the kids and tickle them and enjoy them more in the evenings or mornings or throughout the day, it's "fun."
Like medicine.
I still love my kids most when they're asleep.
Even though I mentally know that I'm missing out and that I'm basically some taskmaster that appears in their life telling them what to do and providing for their physical needs, I'm not the heart of their lives. That belongs solely to my husband.
I suppose I have ceded that place in their hearts to him, but it's not a zero sum game. The heart is an ever-expanding organ.
I confess, it makes me uncomfortable to be present. Ok, it's not that new a revelation. But because I find it discomfiting, I do not do it.
This applies also to my relationship with Hapa Papa. But we did have a few honest and real conversations this month – so I guess that's a minor improvement.
As far as taking care of the mail and the daily crap of living, I've done better. I'm caught up on mail and filing! (Don't get too excited. I'm usually really good in January. It's months February through December that are the problem.)
My house is still a dumpster and I am several months overdue for car maintenance. Sigh.
GOAL for February: Take both cars in for maintenance.
3) Take Care of My Work
I've been okay at this, too.
If you're a newsletter subscriber, I told you about this last week. (And if you're not, WHY ARE YOU NOT? Go sign up here.)
I started a short term writing prompt challenge and even if you're not into writing prompts or challenges like I suspect many of you aren't, I think the post is worth reading because it's about WHY our ordinary stories are important – especially for women and people of marginalized communities.
I also started reading my work out loud and posting them as videos. This appeals to me because I like hearing me read my own stuff and want people to hear it. This is scary because I don't want people to think I'm an attention whore and too into myself.
But you know what? I don't care. If I didn't think I had anything worth saying, why would I be writing?
So, here's a video of me reading my favorite piece from 2018: The Memory of Fear.
And here's a video of me reading a long time favorite, Eat the Bacon First.
Plus, I also did a bunch of backend tweaks to my site and LinkedIn portfolios. So, I'd give myself a passing grade even though perhaps I could have been slightly better at meeting certain deadlines.
But all in all, I'm satisfied with the work portion.
Ok. All this talking about work and consistency has made me want to dive back into the comfy arms of kdrama, SKY Castle, and BTS. At least I'm super consistent about whiling away my time on important things.
See you in a month!