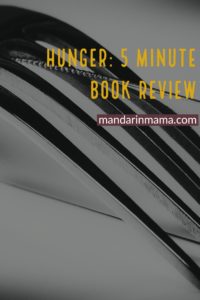 *This post contains Amazon affiliate links. 
Title: Hunger: A Memoir of (My) Body
Author: Roxane Gay
Publisher: Harper
Genre/Category: Memoir, POC Author, WOC Author
Summary: Gay writes a brutally honest memoir of her body, of her eating, of her weight, of her inability to lose her weight, of why she gained the weight, and of so many other things that are not related to weight or food but are equally and perhaps moreso about hunger.
Rating: 5 out of 5 stars
5 Minute Review: So achingly sad. Hunger is aptly named.
You feel Gay's ferocious hunger – both literal and metaphorical.
My heart breaks for her. I sympathize in my limited capacity. I am grateful for her opening wide so we can glimpse her hunger and brokenness.
Gay's writing is haunting, melancholic, and deep. Her writing is the kind that cracks me wide open and all sorts of feelings leak out. Feelings that I have been shoving down, trying to bury, trying to forget, trying to unthink or unfeel.
Her book reminds me of all the things that I hunger for, the things that I want and desperately desire, and then try to fill with completely inappropriate or inadequate things.
I had to space out the reading of this book because it is too raw. Too painful. Too brilliant.
She writes in a way that I want to write. Gay reminds me of the best of Radiohead or Tori Amos.
She is luminous.
Utterly fantastic.