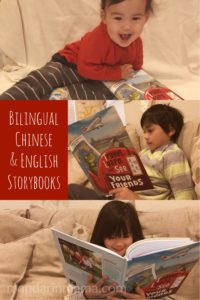 ** Today's post is sponsored by Travel, Learn and See Your Friends: Adventures in Mandarin Immersion by Edna Ma. I also received a review copy of the hardcover. As usual, all opinions and thoughts are my own. This post includes Amazon affiliate links (the price you pay is the same; Amazon shares a tiny bit of that with me). Also, leave a comment about your favorite Chinese story on this post by Monday, 1/15/18 at 11:59pm PST for a chance to win this book!
People often tell me that I'm a little bit too hard core for them about teaching my kids Chinese.
I get it. I really do.
I know that most of you who want to teach your kids Chinese are not going to homeschool, spend thousands of dollars on Chinese books, or head back to Taiwan for weeks at a time.
Sometimes, I think I'm just a smidge overboard about it all, too.
I know that many of the books I discuss are hard for folks to access – either because you have to navigate online bookstores in Chinese and figure out international shipping or because you have no way of reading the book to your kids even if you bought it.
This is when bilingual books with both Chinese and English on the same page can come in handy. Today's book, Travel, Learn and See Your Friends: Adventures in Mandarin Immersion by Dr. Edna Ma, can solve several of those problems for you.
First, you can buy it on Amazon.
Second, it's a bilingual book! That means the story is written in English, Simplified Chinese, and also has pinyin so even non-speaking parents can "read" the book. Plus, there will be a YouTube video by Linda Yi of Panda Cub Stories narrating the whole book so you can follow along!
As someone who is not functionally literate in Chinese, I cannot tell you how annoying it is to have all these awesome Chinese picture books that are made for parents to read to their children except, womp womp, I'm illiterate.
I see a wall of Chinese text and I want to cry. Or scream.
But now, here's a book with Simplified Chinese (for my kid to practice), pinyin (to support me or your children as they read the Chinese), and English (so I can understand what I just read!).
Alright, alright. So it helps you overcome these hurdles. What is this book about?
Travel, Learn and See Your Friends is based on the real friendship of Dr. Ma's son, Dean, and his friend, Ethan, when they were first-graders attending a Mandarin Immersion school. Through their friendship, the boys learn about different reasons to learn Mandarin, their own families, and the world. They even come up with a clever idea to keep in touch when Dean finds out he is moving.
Here's what I love most about this book. It is a bilingual book featuring children who live in the US, doing normal every day things. That's practically a unicorn!
It's refreshing to see a Chinese/English bilingual book that has nothing to do with living in a Chinese speaking country, doesn't feature animal characters, and is not a re-telling of a Chinese Myth.
Travel, Learn and See Your Friends features elementary school kids at a US based Mandarin Immersion school and is a completely original story.
Furthermore, this book features main characters who are people of color. Dean is Chinese American and Ethan is African American and guess what? The book doesn't make a big deal out of it at all.
It is so rare for children's books with main characters of color that are NOT about something "ethnic" or "after school special" or "foreign holidays."
I cannot tell you how exciting it is to have a book with a Chinese American kid that is not about Chinese New Year or the Autumn Moon Festival or an African American kid that is not about Martin Luther King Jr. or slavery or Civil Rights.
Seriously. This book is a unicorn.
On top of that, the illustrations are engaging and show families of color in loving, normal, every day situations. That is a powerful thing.
Despite there being essentially 3x the amount of text in a normal story book in order to accommodate all the translations, the layout never feels too crowded or claustrophobic. Again, that is a hard thing to accomplish and still have a longer and coherent story.
Third, I love supporting women of color authors. Yes, white people can definitely (and should, if we're being honest) write characters of color in a fully developed and appropriate manner. But there is just something beautiful to me about books with kids of color in it written by a person of color.
Representation matters – in all aspects – and in our current clime, more important than ever.
Here's my main concern about this book. It is very obvious that the Chinese version does not flow the way a story authored by a native speaker would. Though the Chinese version is literally accurate and grammatically correct, it lacks spirit – that spark in the language the English version has.
The Chinese stumbles most while describing events or explaining a situation. Sometimes, it is because of a regional preference like using 襯衫 (chen4 shan) vs 上衣 (shang4 yi) for the term, "shirt." Other times, it is because though the sentence is technically correct, it is not the words you would use when telling a story to children.
Don't worry too much, though. Your children (and myself included) will learn different ways to express an idea and have a richer, more adult vocabulary as a benefit.
The Chinese is much more natural sounding when it is a conversation between the two boys and between the parents and children.
Keep in mind, Dr. Ma grew up speaking Cantonese and English so she wrote the story in English and hired several Chinese translators to do the Chinese version. You can see the care and attentiveness to accuracy reflected in the text. I only wish that the translators were a bit more creative in their expressions!
That said, this book is good for people who have found it difficult to find quality Chinese and English bilingual storybooks for their children. The pain of reading a book to your kid in Chinese has now been removed. (Again, there will even be a YouTube video narrated by Linda Yi of Panda Cub Stories.)
Plus, you can find it on Amazon instead of hoping you didn't just buy a llama on a yacht and promise your firstborn to pay for shipping on an all-Chinese online website.
Also, this Travel, Learn and See Your Friends makes a good gift for kids in or considering Mandarin Immersion programs, kids who want to learn about other languages, and quite frankly, kids in general.
Cookie Monster (8) and Gamera (6) read most of the passages with ease (Cookie Monster knows ~1300 characters and Gamera knows ~1100). They cannot read English or pinyin so they really were reading! (I was frankly, quite surprised.)
I left the book out on the kitchen table to see what would happen and over the course of two weeks, I saw Cookie Monster pick up the book several times (without me ever asking), flip through and peruse the story. He said he liked the illustrations and clearly understood the story and the characters (remember – he can't read English or pinyin).
Gamera saw the book and asked about it, but she did not want to read it. She has been anti-reading lately so it was most likely that.
Even Glow Worm (4) would pick up Travel, Learn and See Your Friends and look through the pictures for a few minutes. He DEFINITELY cannot read any of the languages!
I've included some pertinent details, pictures, and video below.
Title: Travel, Learn and See Your Friends: Adventures in Mandarin Immersion
Where to Buy: Amazon
How to Enter the Book Giveaway: Leave a comment about your favorite Chinese story by Monday, 1/15/18 at 11:59pm PST in the comment section of THIS POST. (Do NOT comment on Facebook, IG, Tw, postcard, or snail mail.)
Sample Pages: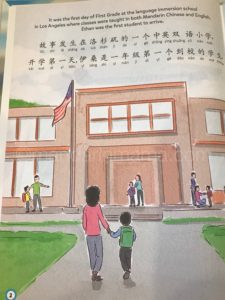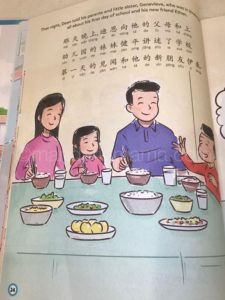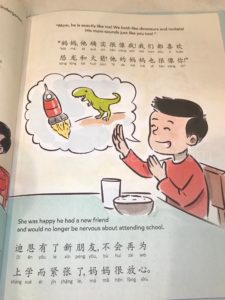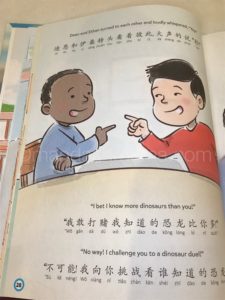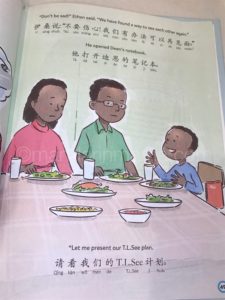 Here's a snippet of Gamera (6) reading two pages from Travel, Learn and See Your Friends. Keep in mind, Gamera also does not know how to read English or pinyin so she is only reading the Chinese characters.
Here's a snippet of Cookie Monster (8) reading an excerpt. Keep in mind, Cookie Monster also does not know how to read English or pinyin so he isn't "cheating," either.
Thanks again for reading! Please be sure to check out Travel, Learn and See Your Friends on Amazon (I believe there is also an audio clip you can hear.)
Don't forget to leave a comment about your favorite Chinese story on this blog post by Monday, 1/15/18 at 11:59pm PST for a chance to win this book!