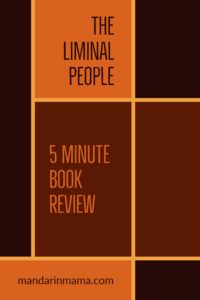 If you're a long time reader, you may remember me doing some posts on books in the past. I have wanted to do book reviews for a really long time, but always got intimidated by people who write lengthy reviews because honestly, as wordy as I am about other things, I am NOT wordy about book reviews.
However, now that I've gotten several months of 5 Minute Book Reviews under my belt, I'm a little more confident that I can write NON-Chinese related book reviews in this style.
Of course, this being my blog, I'm preferential to Regency Romance novels, speculative fiction, and women and people of color authors and main characters.
So, without further ado, I bring you the first series (because let's face it, I read series) that I'm officially reviewing for myself.
*This post contains Amazon affiliate links. 
Book:The Liminal People, Sequel(s):The Liminal War, The Entropy of Bones
Author: Ayize Jama-Everett, an African American speculative fiction writer
Publisher: Self-published; Small Beer Press
Genre/Category: Speculative Fiction, Near Future Fantasy, POC Author, POC Main Protagonist
Summary: Kinda like if the X-Men were an all black (or black dominant) cast set in London and Morocco.
The Liminal People follows the story of Taggert, a man who has the power to hurt or heal people just by touching them. He finds out that his biological daughter is missing and he goes AWOL from his super-villain employer (who has unknown powers) to find her and keep her safe.
The Liminal War deals with the fallout of Taggert's previous decisions as his adopted daughter now goes missing. Lots of mayhem and even more people with powers come out of the woodwork.
The Entropy of Bones is not a direct sequel, but is set in the same universe. We get the origin story of one of the side characters that show up to bail out Taggert and the crew in The Liminal War. (Full disclosure: I have not yet read this book. It is in the queue.)
Rating: 4 out of 5 stars
5 Minute Review: WOW! These books are action packed, exciting, and such a breath of fresh air.
Not because any of the tropes or plot points are particularly new or innovative but because the main characters are black or mixed race. And BECAUSE of the characters' non-whiteness, their backgrounds, their ethnic communities and enclaves, and as a result, their MOTIVATIONS open up even MORE story options and possibilities and THAT is new and shiny.
SO FANTASTIC.
The color of the characters even change the rhythm and flow and timbre of the language – whether it is reflected in the actual dialog or just in the way the narrative is written.
Jama-Everett writes moving stories and I blasted through his books at a blistering pace. It helps that the books are more novella length and not the door-stoppers that I had been reading up until that point.
I WANT MORE AND MORE AND MORE.
Definitely recommend – especially if you love the X-Men or graphic novels featuring mutants and their powers.