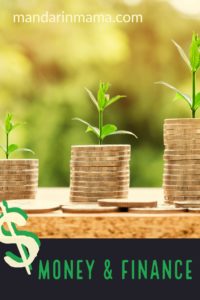 When I was younger, I naively thought money didn't matter. It certainly wasn't the key to happiness.
What I didn't realize was that though money didn't guarantee happiness, not having enough money to cover basic needs as well as provide for some wants made happiness much harder to come by.
Now that I'm several decades older and surrounded by stay at home moms, I am often astounded at just how financially illiterate many women are. (It shouldn't surprise me though because had I not spent a decade as a financial advisor, I would have been in the same boat.)
So, though I don't write often about the topic, I am passionate about folks (especially women) protecting (and making) their money for themselves and their loved ones.
Here are some of my more useful pieces that I have written.
1) Top Financial Things You Should Do After Having a Baby – Part of being a responsible parent is providing for our children. Here, I list the top 5 things you should do to protect and provide for your new baby.
2) Why I Have a Financial Advisor – In the era of DIY investments, I list 4 reasons why I have a financial advisor (despite having been one for 10 years) and how to find an advisor that best fits your needs.
3) Protecting Your Family Money – Lots of things can go wrong in life. Here are 5 steps I've taken to financially protect my family in case the worst happens.
4) Testing God – Obviously, you do not have to believe in God in order to believe in charitable giving. In this piece, I explain why I personally give, as well as list 8 tips on how to give responsibly.
5) How Am I Going to Send 3+ Kids to College? – Though helping our kids out with their college tuitions is not required, it's something we really want to do. Here are 5 ways to help pay for college.
6) Why I Buy Used – Despite our disposable consumerist culture, I list 9 reasons why I buy used (and how it helps out my pocket book).