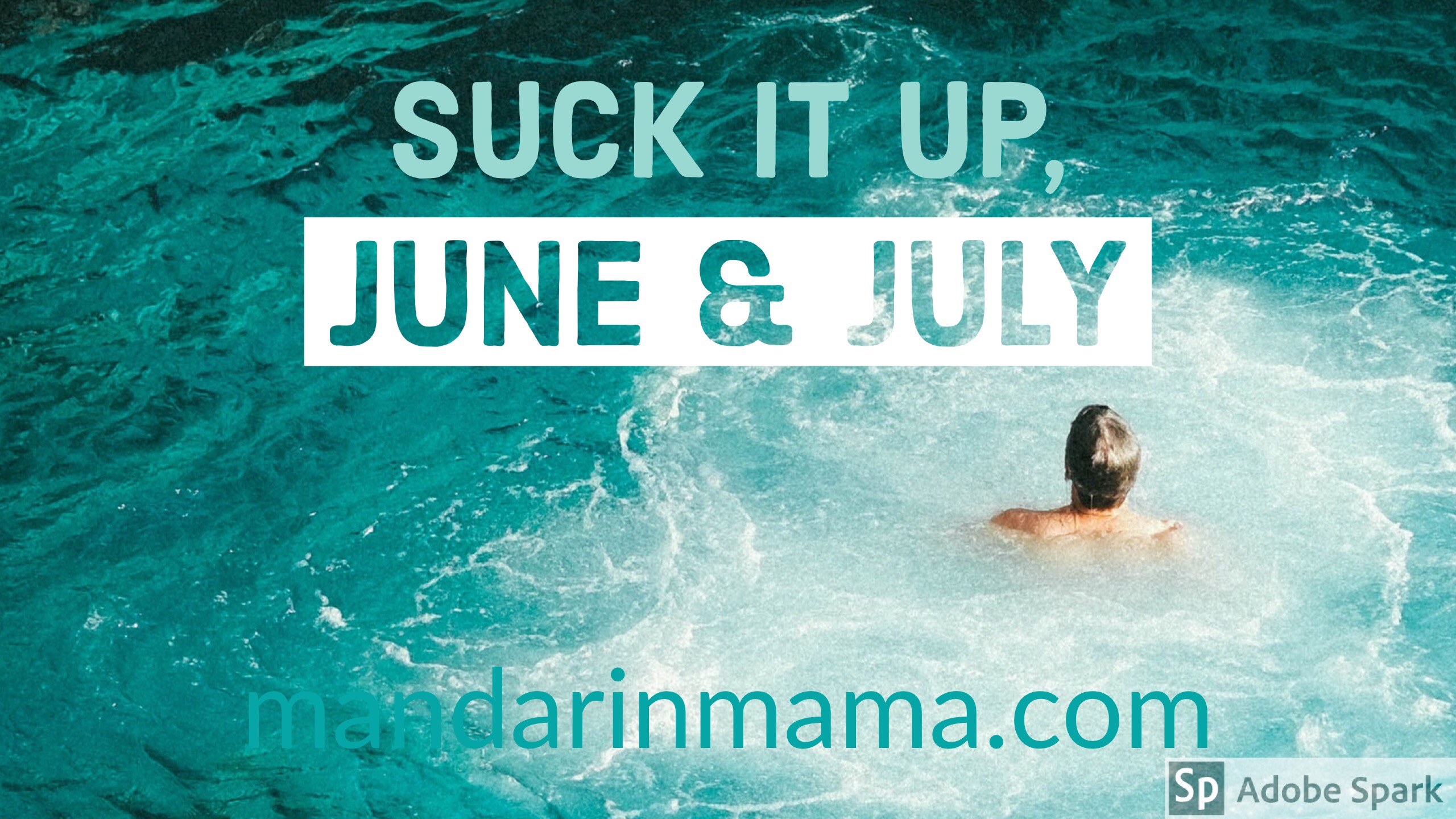 How did June and July pass by without me noticing?
OVER HALF OF 2017 IS OVER.
This is terrifying in the sense that I swear it just started and yet, it's almost over and I haven't done nearly as much as I thought I would. Or is it that I did more than I thought I would?
Whatever it is, it's that time again. (You thought I forgot since I skipped June, right? Well, I WAS IN THE TAIWAN. And um, I forgot.)
So, lucky you, here is my 2 for 1 monthly check in to see how I'm doing with my yearly goals, aka: My Year of Sucking it Up.
1) Take family and personal health seriously.
What does that look like? I want to:
a) Cook at least 5 meals a week.
I did pretty well in this category in June even though I was getting super sick of what I was making. I realized it's because I didn't prep well enough with the different types of veggies (I stopped peeling and cutting carrots and other minor prep work so we were down to like two types of vegetables.)
And of course, we were in Taiwan for all of July so ZERO cooking because WHY?????
b) Be active once a week.
June was more of the same inactivity.
But July! July was awesome because sweating gallons of liquid totally counts as activity! And since I was in Taiwan, I walked everywhere and took the bus and MRT and yes, I did manage to lose weight after a month of nonstop eating in Taiwan simply because I carried a fat baby of 23 pounds while walking everywhere.
Did I mention that this is in addition to carrying a diaper bag/purse, my purchases, and often, my kids' belongings because it was super heavy for small humans?
I rocked July. But don't worry. I will be back to my inanimate self now that it is August.
d) Take vitamins and supplements.
I remembered to take these MOST days. I'm making it a goal to focus on this more in August.
e) Go to sleep when the kids sleep 4x a week.
I did a pretty good job of this – even in Taiwan. Last year when I was in Taiwan, I was up most of every night. But this year, carrying fat baby around all day was too exhausting so I would usually go to sleep by 10pm. So, technically later than the kids, but still earlier than I would have left to my own devices.
I honestly don't remember what happened in June. But I presume it was much the same as May.
f) No texting while driving.
June was bad because I think I got a ticket while texting in the car. Or was that May? Either way, it was bad. July was easy simply because hey! I WAS NOT DRIVING.
I was AWESOME about this in July.
2) Take my responsibilities as a grown up seriously.
Pretty sure I did adulting in June. Not sure. But I must have. After all, I packed and got ready for Taiwan in July, right?
As for July, yes. I did a lot of adulting – especially single parenting in Taiwan with four kids for several weeks. I did a LOT of adulting. But only stuff related to Taiwan. I didn't do much else that was not related to Taiwan.
3) Write.
I did very little writing in June though I did go to a writing workshop. And I did no writing at all in July when I was in Taiwan. So, mostly fail at this. LOTS OF FAIL.
HOWEVER. I did do a lot of Facebook Lives – and while that is NOT writing, it is content production of a different sort.
But again. Not writing. So not the same.
Ok. This was kind of a depressing post. But you know, it was still good to check in and see how I did. And a good reminder to get my ass in gear for August.
After all, every day is a potential new year, so really, it's ok to fall off the wagon as long as we get back on.
Here's to getting back on.
How did you do? Are you even still keeping track of your New Year Resolutions? Let me know in the comments.