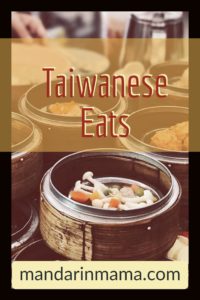 Ok. It has been about five weeks since we've been back from Taiwan and I am still dreaming of the food. Mmmm…. Many of you have asked for a list of the places we ate and I am FINALLY getting around to it. I have tried to arrange by neighborhood/area so you can hit up a bunch of them but it's been five weeks and my memory may be blurry. I guess I'll just have to force myself to go back in January in order to refresh my mind. The things I do for my readers. Nothing but sacrifice.
So, in no particular order (other than neighborhood), I give you the majority of places we ate. I am not really a great food blogger or describer of food so please don't expect anything of that sort. I will just list the restaurants and perhaps tell you which dishes we thought stood out.
All photo credits belong to Fleur.
1) Miscellaneous Restaurants
a) 鼎泰豐(Din Tai Fung)
(multiple locations such as Xin Yi, Yong Kang Jie, Alley 216)
I was a big fan of the pickled cabbage, wood ears, pork xiao long baos, squash and shrimp xiao long bao, mini sesame buns, and their white wood ear/long yan soup for dessert. I forget what it's called in English. But it is awesome and delicious and YUM. Pretty much everything here is delicious. You really can't go wrong.
b) 永和豆漿大王 (Yong He Dou Jiang Da Wang / Soy Milk King)
(Multiple Locations)
A yummy Taiwanese breakfast place. Super cheap and tasty. I am a big fan of then 燒餅油條 (Shao bing and Chinese Donut) along with the meat and veggie bao. The sweetened soy milk is a MUST of course.
c) 欣葉 (Shin Yeh)
(multiple locations)
Address: 8F, No. 9, Songshou Rd., Xinyi Dist., Taipei City (A9 of Shin Kong Mitsukoshi Xinyi Place Branch, 8F
My favorites were: pork liver, marinated chicken with scallions, fried oysters, filet cubes, and of course, the almond jelly. Too bad Glow Worm is allergic to almonds so I couldn't have any – but it is SO DELICIOUS. They are also famous for their sweet potato congee.
d) 林東芳 (Lin Dong Fang)
274 Bade Road, Section 2, Jhongshan District, Taipei City
台北市中山区八德路二段272號
Famous for their beef noodle soup and their spicy beef butter. It sounds disgusting but it was tasty. I preferred Old Chang's soup and meat, but the noodles were more QQ (Taiwanese for springy and chewy and yummy). It is tiny and has two additional small rooms where you can eat.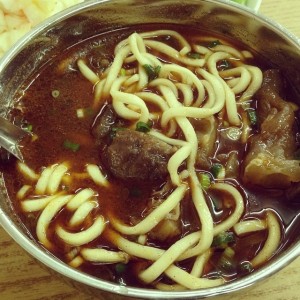 e) 金峰滷肉飯 (Jin Feng Lu Rou Fan)
10 Roosevelt Road Section 1, Taipei
台北市羅斯福路1段10號
This is a famous braised pork rice place and braised/stewed egg. The kids loved it. It was very delicious. Unfortunately, when we went, we found an unexpected guest in Fleur's rice plate. So, I think it will be some time before I go back. shudder
f) 阜杭豆漿 (Fu Hang Dou Jiang)
2/F Hua Shan Market, 108 Zhongxiao East Road, Section 1, Taipei City
忠孝東路一段108號2F
This is a Taiwanese breakfast place and closed on Mondays. Also, expect at least a 15-30 minute wait as the line winds down the stairs and out around the corner of the street. It is quite yummy. There are thick shao bings, thin ones, soy milk, Chinese donuts, Chinese donuts wrapped in shao bings, sugar bings, all sorts. The menu is only in Chinese. I would help more but my brain is useless this far out. Just randomly point. It's all good.
g) Ippudo (一風堂)
台北市大安區敦化南路一段165號1樓
1F, No.165, Section 1, Dunhua South Road, Da'an District, Taipei, Taiwan

Beware: there is a line! So, go right at the open (which is 11:30am). Yummy ramen and lots of refreshing iced tea. I would skip the ox tongue. Bleh. I was very disappointed. But the bao and the ramen were delicious.
2) Alley 216 Area
Already mentioned the Din Tai Fung. Here are some other food places near there.
a) 東區粉圓(Dong Qu Fen Yuan / Eastern Ice House)
No. 38, Alley 216, Section 4 Zhongxiao East Road, Daan District, Taipei
台北市大安區忠孝東路4段216巷38號
They are famous for their 粉圓 (Fen yuan/tapioca ball) and basically, it's a bunch of toppings in ice. Yummy and refreshing, but I prefer shaved ice/snow.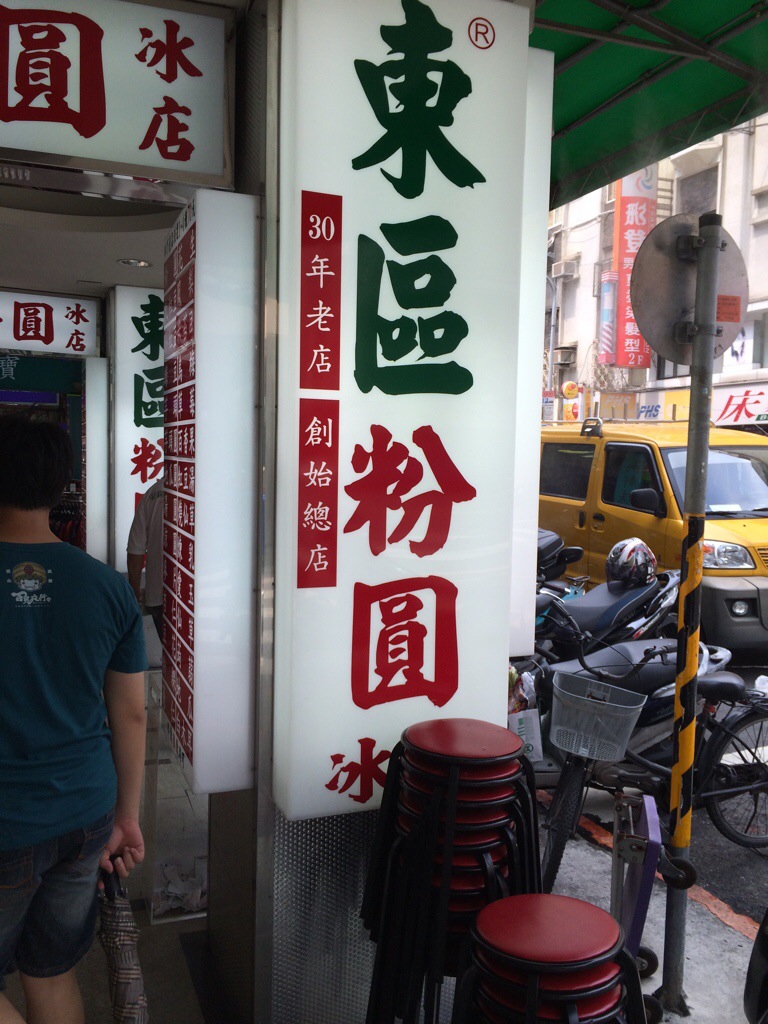 b) Ice Monster
106, Taiwan, 台北市大安區忠孝東路四段297號
Zhongxiao East Road, Taipei 297, Sec No.297, Sec. 4, Zhongxiao E. Rd. Taipei, Taiwan
Ice Monster is famous for their shaved ice. It is super delicious. Our favorites were the mango and the lime shaved snows. There is only one snow that has Fen Guo on it, but you can ask for it on the side and promise to pay extra. (They are not big on customization here in Taiwan.)
c) 度小月 (Tu Hsiao Yueh/Slack Season Noodles)
No. 12, Alley 8, Lane 216, ZhongXiao E. Rd, Sec. 4
台北市忠孝東路四段216巷8弄12號
This place is famous for their noodles but I just found them alright. They weren't bad, just not amazing. What was amazing was the tofu. It was SO GOOD that we promptly ordered another plate. It is crispy on the outside, but tastes like 蒸蛋 (zheng dan/steamed egg custard) and chicken brothy on the inside. So tender and juicy and BLERGH. This was my favorite dish of the entire trip.
3) 大安區 (Da An District) by 台大 (Tai Da/National Taiwan University)
a) 臺一牛奶大王 (Taiyi Milk King Ice)
No.82, Sec. 3, Xinsheng S. Rd., Da'an Dist., Taipei City 106, Taiwan
106, Taiwan, 台北市大安區新生南路三段82號
Fleur and I ate here at least once a day. There is almost always a line through the door but don't worry – it moves quickly.
b) 妙媽媽 (Miao Ma Ma)
H/T to Marian Wu for finding the address!
台灣台北市大安區新生南路三段68-2號
No. 2, Alley 68, Sec. 3, Xinsheng S. Rd., Da'an Dist., Taipei
We ate here several times. These are Taiwan Small Dishes and I enjoyed them very much. Just ask the lady to give you recommendations. That's what I did each time.
c) 藍家割包 (Lan Jia Gua Bao)
No. 3, Alley 8, Lane 316, Section 3, Luosifu Rd
100, Taiwan, 台北市中正區羅斯福路三段316巷8弄3號
This mostly just a stand/cart on the corner next to a Family Mart (or something like that). Be aware that they have peanut shavings/powder in an open container next to the meat that they usually put on the gua bao. I did not let Cookie Monster eat this even though I didn't add peanut shavings. It was pretty likely for cross contamination. They have fatty meat, lean meat, and 50/50. Go with the fatty. It is 100x better than the lean.
4) 永康街 (Yong Kang St)
There is also a Din Tai Fung here. Worth eating wherever you happen to be.
a) 大隱酒食 (James Kitchen)
65 Yongkang Street, Da'an District, Taipei
台北市大安區永康街65號
Hours: 11:00am~2:00pm, 5:30pm~12:00am
This place is very old school and I wasn't a huge fan of their food. It was pretty good, but it could be a factor of me ordering the wrong things. I just asked the waitress and she recommended a lot of pricey stuff. The best was the fried oysters and Chinese donut dish. Such a weird but tasty combination. The chicken was good, too.
b) 老張牛肉麵店 (Lao Zhang Niu Roh Mien/Old Chang's Beef Noodle Soup)
105 Aiguo East Road, Da'an District, Taipei
106, Taiwan, 台北市大安區愛國東路105號
SO TASTY!! The beef tendon noodle soup is so yummy. I am sure the other foods are good (they have pretty good side dishes) but I pretty much came here to eat the beef noodle soup. The beef is shot through with tendon and yumminess. YUM!! Did I mention, YUM??!
c) Smoothie House (思慕昔)
(multiple locations at Yong Kang St – just keep walking)
台北市大安區永康街9號
No. 9 Yong Kang St, Da'an District, Taipei
Even though Ice Monster has Fen Guo, I still preferred Smoothie House. Mostly because the music is 90s hip hop and R&B and reminds me of college. Plus, it's atmosphere is nightclub-esque. Makes me feel cool (pun intended). I pretty much always get the mango avalanche, but we have also gotten smoothies as well.
Alright. All done. Dear Lord, that was a lot of effort. To thank me, please eat as much as possible and enjoy. I won't even mind if you comment and rub it in while I'm stuck back in the US.
For further reference, these were the articles Fleur and I used to find stuff we wanted to eat.
45 Taiwanese Foods We Can't Live Without

A Hungry Girls' Guide to Taipei
10 Things Taiwan Does Better Than Anyone Else
I'm sure there were more but quite frankly, I'm exhausted. It was definitely more fun to eat at these places than compile them! Happy Eating!