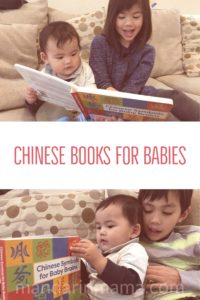 **This post was sponsored by Jessica Kingsley Publishers. I also received a review copy of Chinese Symbols for Baby Brains, as well as a review copy of Tai Ji Dancing for Kids. As usual, all opinions and thoughts are my own. This post includes Amazon affiliate links.
People always ask me what books they should read to their babies to help them learn Chinese. I find this question amusing on my best days and eye-rolling on my worst.
Look, I get it.
We want our kids to learn Chinese. We want them to read and speak and all of it fluently.
But it's not going to happen by reading the perfect Chinese book.
However, research does show that reading to our babies is good for developing their listening skills and helping them recognize shapes and colors. Listening is important for learning language and the sounds attached to a particular language. Other studies show that babies are most attracted to high contrast colors like black, white, and red.
All this to say that while reading Chinese books won't automatically make your child fluent in Chinese, it's good for brain development and even provides extra snuggle and cuddle time. (Assuming your baby doesn't eat the book like my children were wont to do.)
I have to confess something, though. The only child out of my four kids that I actively read to every single day as a baby was Cookie Monster (~8). Is it any surprise that he's my first?
My other children were lucky if they ever got me to read them a book at all. You can imagine my guilt (however minor) about Sasquatch (1) in regards to the not reading and the not reading in Chinese.
Recently, I was approached by our sponsors to check out their latest book, Chinese Symbols for Baby Brains by Chungliang Al Huang with Lark Huang-Storms. This book uses high contrast Chinese calligraphy designed to stimulate a baby's developing retina and brain. Huang is a highly regarded authority of Tai Ji, Taoism, and related disciplines. He is a best-selling author of books on mind/body/spirit integration and an artist and performer.
Honestly, I was fully expecting to be underwhelmed because I'm a cynic and baby books are usually boring to me. I went online using Amazon's sneak peak function and skimmed the previews to make sure this was a book I wanted to own. (I tend not to review things that I don't like because it seems rude to accept products and then hate them online.)
I was immediately struck by Huang's beautiful calligraphy.
I decided then and there to review the book. After all, I love Chinese calligraphy and I particularly love any images that show me the pictures within the Chinese characters.
So, we've established that I loved the book and the illustrations. What about my kids?
Well, I can't speak to whether or not Sasquatch's developing retina was stimulated, but I can say he loved looking through the Chinese Symbols for Baby Brains.
On the few occasions I've tried to read to Sasquatch, mostly because I was already reading to Glow Worm (4), the baby was unimpressed and fidgety and would try to grab my book and destroy them.
When I sat down with Sasquatch to read Chinese Symbols for Baby Brains, he actually stared at the pictures and pointed at them and flipped the pages! (Incidentally, it's a board book so there's the added bonus of me not having to worry that Sasquatch would immediately ruin the book.)
In fact, when Sasquatch saw Glow Worm with the book later that same day, he waddled over and tried to steal the book! Glow Worm liked to look at the pictures, too so he refused to let his little brother take it.
I can't believe they fought over a book. Wait. I can. Sasquatch constantly has FOMO and wants to have whatever his siblings have.
What I didn't expect was how interested Cookie Monster and Gamera (6) were in the book, too. They enjoyed trying to read the characters and delighted when they got it right. Plus, they really wanted to read the book to Sasquatch so I ended up not having to read to my baby after all. BONUS!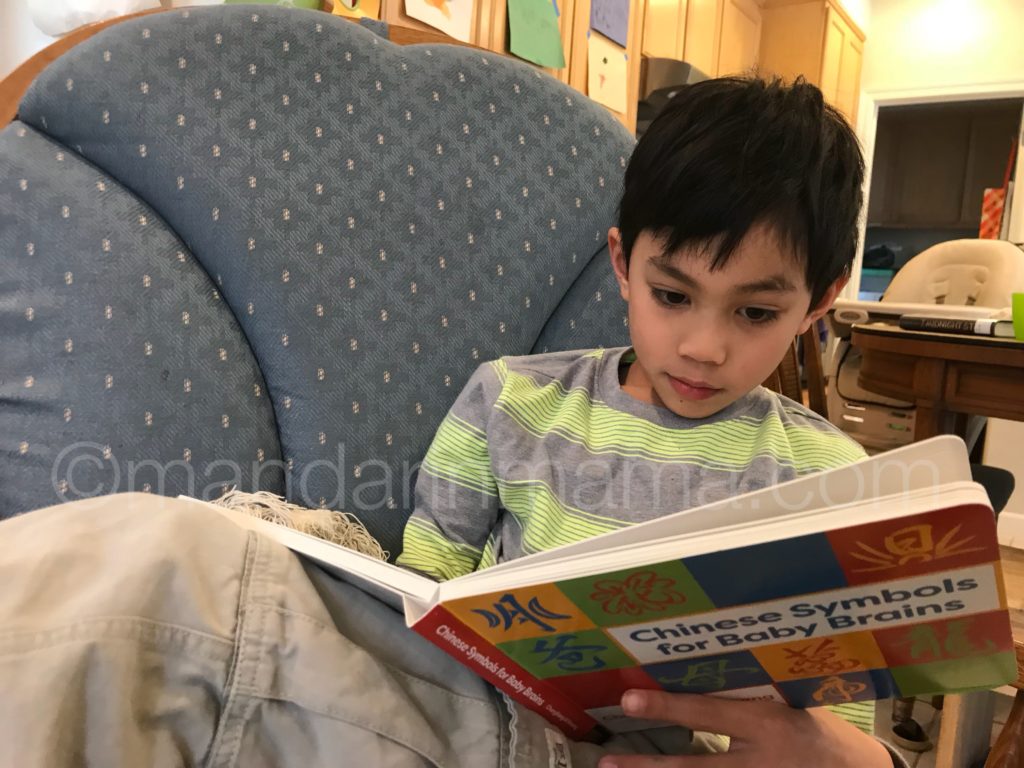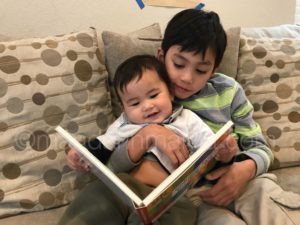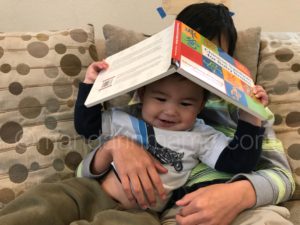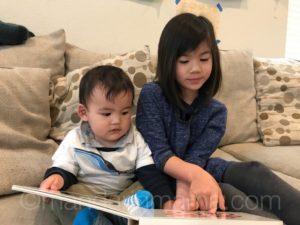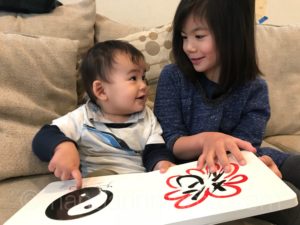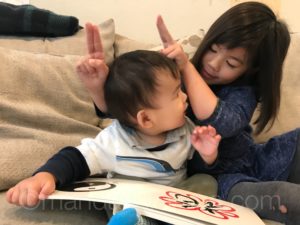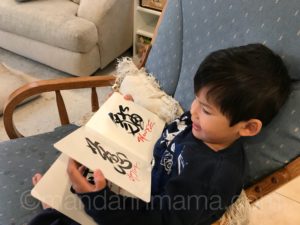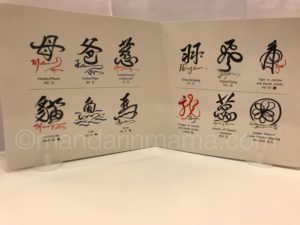 My one quibble with the book is that the pronunciation key at the end of the book doesn't include tones with their pinyin. That might not be a big deal folks who are literate in Chinese, but for those of us who are not, it would have been a great help.
Is your baby going to be able to read Chinese characters just from this book?
No. Of course, not.
But no one expects their babies to learn how to read English from ABC board books, either.
Will their retinas be stimulated and their brains be forced to develop? Probably.
But most importantly, Chinese Symbols for Baby Brains is that rare find in a baby board book. It's both art and educational.
I highly recommend Chinese Symbols for Baby Brains for art-loving babies, families who want to introduce their babies to Chinese, and any family with a new baby. This book is beautiful and I would love for any of the pages to be framed prints in my house.
I've included some pertinent details, pictures, and video below.
Title: Chinese Symbols for Baby Brains
Where to Buy: Amazon or Jessica Kingsley Publishers
Sample Pages: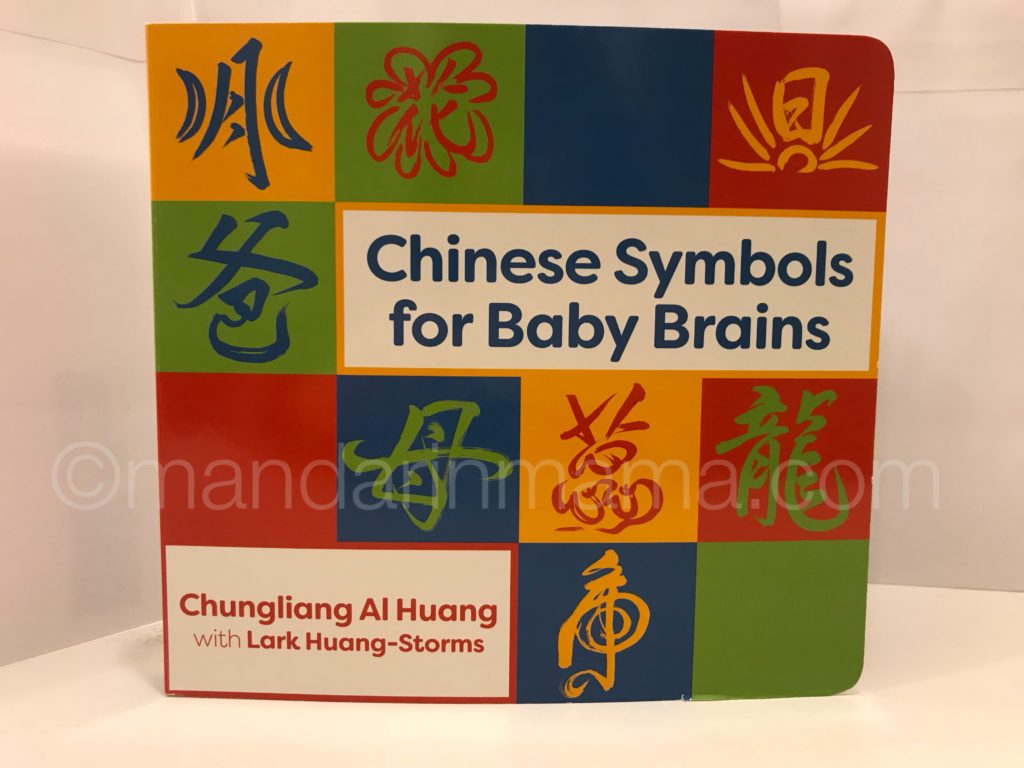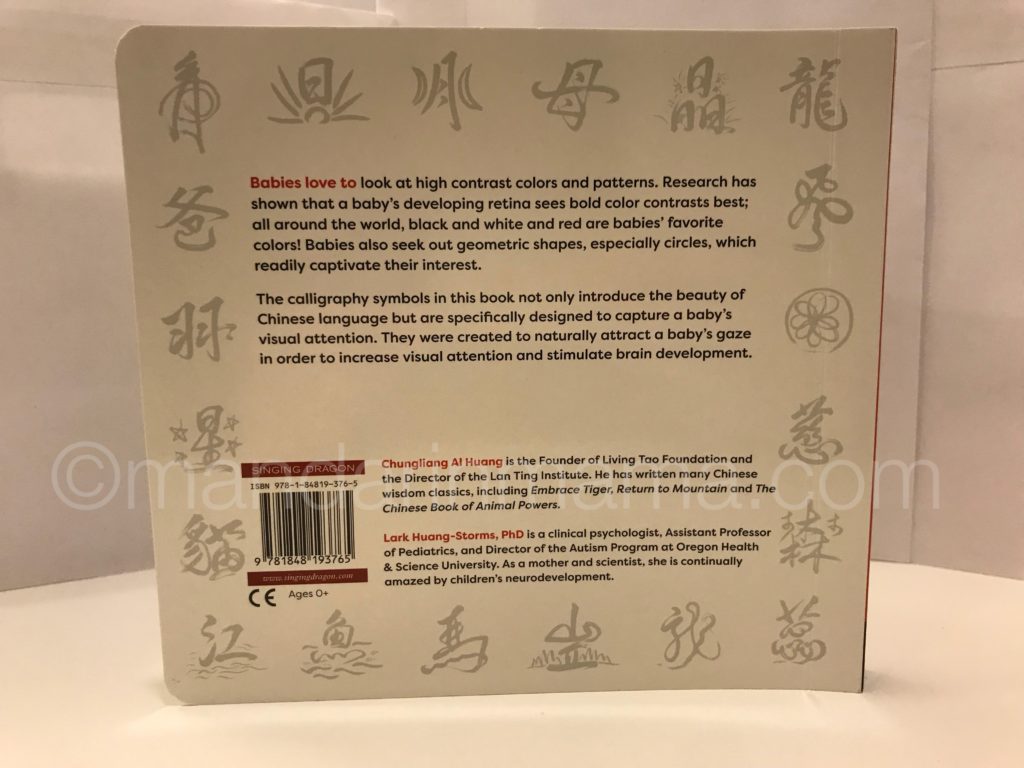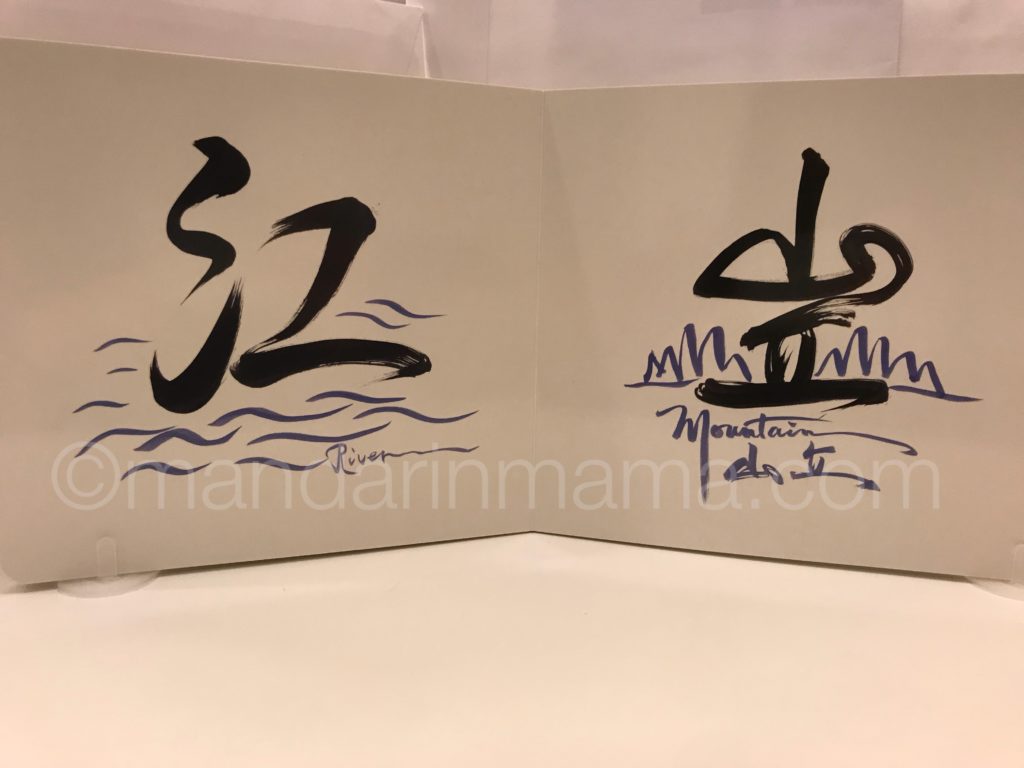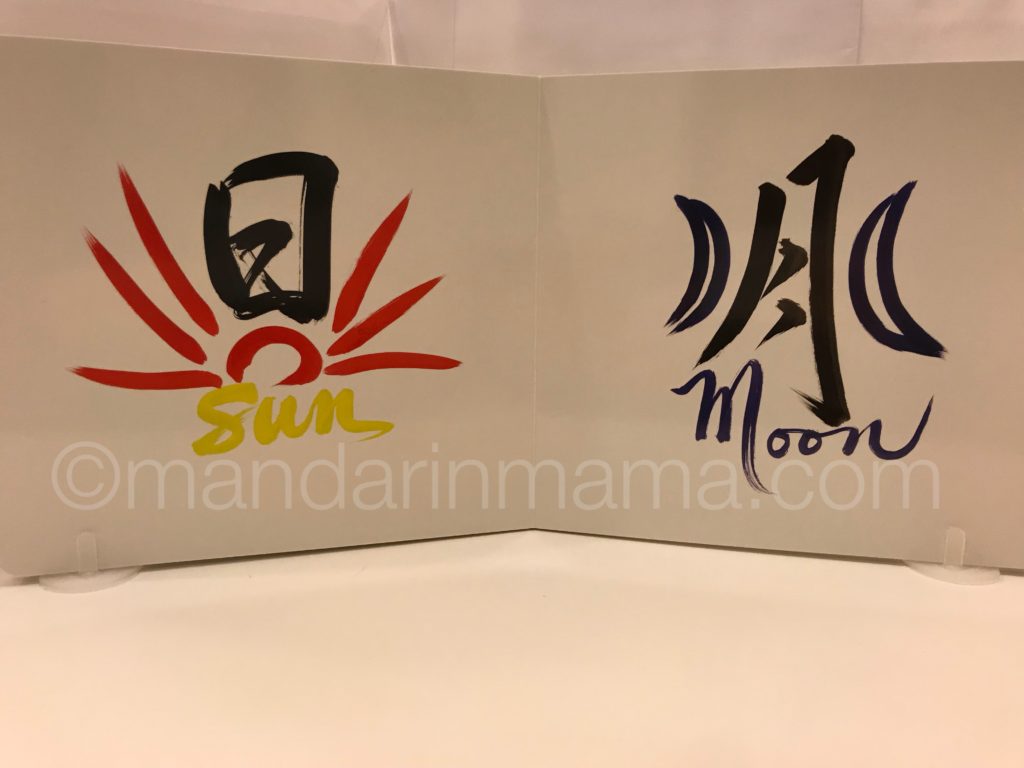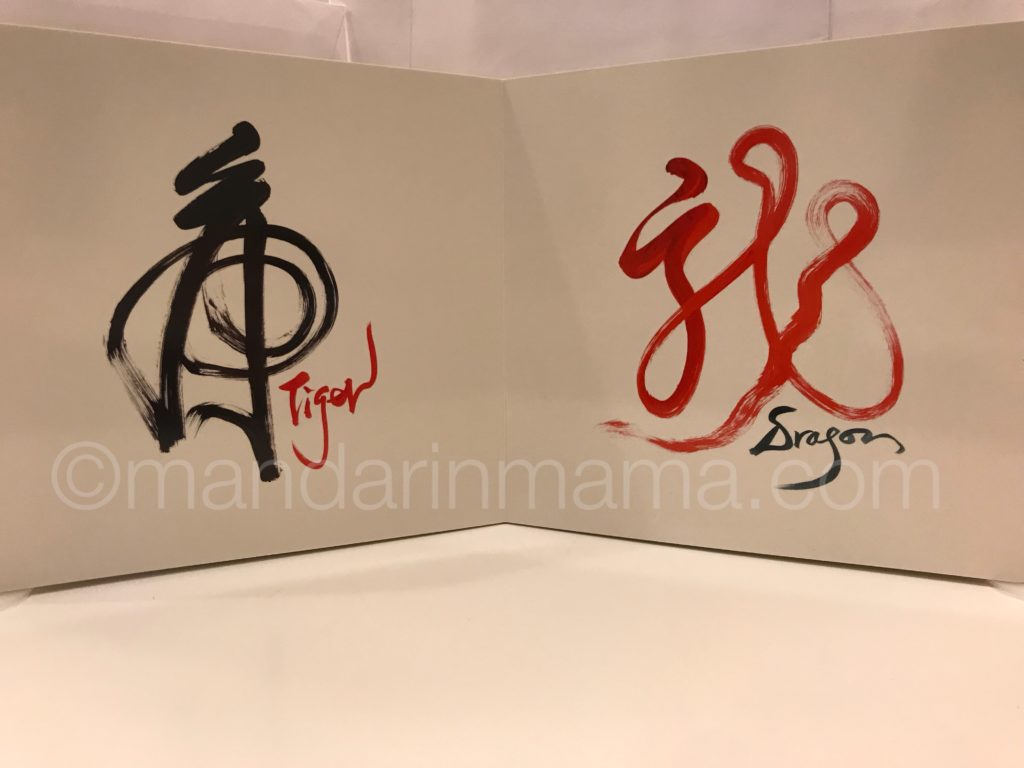 Here's the video of Sasquatch and Gamera going through the book.
And since I mentioned Huang's other book, Tai Ji Dancing for Kids, here are some pictures of that book as well.