All of my kids loved the Chineasy Tiles. I can easily see this game being played with a Chinese tutor, a Chinese Immersion classroom, or family members – even family members who don't know any Chinese.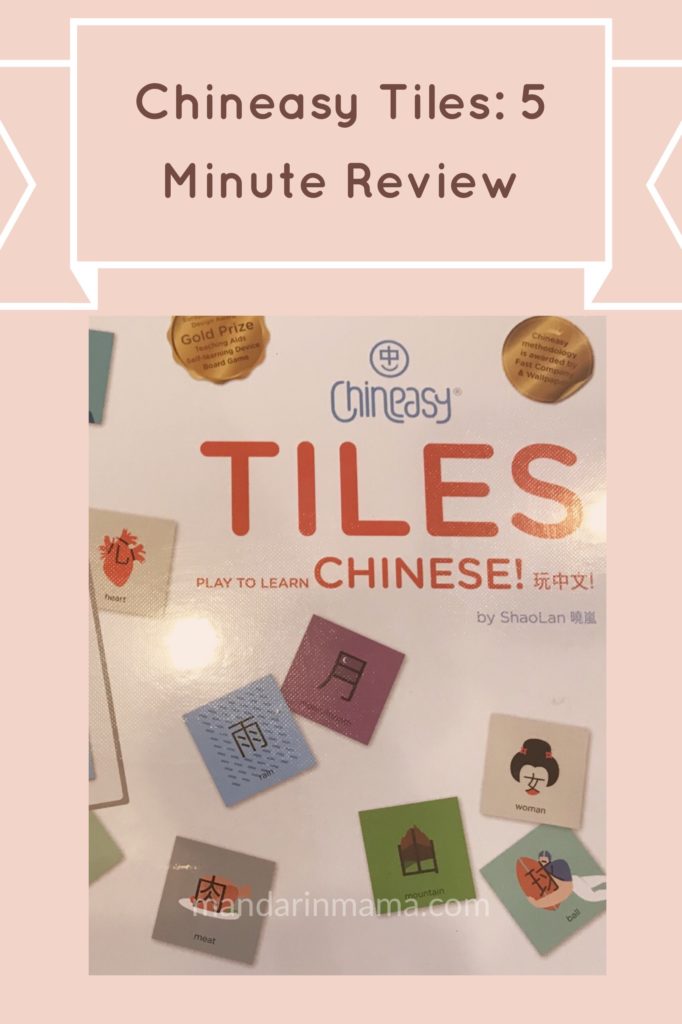 **I received a review copy of Chineasy Tiles, as well as an accidental set of silverware, from the lovely staff at Chineasy. As usual, all opinions and thoughts are my own. I use affiliate links in the post.
Game: Chineasy Tiles
Price: $89
How to Purchase: Amazon
Company: Chineasy Limited
Ages: 3+
Level: Beginner
Description: Based off of the Chineasy Methodology (you may be familiar with their (affiliate links) Chineasy book and flashcards), this award-winning game is a fun way to learn or review 48 characters that can be combined into 235 phrases/composite words.
The game comes with 48 flashcards of high-frequency characters (these characters are the same in both traditional and simplified), 100 tiles, 1 master board, 4 play boards, and 1 cotton bag.
No resource guide or instruction manual is included, but you can download a constantly updated guide online. The guide has 10-20 activities you can use the Chineasy Tiles to play.
Sample Pictures: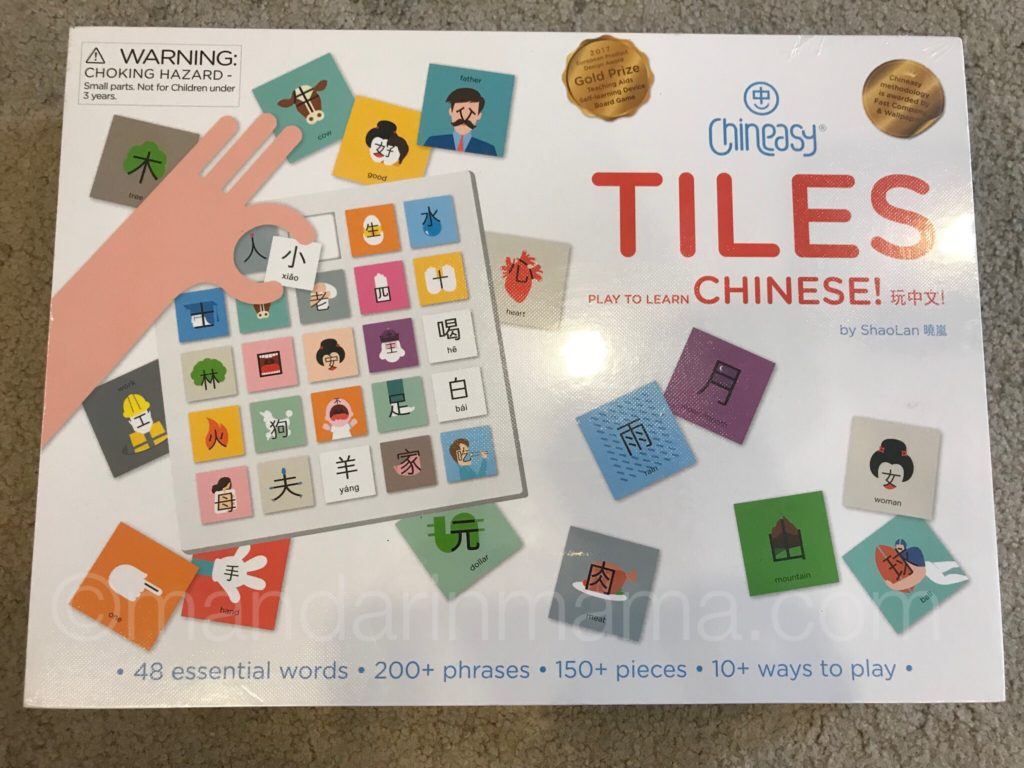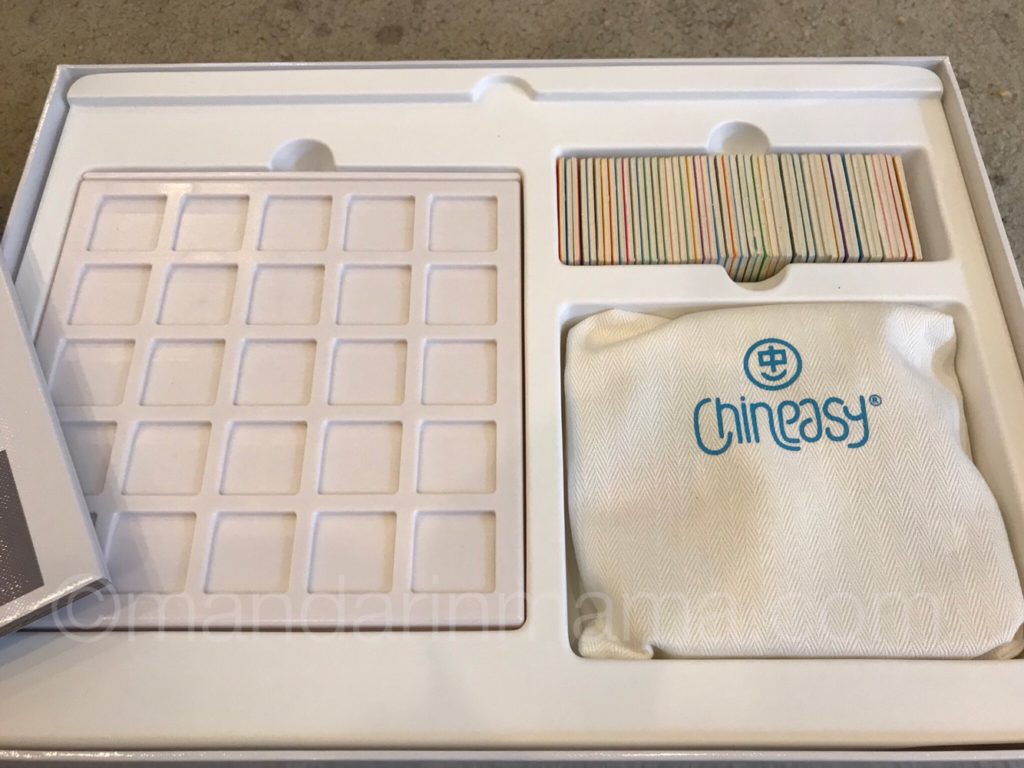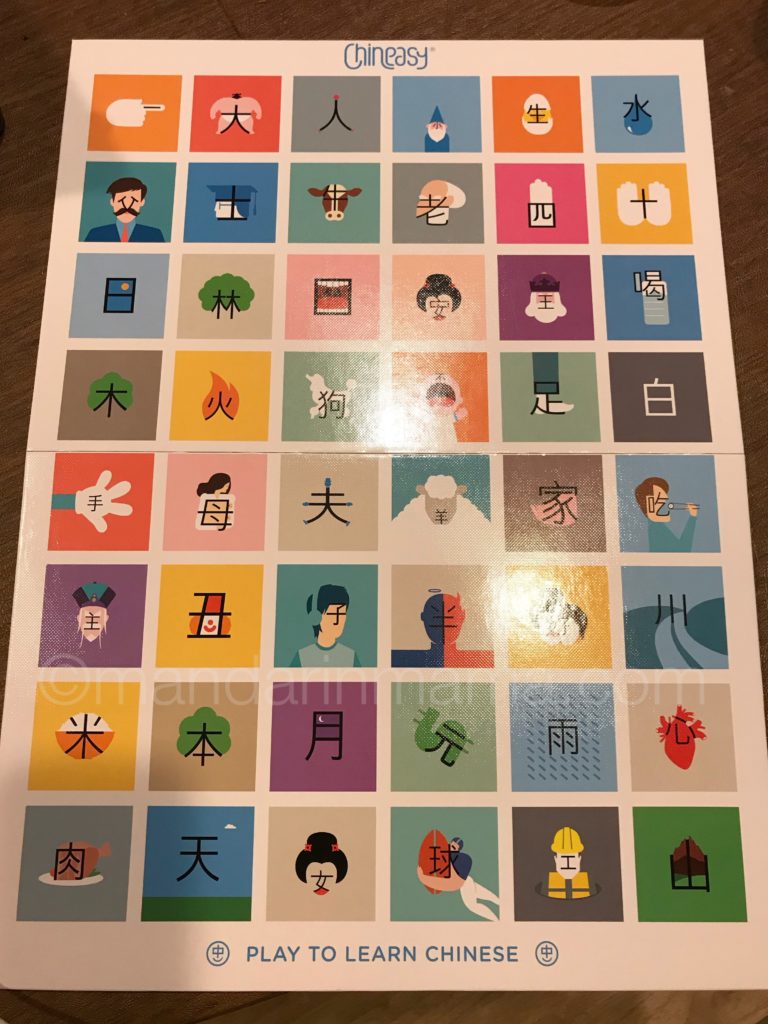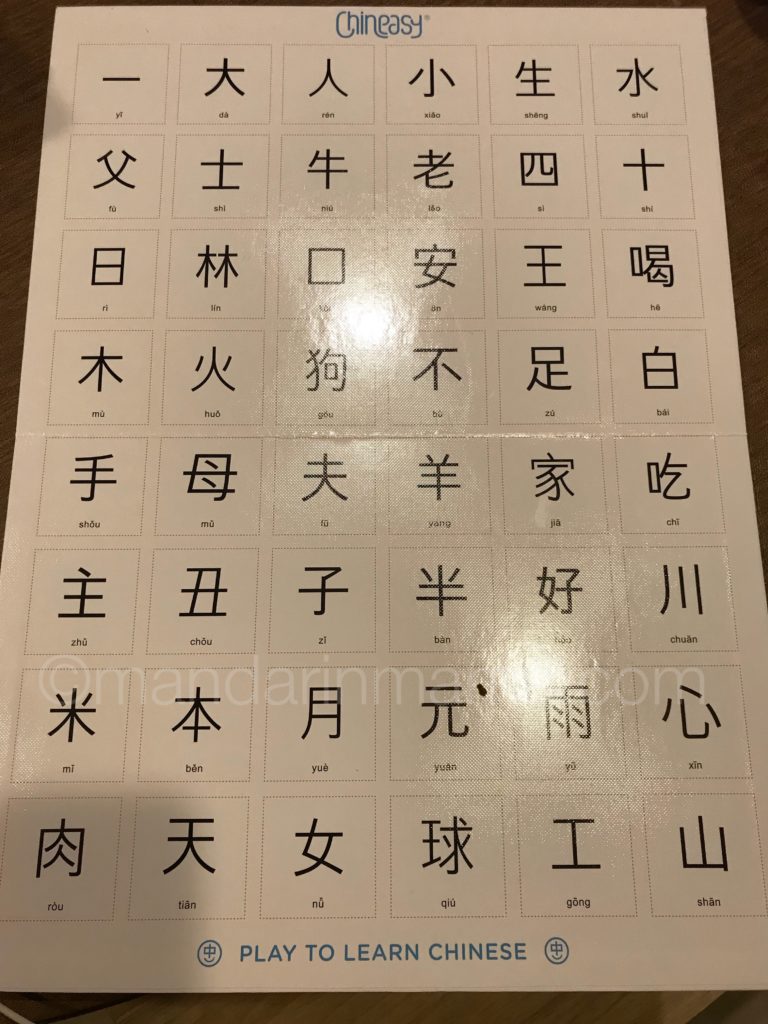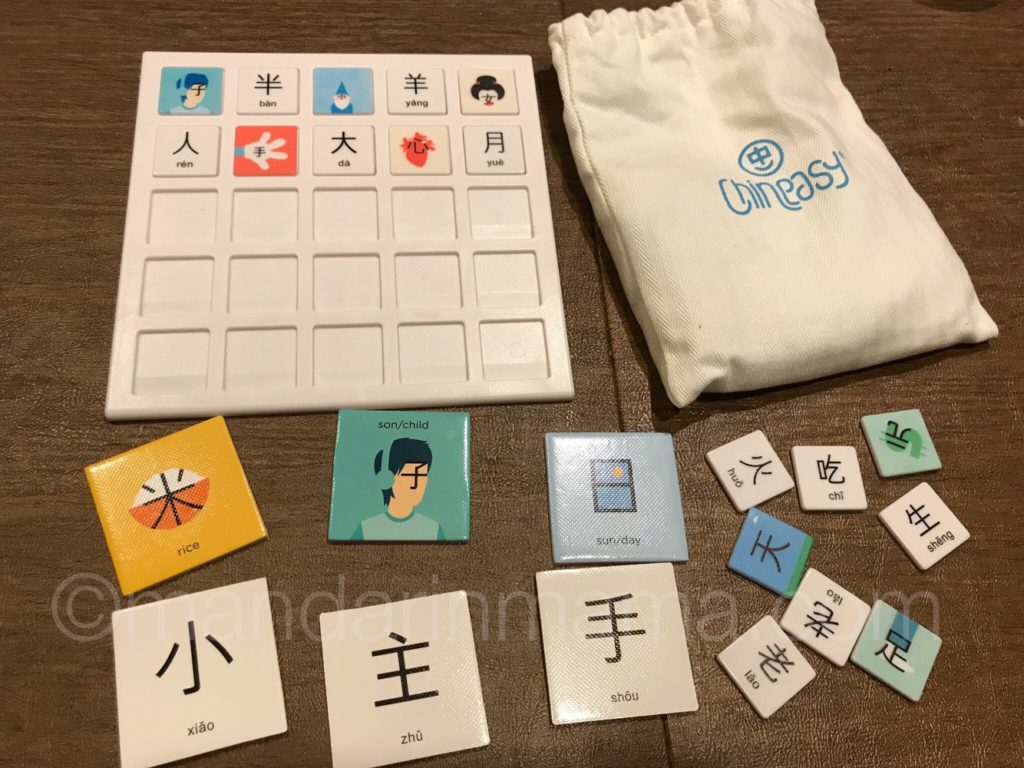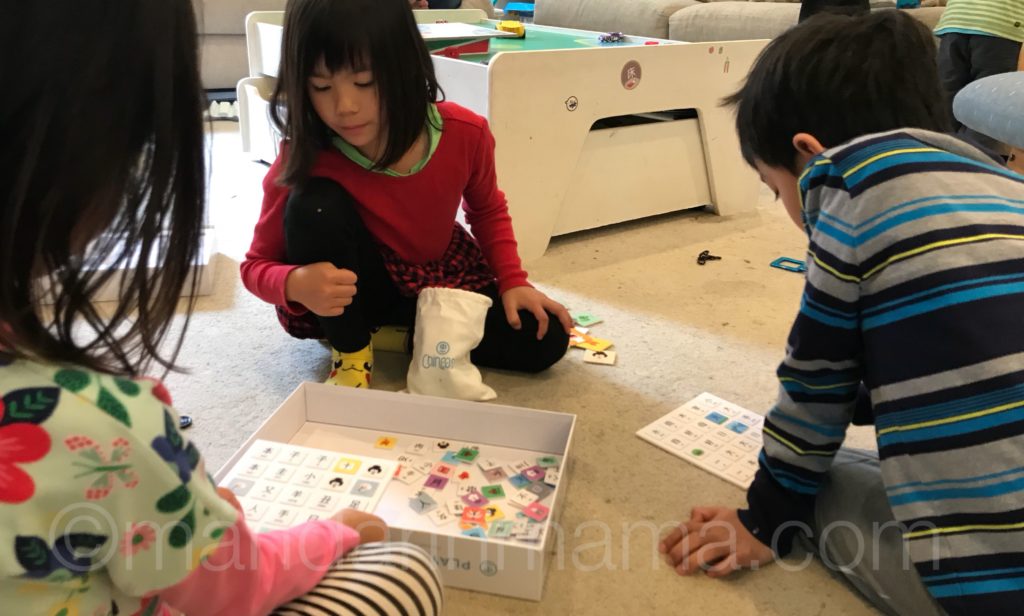 Rating: 4 out of 5 stars
5 Minute Review: First things first. Is this going to make your child literate in Chinese?
No.
That's a lot to expect from a game that only has 48 characters (although there are 235 word/phrase combinations).
However, it is a fun and multi-use game for kids – regardless of Chinese ability.
All of my children, (~8, 6, 4, 1) enjoyed Chineasy Tiles and considering just how many children I have, that's not easy. (Plus, we invited Rhythm Girl (5.5) to join us and she loved it, too.)
We've only had the game for about a week and the kids have asked to play with it every single day. Glow Worm (4) especially likes to take out all the tiles and look at them and fill up the play boards. Gamera (6) begs to play BINGO every time and Cookie Monster (~8) eagerly joins in.
Here are a few things that I loved about Chineasy Tiles.
1) I love the quality of the materials. Everything down to the box is sturdy, quality stuff so I don't feel as if my children will IMMEDIATELY ruin the game. Love the tactile feel of the tiles and the playing board. The drawings are familiar with the Chineasy book and are also fun and beautiful.
And yes, even though we had barely opened the box, Sasquatch (1) decided that he enjoyed the taste of the flashcards (there are a few teeth imprints already – THIS IS WHY I CAN'T HAVE NICE THINGS!) and enjoys grabbing tiles by the fistful, wreaking havoc as he is wont to do. (This totally gives me hives because I really don't want to lose any of these lovely pieces.)
2) I love the versatility of the games and activities. There are so many ways to play and use the tiles, flash cards, and board. We tried out 4-5 of them (BINGO, Find It First, Charades, Spot the Twins, Tug Tug) the first afternoon and I look forward to trying out more games with the kids.
3) My kids LOVE the BINGO game. They also enjoyed trying the different activities and were really excited to try as many as possible.
4) I think it's a good product for beginners – especially if they are just folks who are checking out Chinese and looking for a fun way to learn some characters but may be intimidated. The flashcards and tiles make it easy to remember and associate pictures with the characters.
5) There are lots of activities for total beginners, kids/people who have no exposure and background to Chinese or Chinese characters.
6) I think this would be a fun tool/game for Chinese teachers to employ with students. It is a fun way to engage kids even before they know too many characters. It's also a lot of fun even if your kids know a bunch of characters. (My older two know 1200+ and still had a great time.)
With that said, there is some room for improvement.
1) It cannot be avoided. This is a pricey product.
However, it is evident that the quality of materials is above your average game. My contact at Chineasy mentioned that their whole team is comprised of perfectionists and they only sourced the best materials as well as hired award-winning artists and illustrators so it's clear the money went into the product.
2) As I mentioned before, there are no instructions included and I hate hunting and finding things. I want everything I need to be there. Obviously, this is a small quibble, but it does need to be pointed out.
3) Another minor thing is that there doesn't seem to be a master list of how many tiles there are per character. Some of them have only one tile, others have three. Since I'm anal retentive, I really want and require a list because I know my children will lose one and I will have no idea which tile it is and that will bother me forever.
4) A few of the games don't seem to work as well with the tiles. Charades seemed okay, but some of the terms are too hard to act out (at least for children) such as PEACE, or MAN. Some of the games (such as making phrases/combo words) would benefit from including measure words like 個隻, etc.
An easy way to get around this is to just remove the harder tiles before the kids play. (I am lazy so I did not.) Also, there is nothing preventing us from adding measure words of our own on pieces of paper
5) My older two children know about 1,000-1,200+ characters so the Memory Game and some of the other ones were simply too easy (and also, not possible to play because they can actually read the characters).
Obviously, they are not the target market but keep in mind, they still really liked playing all the games. In fact, the easiness of the characters and funny pictures (their favorite is the flash card for 大 because it is the butt of a Sumo wrestler) is a huge selling point because they don't have to think super hard and just enjoy playing.
I mention this in case you're a super Tiger Parent and you want the game to be more challenging. There are definitely ways to play more challenging versions (like composing phrases and combination words), my vocabulary just isn't wide enough to take advantage.
6) I think this game would benefit from future expansion sets (and if more of you purchase Chineasy Tiles, the greater the likelihood – so do it for ME) but it's a good start.
All in all, I think it's a solid game for beginners and for folks who want to learn more about Chinese. It's definitely geared towards kids who are not fluent and don't come from heritage families – but I can see how heritage families would also be drawn (no pun intended!) to the game.
Highly recommend.
Here's a video of my kids playing BINGO. You can also get a good view of the flash cards, tiles, and play boards.
Here's another video of my kids and their friend playing BINGO .(What can I say? It was their favorite.)
Update April 08, 2018: My children STILL love to pull this game out on a weekly basis and play with the tiles. Glow Worm likes to match the big tiles to the board and play with the tiny tiles. They ALL like to play BINGO with each other. Side note, my kids call the game 大屁股/da4 pi4 gu3/big butt/ because of the picture on the tile for 大 (the back of a sumo wrestler).
This game just keeps on giving.
Did you know I wrote a book on how to teach your kids Chinese? You can get it on Amazon (affiliate link) and it's conveniently titled, So You Want Your Kid to Learn Chinese.
It's full of practical advice, detailed applications, and heavy amounts of snark. Find most of the answers to your questions about how you can help your kids learn and speak Chinese (as well as read).