For those of us who are intent on surrounding our kids in a Chinese Language Ecosystem (CLE), we want everything in Chinese – even Chinese worksheets. And that can be a pain in the butt.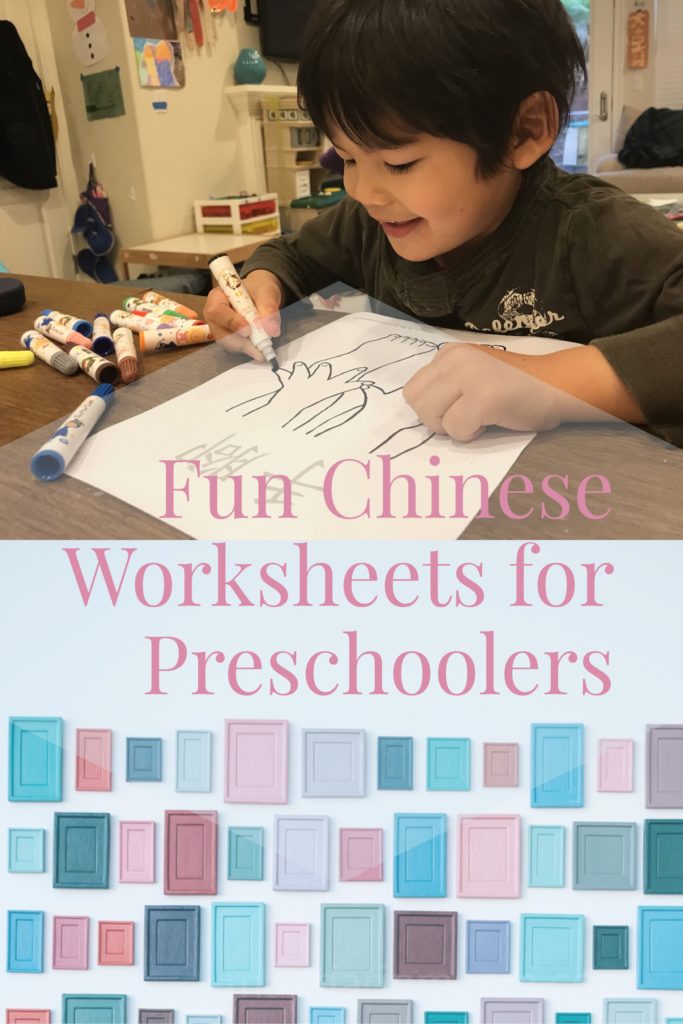 ** I received a review copy of the Body Parts Packet and the accompanying ebooks and poster by Fortune Cookie Mom. As usual, all opinions and thoughts are my own. 
When I was in Taiwan two years ago, I bought some Chinese activity books from a stationery store. I loved them and so did my kids. But then, they were used and it was only used with one kid. Yes, I could have laminated the pages or put in sleeves, but honestly, that's a lot more work and money in supplies than the actual activity books cost.
When Fortune Cookie Mom contacted me to see if I would be interested in checking out one of her learning packets with Chinese worksheets and providing some feedback, I was hesitant. After all, I like Fortune Cookie Mom. What if I didn't like her stuff? Then I would l have to be in the awkward position of telling her I didn't like it.
I mean, I know I tell you all that I am a jerk, but I don't ENJOY being one to people I like!!
Anyhow, I should not have worried.
Fortune Cookie Mom Chinese Worksheets
Fortune Cookie Mom's packets are fantastic.
Her graphics are adorable. She has SO many activities. She provides them in SIX language combinations. The activity packs are appropriate for multiple age levels (my kids 8, 6, 4, and 1 ALL found something they enjoyed). The activities work well even without a color printer. There is a handy Table of Contents so you have an easy reference for when you're printing individual activities instead of the whole entire book. Plus, there is a suggested age range for each activity.
Her packets are a steal for the amount of value you get out of them.
Mostly, I printed this packet out for Glow Worm (4) because it is geared for the PreK set and he fits the age range. He can't read much Chinese and is still young enough to find simple puzzles challenging. He also loves coloring and matching activities.
Glow Worm was THRILLED.
I was surprised.
He was excited to do the Chinese worksheets and was so proud to be a big boy doing "homework" like Cookie Monster (8) and Gamera (6). He wasn't interested in tracing the characters because that suspiciously resembled learning, but he was ALL over the coloring, the matching games, cutting out the different pieces, and the counting worksheets.
I often forget that Glow Worm is his own person and wants to spend time with me and this was a quick and easy way to do so AND learn Chinese. BONUS!
Cookie Monster could already read all the characters and the activities seemed a little too simple for him, but he REALLY wanted to cut out all the puzzle pieces and flashcards for me.
Gamera could also read all the characters, but she loved the pretty girl cartoons, cutting things, and all the coloring sheets and puzzles. She colored them all and then cut them up.
She didn't realize that she had mixed two puzzles together so she inadvertently created a harder activity than just the original puzzle so if you have older children, that might be one way to keep them engaged. Mix up ALL the puzzles and tell them to figure it out.
As for Sasquatch (1), he just liked to be in the mix of things and crumple the paper and play with scissors in a less than safe way.
I left the sheets on the kitchen table over a few days and every few hours, the kids would swing by and do another activity. It's been several days and we still have activities left to do – so this packet isn't just a one and done situation.
My main tip for these puzzle packets is to laminate the sheets before cutting. That way, you can re-use the activities instead of having to re-print and then re-cut. However, if your kid is really into the cutting thing, you have the freedom to print it out again.
Also, I wished there was an option with Zhuyin, but that's a minor quibble. (Fortune Cookie Mom even mentioned that she might offer that version in the future.)
Oh, and one small detail that shows me just how attentive Fortune Cookie Mom is when she designs these activities. The lines in between the grids for cutting out flashcards are just the right width for a pair of scissors. Why is this important? This allows you to only have to cut in between the squares ONCE versus having to cut the sides twice. Is this something only highly anal retentive people notice? If so, consider me guilty!
Here are some more pics of Glow Worm and the rest of the gang doing some of the activities.
She provides SIX language combinations:
English and Simplified Chinese
Simplified Chinese
Simplified Chinese and Pinyin
English and Traditional Chinese
Traditional Chinese
Traditional Chinese and Pinyin
It's so handy that she has options with English so functionally illiterate parents can still read the instructions!
This is a list of activities in the Body Parts Packet (she even lists them in a Table of Contents so you can easily find them to print out):
Matching Game
Penmanship practice sheets
Matching Activity
Word Puzzles
Sorting exercise
Vocab Clip Cards
Chinese Number Clip Cards
Puzzles
Color Matching
Shapes Tracing
Size Sorting
Roll & Count
Writing Numbers
Size Sequencing
Patterns
Maze
Addition
Subtraction
Coloring pages
Each activity will have a suggested age range and I found it spot on. Fortune Cookie Mom knows her audience! And it's just another example of how thoughtful and nuanced her packets are. She really takes all the guesswork and headache out of teaching kids Chinese.
Here is a video of Glow Worm sorting whether a picture is a body part or not a body part:
Here is a video of Glow Worm matching pictures:
Here's a video of Glow Worm matching Chinese characters to the pictures.
Here's a video of Glow Worm circling Chinese numbers.
In addition to these 40+ pages of activities, she also has a supplementary vocabulary poster and short ebook story you can buy. The poster is good for folks who like to print out and tape things to their walls where their kids can see and get used to the characters. The ebook is a short two-pager where kids can practice their newfound characters.
I cannot overemphasize what a great find Fortune Cookie Mom's packets are. They're perfect for busy Chinese teachers and parents to help teach specific vocabulary, holidays, seasons, and Chinese culture.
In fact, her packets are so wonderful, I told her to raise her prices. (Sorry, but likes and shares don't pay the bills and she's a busy homeschooling mom of three.)
Here's a secret: Fortune Cookie Mom is going to be raising her prices after Chinese New Year (2/16/18). So, if you want to get her activity packets and Chinese worksheets for your kids, you better do so ASAP. She has even added some bundles if you're like me and want all of them.
Go get them. You will not regret.