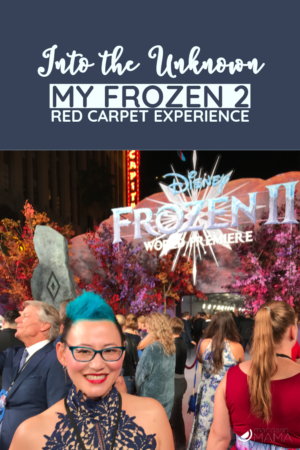 With equal parts excitement, wonder, and terror, I walked the red carpet for the Frozen 2 World Premiere on Thursday, November 7, 2019. I watched Frozen 2 before 99% of the world (it's magnificent) and attended THE after party, eating near and chatting with celebrities.
I didn't recognize myself.
How could I when I'm normally schlubbing it at home, buried under my four kids and writing deadlines?
Don't let that calm outward appearance in the above picture fool you. The lead up to this evening was far from serene. There's a reason Into the Unknown, the title song of Frozen 2, resonated with me so deeply. Last week was a dream come true – and I didn't know what to do with myself.
I still kinda don't.
Getting ready for the Frozen 2 Premiere
When I finally got confirmation about attending the Frozen 2 World premiere and the red carpet as part of my experience at The Geekly Retreat (an exclusive, invite-only retreat for aspiring entertainment writers), I shunted it to the back of my mind because otherwise, I would die of the overwhelms.
My body, ever the overachiever, decided to provide anxiety attacks, stress dreams, digestive problems, acne breakouts, and cold sores to aid in my quest to be great. (Spoiler alert: my body is still in Panic Mode.)
I'm fully convinced The Universe repeats lessons until we get it – and will continue to repeat when we forget. After all, this is exactly how I reacted to attending to another big event earlier this year. At least I'm consistent, yeah?
HOWEVER. One of the voices that kept me going was my friend, Jeff Harry. I heard him say, "You owe it to me. You owe it to us!" (I added NOT TO SCREW THIS UP as extra motivation.)
I felt a huge sense of responsibility to take advantage of this opportunity as much as possible. So many of my friends and fellow bloggers would kill for this chance to learn and attend a red carpet – and most of them never will. Thus, my sense of obligation forced me to push through. (Plus, I knew it was for my own good and super awesome.)
Almost at The Red Carpet
Once we arrived at the Dolby Theater on Hollywood and Highland, we followed the signs and joined a long line to get into the premiere. (Fun fact: my husband I used to work down the street and remember when it was being constructed.) We've all waited in line before so I needn't explain how that works.
The street was blocked off by giant walls covered in ivy, forming a sort of maze. We passed through metal detectors, provided ID for our passes, and took lots of pictures with each other, not realizing how much more photo ready it would be when we went further in.
As soon as we squeezed through to the holding area before the red carpet entrance, we saw a group of Frozen cosplayers cheering on PeopleTV's Lola Ogunnaike and Jeremy Parsons live-streaming. I'd explain more but it's likely easier to look at a pic of me.
If you want to see potato quality videos that give you a better feel for the space, look through my Instagram stories about The Geekly Retreat.
The Red Carpet
I don't know how celebrities do it. The lights are SO bright and there are so many photographers and journalists snapping pics and bombarding you with questions – how is it even possible to think straight?
Thankfully, we were diverted from that portion (what do you mean the press wasn't there to see me?) and instead, my dear friend, Lizz Porter, and I did what we did best. We hammed it up.
The carpet ran along a wall with Frozen 2 images for photo opps and ended at the curtained entrance into Hollywood and Highland. We then walked through the mall surrounded by temporary curtained stands until we got to the movie theater.
Once we were inside, we had to lock our phones in these special cases so that we couldn't sneak footage of celebrities or the movie. We picked up our free buckets of popcorn, drinks, and then, we took our seats. Because our phones were bagged, we actually conversed with one another as we sat with all the people who worked on the movie, their families and friends, and other esteemed guests (us!).
Right before the movie started, the producers, cast, and composers were introduced and then, the movie started immediately. Check back on my site later for my review after the embargo is lifted on Thursday, November 14, 2019.
The Frozen 2 Premiere After Party
After the movie, we went up two floors to attend the after party. Of course, Lizz and I had to re-enact our iconic pose. It's our thing now. Those are the rules.
Again, check out my Instagram stories about The Geekly Retreat for videos of the space.
There were buffet lines, Frozen 2 Happy Meals provided by McDonald's, and lots of interactive booths where you could get even more swag! We ate, drank, and ran into Yvette Nicole Brown, who we interviewed earlier that morning after our exclusive screening of the new live-action version of Lady and the Tramp (currently on Disney+). I'll have a review of Lady and the Tramp up in the next week as well as our Q&A with Yvette and Adrian Martinez.
For some reason, Yvette recognized me from the morning (okay, okay – the hair helped) and she hugged us and obliged us with pictures and conversation. We fangirled about Lady and the Tramp and her acting as Aunt Sarah and she called me "Pumpkin" and said my outfit was fantastic. We even discussed the importance of representation! What can I say? We're deep.
We also chatted for about 10 minutes with PeopleTV's Lola Ogunnaike and Jeremy Parsons. Yes – the very same hosts who were interviewing stars at the red carpet. They were both so friendly, approachable, and lovely. Is everyone in Hollywood like this? I sure hope so.
Though I thought I would duck out as soon as I finished shoveling food in my face, we closed out the party. Maybe I am made for the Champagne Life after all!
I am so grateful for this chance to cover a red carpet premiere and lucky enough that it was for Frozen 2. Cheers to the Unknown and the surprises it holds.
About Frozen 2
Frozen 2 continues the story of Elsa, Anna, Sven, Kristoff, and Olaf as they uncover the secrets behind Elsa's powers and Arendelle's connection to an enchanted forest and its inhabitants in order to save the kingdom. Frozen 2 opens in theaters Friday, November 22, 2019. You can buy pre-sale tickets now.