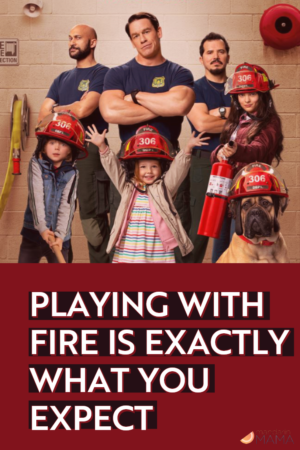 Last week, I was lucky enough to watch a private screening of Playing with Fire on the Paramount Lot as part of The Geekly Retreat (an exclusive, invite-only retreat for aspiring entertainment writers). Below is my review. 
Playing with Fire delivers exactly as expected. Funny and full of heart, the movie's slapstick humor entertains enough to forgive the plot and pacing. Your children will love it and you won't mind watching with them.
About Playing with Fire
Jake Carson (John Cena) is the proper fire superintendent who leads a team of elite firefighters (John Leguizamo, Keegan-Michael Key, and Tyler Mane). After Jake rescues three siblings (Brianna Hildebrand, Christian Convery, and Finley Rose Slater) from a cabin fire when their parents are out of town, the firemen are forced to care for them at the station for a weekend.
Shenanigans ensue. Also, a lot of poop.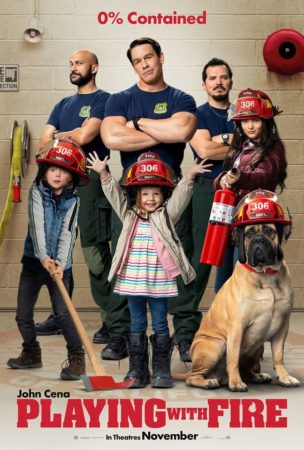 what Worked
Despite the script, the actors were hilarious. I would've been happy to watch an hour of the blooper reel included during the credits. The chemistry between cast members was obvious and it seemed as if they all really did love each other. The slightly awkward romance between Dr. Amy Hicks (Judy Greer) and Jake was cute and harmless.
I appreciated Cena's shirtlessness in no fewer than five scenes (yes, my friend counted) and a bonus segment of him in a crop top. I loved how it was the boy who requested Kpop sensation, BTS, on three separate occasions. This is especially amusing because Cena is a big BTS fan and requested their banger, "Fire," to be included in the film. If you follow his socials, he even promoted the movie by using BTS screenshots from their "Fire" video.
View this post on Instagram
What Didn't work
My main complaint relates to how the children behaved in the movie. The writers seem to have never met a child. Like ever. The actions of the oldest girl are particularly baffling. Even given their backstory, no logical human would act in such a manner unless they were in a movie and serving as a punchline. My four children are practically feral and they would NEVER do anything these kids did.
What kind of peril?
A reader asked about how much peril is included in the film for children who can be sensitive. The opening scene does have fire but it is played for laughs. The second big fire scene does have minor peril – that's where Jake rescues the kids. They do a good job of interspersing the scene with a lot of slapstick comedy – but that might be the only scene which could potentially be worrisome and a little scary for little kids.
Final Thoughts
Playing with Fire isn't terrible – but it's not great, either. It's good enough for what it is – which is typical family entertainment. The effects are decent. The acting is believable. You will laugh, feel warm and fuzzy, and get a happy ending to share with your family.