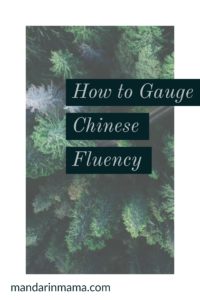 **This piece was originally part of a series of posts. You can find the updated version, along with exclusive new chapters, in the ebook, (affiliate link) So You Want Your Kid to Learn Chinese. 
Before I continue, I recommend you read my post about setting realistic expectations to get the most out of this week's article. This is not because I want to whore out my previous posts (ok, that, too), but more to properly frame this week's post about gauging Chinese fluency in your children. (You know, so you can have realistic expectations about what I'm about to write.)
Also, I just want to say upfront that many people will likely take umbrage at my remarks. I totally understand. I might be skewering one of your sacred cows. No one likes their cows skewered unless they are the ones skewering – and even then, only if they also get to eat the skewers. So, I get it. But that doesn't mean the cows weren't in need of a good skewering in the first place.
Anyhow, enough with the belabored metaphors and on with the post. Whooo!
So, tl;dr version of my Realistic Expectations post (because I know you didn't go read it): Chinese fluency requires intention. Your goals may differ from mine, but your kid isn't going to be magically fluent just because that would be a nice thing to have. It takes work. And depending on your expectations and goals, more work than the minimum of showing up to Mandarin Immersion school every week day or a weekly three hour Chinese School session. (Of course, there is a lot more nuance to the post, but why would we care about that?)
For the sake of this post, I'm going to assume you want something similar to what I want, which is for my kids to have a native level of speaking and understanding Mandarin as well as functional literacy. (If your idea of fluency is for your kid to know a few phrases and perhaps order some food or ask for the restroom, we need to have a discussion about the correct usage of the word "fluent." Words have meaning and it behooves us to use them precisely.)
At the risk of being a clichéd college application essay, a quick Google of the word, "fluent," brings up the following definitions:
(of a person) able to express oneself easily and articulately.
(of a person) able to speak or write a particular foreign language easily and accurately.
(of a foreign language) spoken accurately and with facility.
Of course, I know that not everyone has the same expectations of their children as me – nor do I think that is necessary. In general, I think the above definitions will suffice for most people in terms of fluency; we want our children to be able to understand and express themselves in Chinese with ease, accuracy, and facility.
In our pursuit of this fluency, many of us enroll our children in Mandarin Immersion schools, weekly Chinese schools, after school programs, or tutors. We want to believe the claims of "complete fluency" or "native grade level fluency" from the principals and teachers. However, let's be real: these folks have a slight conflict of interest and unless they have quantifiable results to back up their claims, what you're really buying is hype.
And honestly, without additional supplementation, either from heritage parents speaking Chinese at home, or hiring additional tutors, native level fluency is most likely improbable from just being enrolled in an MI school or Chinese school.
Alright, I hear you saying. Where's my proof? Where are my studies? Why am I such a snob?
I'm going to cheat and say, sorry. That's not the type of post I'm writing today. (Or ever, actually.) I fully admit that I'm just a regular person with no fancy degrees in Mandarin Immersion or secondary language acquisition. However, I really would offer you as proof the millions of ABCs (American Born Chinese) and BOBAs (Brought Over By Airplane) who have come before you with varying levels of success in Chinese fluency. If it were really that easy, there would be far more fully fluent ABCs and BOBAs in existence and this topic wouldn't be such a sore point for so many of us.
Anyway, even if you don't believe me, given all the time, effort, and money you are investing in this pursuit, wouldn't it be nice to know if your investment is giving you the appropriate returns? In short, how do you know your kid is as fluent in Chinese as you think they are?
As I am wont to do, I will split the families up into two categories: Speaking and Non-Speaking Families.
1) Speaking Families (Wherein at least one of the parents speaks, understands, reads, or writes Chinese. Depending on the degree of fluency, however, you may also need to refer to the Non-Speaking Families section.)
Clearly, the higher degree of fluency, the easier it will be for you to determine how fluent your own children are in Chinese. Just like a native English speaker doesn't need much help with figuring out if their kid is fluent in English, you will have that same ability.
In cases of mixed-fluency/ability, I will refer you to the next section. In my own particular case, I am pretty fluent in speaking and understanding so I have no problem ascertaining how fluent my children are at speaking and understanding. However, my reading and writing are sorely lacking. I can read perhaps about 500 characters if we are being considerably generous – but if there is pinyin or zhuyin, I can read everything and comprehend most of it. In the case of reading and writing, I will obviously be less able to judge accurately.
2) Non-Speaking Families (Neither parent speaks, understands, reads, or writes Chinese.)
Now, as a non-speaking family, you don't have the built-in advantage of being a native speaker to determine how fluent your children are in Chinese. You can only hope that the people to whom you've entrusted your children's Chinese education will be honest and ethical in their assessments and not just tell you what you want to hear.
In other words: Trust, but verify.
This is where adhering to certain standards and testing becomes useful.
Now, I'm not a huge proponent of standardized testing, (I am, after all, homeschooling), but I'm not opposed to them, either. I understand the need to have a way to semi-objectively measure what children are learning in school and to make sure that they enter college with a base standard of knowledge.
What I don't like about all the standardized testing is our children's education being reduced to how well they do on these tests, and that if they don't "pass" them with a sufficient margin, that they are somehow failures.
At any rate, I think it is totally legitimate for parents (both from speaking and non-speaking families) to demand accountability in the form of standardized testing from their Mandarin Immersion and Chinese School administrators. However, it is also important to understand what the tests measure and what they do NOT. Please do not equate passing a test with being fluent.
At any rate, the tests are still useful for what they do measure. Some of the possible Chinese assessment tests are:
a) SOPA/ELLOPA – Interactive, listening and speaking assessments designed for children who are learning a foreign language in a school setting. They include hands-on activities and are conducted entirely in the foreign language. Students are assessed in pairs by two trained test administrators and, during the activities or tasks, are encouraged to interact with each other as well as with the interviewers. The focus of the interview is to determine what the students can do with the language. (PreK-8)
b) Linguafolio – A three-fold portfolio assessment that takes into account the child's language/cultural background; samples of the child's work over time; and formal qualifications, certificates or diplomas, achievements, and self-assessments.
c) STAMP – Web-based, computer-adaptive assessments that measure proficiency in reading, writing, listening and speaking for middle school through university students.
d) HSK – China's only standardized test of Standard Chinese language proficiency for non-native speakers such as foreign students and overseas Chinese.
e) AP Chinese Test – The exam assesses students' interpersonal, interpretive, and presentational communication skills in Mandarin Chinese, as well as knowledge of Chinese culture. The exam is administered on a computer. The student reads on the screen, listens through headphones, types using the keyboard, and speaks into a microphone. Students may choose between traditional or simplified Chinese characters for reading and writing in Chinese.
Beyond these tests, there really is no better way to check fluency than to speak with native speakers. Of course, you are also depending on the kindness of friends and strangers and their willingness to be completely honest with you for fear of hurting your feelings or their being amazed at your child's novelty.
Sometimes, that really is the best you can do.
…
Here then, is the official end to my post.
However, I do have a few things that are related to gauging Chinese fluency that I wanted to speak to. Of course, I don't speak for all Chinese/Taiwanese Americans, but I can say that I am not alone in my opinions.
So before I continue, I want to give fair warning that some of you will find much of what I say next offensive and perhaps unnecessarily harsh. I would apologize but quite frankly, I don't care.
I want to address a few common pitfalls when it comes to gauging Chinese fluency that occur most often in non-speaking families: False Sense of Fluency (FSOF) and White Mandarin Fluency Standards (WMFS) (terms courtesy of Fleur).
False Sense of Fluency is pretty self-explanatory. Often, non-speakers with children in Mandarin Immersion are under the misunderstanding (often due to purposeful misrepresentation or unrealistic hype from teachers and administrators) that their children are more fluent in Chinese than they actually are. There's no way you, as a non-speaker, would know because obviously, you trust what the teachers tell you!
White Mandarin Fluency Standards, however, is another beast entirely. This refers to the extremely low standards Chinese people have for white people to be considered "fluent" in Mandarin/Chinese – in essence, because they are white. Because there is literally little to no expectation that white people (specifically in the US) would ever learn another language – let alone Chinese, when they (and their children) speak any Chinese at all, no matter how poorly intonated or basic, they get fluency points just for trying. (Thereby leading to FSOF. It is all interconnected.)
If an ABC spoke the same poorly intonated/basic Chinese, they would be excoriated mercilessly. Furthermore, if a Chinese person spoke the English equivalent of this poor Chinese, the response would often be vicious and cruel with comments of "You're in America, speak American!" or "Go back to your country!" There would be no WMFS equivalent. The contempt would be palpable.
I know, I know. I sound like a really shitty person when I talk about this stuff. But you know what? That's because I am done coddling white fragility. You might think that we're only supposed to be talking about Chinese fluency but there is all this subtext that you're missing.
Here's the thing: Chinese is not a "white" language and is integrally tied to a specific ethnic people. An ethnic people who, I might add, have had a long and complicated history with the US and white people. (What ethnic minority hasn't? Also, I am aware that the US is not to be conflated with white people.)
And due to this long and complicated (and by complicated, I mean racist) history, many Chinese folks (who were mocked for their accents or "Ching Chang Chonged" in school) are rightfully annoyed and suspicious when white folks all of a sudden decide that Chinese is now the latest cool thing to acquire for their children. (And yes, of course, there are many legitimate reasons to learn Chinese, and of course, not only white people are wanting their kids to learn Chinese, and yes, of course, not all white people ad nauseam, – people, please! Stay on task here.)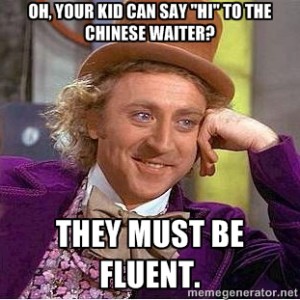 Furthermore, there are few things as aggravating as non-native speakers popping in on forums (or in real life) and loudly exclaiming how their darling child, after X number of years in a Mandarin Immersion school is now totally fluent in reading and writing Chinese and aren't they fantastic?
I find these types of comments well-meaning but laughable.
To quote Irish Twins, "That must be one amazing school if they never speak [Chinese] at home and [their child] is magically fluent."
Look. Someone has to tell you the truth.
That's like my friend, Not Another DB MBA, saying, "My kid took math for 8 years. Sure, they know calculus!" Or me telling you that just because I can run a mile, I can now run a marathon.
Chinese is one of the hardest languages to learn. Not only is it a tonal language (which is notoriously difficult for non-native speakers to even distinguish), it also has over 20,000 characters – of which, only 10,000 are currently in common use. The Chinese government considers a person to be functionally literate (can read a newspaper) if you recognize around 2,000 characters. If you recognize 4-6,000 characters, they consider you highly educated.
Did you catch that?
The Chinese government expects its own people, people who already know how to speak Chinese and are literally immersed in Chinese culture, to be functionally literate if they can recognize 10% of Chinese characters. How can a person possibly think that their child, when only "immersed" in school for on average 6.6 hours a day, without any additional supplementation or support from a Chinese speaking household, be "completely fluent"?
And yes, I am overly petty when I snipe to my friends (I have never claimed to be anything other than petty and prickish). After all, what's it to me if non-heritage and/or non-speaking families want their kids to learn Chinese? And what's it to me if they are completely deluded in thinking their children are fluent? Who are they to me? And who am I to correct them?
This is where things get tricky.
It's TOTALLY TRUE that it's none of my business and certainly doesn't merit reading the riot act on my part. Additionally, I concede that truly, your child really could be fluent. (And if so, I do find that to be incredible and wonderful.) HOWEVER, I consider this type of behavior just one of a legion of microaggressions that I, and minorities in general, have to deal with. It is merely one more reminder of the near constant cultural appropriation that happens to us.
I don't want to retread my older posts, so if you're interested in what I've written previously, I do go into more detail here, here, here, and here. (I will say that if you do not read these posts and then comment and complain about something I addressed there, I will respond with only a link. You have been warned.)
Look. I know no one chooses to be born white or Chinese or whatever. That is just a cosmic crapshoot. I don't blame white folks and I don't think being white automatically makes a person have a FSOF or WMFS. I really am pleased that so many people want to learn Chinese because I love the Chinese language and if only for purely selfish reasons, this helps me get more resources for my own children.
So, why did I have to go and ruin a perfectly civil and hopefully useful post by dragging it into the morass that is race and its incumbent squick factor?
As I said in a previous post, "Because it's true and it happens and it's real.  If you can't handle that and don't really want to navigate the murky and occasionally choppy waters of race and identity and whiteness or 'otherness,' perhaps Chinese is not the best language to choose."
All I ask is that white folks be cognizant of the subtext and all the underlying issues something as seemingly innocuous as learning Chinese can bring up. Nothing exists in a vacuum. And if one of the reasons you want your children to learn Chinese is to become global citizens, it behooves everyone to not only have a deeper understanding of Chinese/Taiwanese culture and history, but Chinese/Taiwanese American culture and history as well.
…
Thank you for taking the time to read this never-ending post. I know it likely made many folks uncomfortable so I thank you for wading through the discomfort. Have a wonderful weekend.