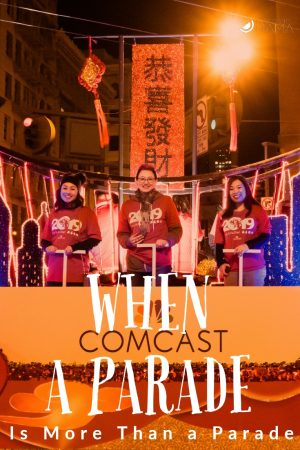 This is the second post in a series of blog posts sponsored by Comcast and can also be seen here. All opinions are mine and mine alone.
It's just a parade, right?
Then why was I getting choked up on the beautifully lit Comcast float, holding back tears while waving at the general public?
Now, I'm under no delusion that the people lined up on the streets of San Francisco were excited to see me.
They were at the 2019 Chinese New Year Festival & Parade to see floats like Comcast's interactive one and performers such as the KIPP College Prep San Francisco Marching Band and the San Francisco Police Lion Dance Group.
Many of the people gathered were also thrilled to recognize and see global popstar, Jason Chen, and dancer/actress, Lucia Liu, at the head of our float. I could see it as their eyes lit up, their bodies vibrating with excitement as they covered their mouths with one hand and pointed to Jason and Lucia with the other.
And yet, still. Knowing all this changed nothing for me.
In my previous post, I mentioned how I, as an Asian American woman, was so grateful to finally see myself reflected in the media and arts of the Asian American community. Art that Comcast is committed to amplifying and making easy to access for all their clients.
That is all still true.
But intellectually knowing about the vast array of Asian and Asian American programming available to Comcast customers is very different than personally experiencing the hospitality, welcome, and pride of Comcast employees firsthand.
It was a joy.
From earlier in the day at the Xfinity Booth during the Chinese New Year Community Fair to the very end of the parade, I witnessed in person how involved, devoted, and proud Comcast employees were to be there. I was welcomed into the fold and people were genuinely interested in me as a person, my work, and my experiences.
That's when it really hit me.
Comcast the company dedicates their resources to the Asian American community, but it's their employees – Asian American or otherwise – that translate and embody a corporate missive into action and real world application.
This year, Comcast's parade float reflected the traits of Connecting and Entertaining. These traits are at the heart of what Comcast does every day through their gigabit speed Xfinity broadband internet service, breakthrough X1 video platform, innovative solutions from Comcast Business that go beyond fast, and award winning NBCUniversal film and TV content.
Comcast connects us, whether by bringing individuals closer together, giving us access to the people we love and things important to our lives, or enabling our community and business partners to bring more support and resources to those we serve.
And while Comcast physically connects and entertains via its products and services, it's the people of Comcast who live the messages of Connecting and Entertaining.
Speaking of entertaining, I was so pleased to meet and interview singer and YouTube sensation, Jason Chen, and actress/dancer/model, Lucia Liu. They were the epitome of professionalism, engaging, and most surprisingly, looked exactly like their Instagrams and videos as they do in real life.
I spoke to many of their fans after the Meet & Greet session at the Xfinity Booth and a great many of their fans said that it was super important to them that Jason was Chinese and chose to do many of his projects in Chinese. In fact, a couple flew in from Portland, OR for the weekend just to meet Jason and Lucia!
When I mentioned how his fans appreciated his Chinese-ness, Jason said, "I've always made it a point to do Chinese music. From when I first started, no one really showed Chinese pop a lot of love. So I always wanted to do Jay Chou, JJ Lin, Lee Hom. I always want to make them more and spread their awareness here as well."
It is not lost to me that if we want to see more Asian American representation in the arts, we as parents have to make it easier for our children to pursue the arts.
I asked Lucia for any advice she'd give to us as parents and she said, "To all the parents out there, definitely give your children enough space for them to pursue their dreams. At least give them the chance to try because they'll never know who they can become unless they try."
For her fans who see her success and want to follow in her footsteps, Lucia advised, "Find something that you love doing and just go for it. Don't give up. If you love it, don't give up. Then you have to put the hard work into it. That's when you see the most results. Just try your best."
Nearly all of Jason and Lucia's fans said they discovered their content from YouTube. From that fact alone, it drives home how vital Comcast's services are for connecting and entertaining the community.
Is it any wonder I teared up on the float?
To many, it's just a parade, just a float, just a show, just a movie, or just music. But to so many of us underrepresented people, it's so much more than that. It's finally, beautifully, proudly us.
…
For those of you who are curious about the interviews, I have included the videos below.
Interview with Asian American singer and YouTuber, Jason Chen
Find out how what type of music he prefers to make; his thoughts on being a Chinese American singer and YouTuber; his music writing process; and advice for kids and parents interested in pursuing the arts.
Interview with Asian American actress/dancer/model, Lucia Liu
Find out how she got started; whether she prefers acting, dancing, or modeling; her inspiration and drive for what she does; and her advice to both kids and the parents of kids who want to pursue the arts.