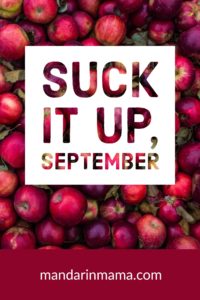 How is September over?
Every month, I am surprised that it's time for this post. And every month, I'm astonished at just how mediocre I am at keeping up on the things I want to do (except the cooking part). Can you imagine how bad I would be if I didn't make them a priority and keep track of it?
I guess that's a lesson in and of itself.
Anyhow, without further ado, here's what I wanted to work on this year:
1) Take family and personal health seriously.
What does that look like? I want to:
a) Cook at least 5 meals a week.
As always, I'm doing well in this. Not because I enjoy it, but because I know it costs an arm and a leg to eat out with all my tiny humans. My kids complain that they prefer the weekends when Hapa Papa prepares them boxed mac and cheese (they FINALLY like it!), nuggets, and frozen pizza. I don't let them eat that during the week because I know Hapa Papa is stuck with the kids for large swathes of time and that's what he knows how to make.
I still can't believe that we used to eat that stuff almost every other day. And now, I make lunch and dinner almost every day and it's reasonable tasty and nutritious. We do eat leftovers now, too because I have finally managed to make larger serving sizes. However, the kids also complain mightily about that, too.
Too bad, kiddos. If we have food leftover, you're going to eat it.
Oh, wait. Just realized that we have more leftovers now because Hapa Papa brings me dinner from his work every week night. Ha! I guess I haven't improved as much as I thought!
b) Be active once a week.
I have started walking Glow Worm to and from preschool at least once a week so I guess that's technically being active. WHOOO!
c) Wash face and brush teeth twice daily.
Sigh. I am slipping. I'm pretty good about washing my face in the morning and slathering on the sunscreen, but I'm getting less and less consistent with washing my face at night. But this is a good reminder to do so again.
d) Take vitamins and supplements.
I have been slacking on this, too. Really, it's because one of the supplements I take uses the casings that smell like prenatal vitamins and it's AWFUL. It makes me want to barf and my hand smells like it for hours afterwards and it's really awful.
The rest of the stuff is fine, but I just can't get past the smell of the one that is disgusting.
But I am exhausted and not feeling energized so I know I need to take my supplements more often. Plus, HOLLOW BONES.
e) Go to sleep when the kids sleep 4x a week.
I did okay on this. What happens now is that I am really energized to write and do blog stuff or stay up reading, and that kills several nights in a row until I'm so exhausted that I collapse when I put Sasquatch to sleep.
So, meh.
f) No texting while driving.
Meh. I am better but not great. WHY IS IT SO HARD???
2) Take my responsibilities as a grown up seriously.
I've done okay on this. Although now that I think about it, I definitely could do better. I am behind on a few things.
HOWEVER, I did move the bookshelves from our closets into the new office and moved all my English books there. I also had Guavarama come and reorganize my Chinese book shelves now that Fleur brought over a lot of my books that she was storing for me as Bebe was making her way through them.
Plus, my kids destroyed some parts of our house and I called the handyman the same day and he came to fix it! And he's the one who moved my shelves from the closets to the office and bolted them to the wall. I also finally remembered to add a window screen to the kids' room.
Oooh! And I finally bought better sheets and a duvet and duvet covers and washed them! Yay to no more microfiber sheets for the full bed because it traps heat and Gamera keeps getting headaches.
I also angry purged and the kids' toys and finally lugged the 6+ garbage bags of clothes to the donation center. I even semi-sorted my kitchen table.
Hmmm. I guess I adulted more than I thought. WHOOOO!
3) Write.
I did really well on this again although I always wish for more time despite my not maximizing it. Plus, I got lots of ideas churning around in my head that I'm excited about.
Now, I just have to write even more.
Alright, that's it for me this month. How are you doing on your resolutions? Is 2017 living up to what you thought it would be?