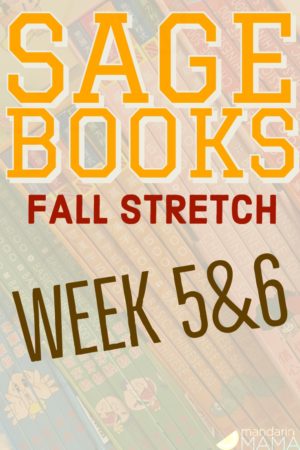 This post was sponsored by Sagebooks. All opinions are mine and mine alone. 
I'm not gonna lie to you, Marge. I am chuffed about these past two weeks. There's something invigorating about FINALLY getting shit done. (And by shit, I mean have your kid consistently go through a Chinese reader that teaches children the most frequent 500 Chinese characters in children's books.)
It's amazing to me how such a little thing such as making your 5 year old read for about 5-10 minutes 4-5 times a week can improve your outlook on life and make you feel like a rock star. (Just me? LIAR.)
Maybe I just have sub-par standards.
Either way, this achievement – yeah, I'm gonna go ahead and call it an achievement – put a bit of swagger back into my step and if that's a sad commentary on my life as a bilingual homeschooling mom of four, then so be it. SAD COMMENTARY ACCEPTED.
Where Are We?
We started off Week 5 at Lesson 2.5:16 and I wanted to finish the entire book as well as a few Treasure Box readers by the end of Week 6. I held out the hope that perhaps Glow Worm (5) would finish all five of the Treasure Box books in Set 2, but I didn't want to add too much pressure on myself.
Yes. It IS a lot of pressure.
I'm only just recently recovered from a mid-life crisis so your continued understanding and low expectations would be greatly appreciated.
Did We Do It?
YES!!! Hence my chuffedness. (Chuffery?) We finished Set 2 Book 5 during the first week and then we went through two of the Treasure Box books.
We did not finish the entire Treasure Box set but you know what? I don't care. I consider it a win.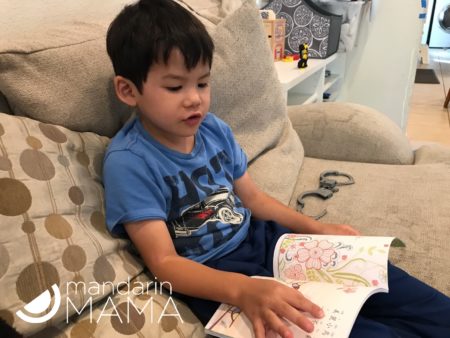 What Happened?
I wish it were some magic button I pushed or some fancy pill I swallowed, but like I mentioned last time, I just had to do it. I couldn't very well put the burden on Glow Worm. (If only he were that self-directed and motivated at five. A PERSON CAN DREAM.)
Folks, there is no secret. No trick. As with all things, the power is in the doing. One stinking day at a time. One lesson at a time.
Slowly. Steadily. And then, you're done.
Here's proof that you can move on and force your kid to read Chinese even if they haven't perfectly recalled all the characters. This is Glow Worm reading 青春舞曲/qing chun wu3 qu/Spring Dance Song/.
What Else?
Did you know that the notes for Sagebooks suggest that you go over lessons with your child three times a day? I DID NOT KNOW.
I'm glad I did not know because that seems really hard.
I'm sure Glow Worm would retain and remember his characters much better if we did, though. He keeps saying 黑/hei/black/ for the character 點/dian3/dot/ because they have the same shared 黑 component. I don't mind because I am pleased he recognizes the connections between characters and is really looking at them. I know this will eventually resolve itself.
Alright. It's been a good two weeks. Hopefully, this two week streak will carry over to the next two weeks but as we all know, hope is not a course of action.
Let's happily plod along!