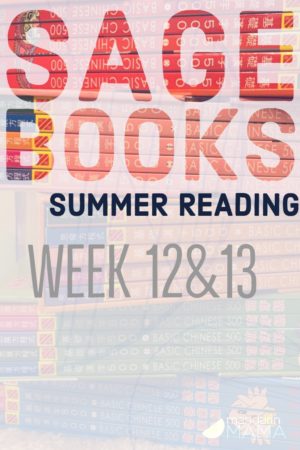 This post was sponsored by Sagebooks. All opinions are mine and mine alone. 
Friends, this is the post you have been expecting because I haven't exactly been subtle dropping hints all over my previous posts. (It's called foreshadowing. I'm a genius!)
Let's all just pause a moment and appreciate my excellent planning.
Ok.
It has been rough going.
These last two weeks, I think I might have cracked open Sagebooks maybe three times? (That may be generous.)
I thought about Sagebooks a lot. (Mostly in terms of ratcheting panic and guilt.)
So, what use is there in reading further? Isn't this entire post just filler and a contractual obligation?
Why you gotta be like that? It's rude and frankly, hurts my feelings.
If you stop now, you'll never know if I reach deep into my writing depths and pull out some incredibly brilliant statement that will transform your Sagebooks journey with your beloved children. Think of your children.
THINK OF THEM!!!
Where Are We?
We started Week 12 fully resigned to plowing back through Set 2 Book 4 by the end of Week 13 because I like being contracted by Sagebooks and also, I hate failure.
Did We Do It?
Come on. Does this even need to be asked? No. No, we did not do it. (Don't you remember my spoiler from last time? Or at the beginning of this piece? I'm beginning to think you don't actually like me.)
What Happened?
I tried, people. I really tried.
Wait. No, I didn't try at all.
I basically said, FUCK IT I AM HAVING A MID-LIFE CRISIS BECAUSE I'M TURNING 40 IN A FEW WEEKS AND I AM NOT READY.
I wasn't ready.
And so, I drowned myself in BTS videos and ate my weight in feelings and avoided my children and generally low-key disrupted my children's lives and caused not a small amount of worry to my dear, sweet husband.
Are You Ever Going to Get Your Shit Together? And How Long Do We Have to Wait, Really?
Ok, come on. Now you're yelling at me in the paragraph headings. This is untenable.
However, FAIR QUESTION. I will allow it.
If it re-assures you, we resume our regularly scheduled programming in our next Sagebooks update. (There's that foreshadowing technique again. You guys, I don't make up the rules. I just apply them with great finesse.)
How did I do it? You'll have to read the next update to find out.
Okokokokok. I'll tell you early since you've read this far: I just did it. I listened to mass marketing by Nike and I did it. You're welcome. But you still have to read the next update or I will hunt you down and whine at you. I just turned 40 so I have ample practice.
If you're annoyed at me and want to see people actually proceed and move forward in Sagebooks, check out the Sagebooks HK Parent Support Group on Facebook.
Until next week, friends!