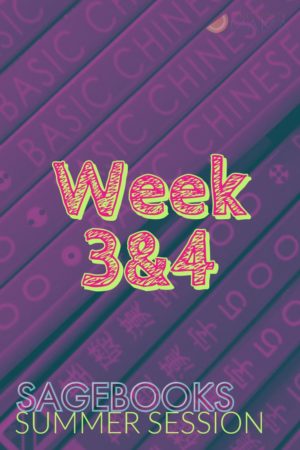 This post was sponsored by Sagebooks. All opinions are mine and mine alone. 
I ended the last update on an unexpected roll because of my impending Taiwan Trip and I ended up ahead of the game. The question now becomes: did I continue that momentum or did I grind to a halt because I got cocky and also, overwhelmed with the prospect of packing? (I hate packing.)
Don't think I don't see you betting against me. I CAN SEE YOU. IT'S NOT KIND. NOT KIND!!
YOU DON'T KNOW MEEEEEEEEEE!!!
WHERE ARE WE?
We ended Summer Session Week 2 more than halfway through Treasure Box Set 4. My goals these two weeks was to finish the Treasure Boxes and maybe start Set 5 (and finish a few) so that by the time we headed off on the loooooooooonnnnngggggg flight to Taiwan, I could pack fewer books. But ultimately, I wanted to be at least halfway through Book 5.1 by the end of Week 4.
Why do I do this to myself?
DID WE DO IT?
YES.
I find your lack of faith disturbing.
Did I get as far as I wanted to before we left for Taipei? No. But hey, I only wanted to finish the Treasure Boxes and I was content with Glow Worm (~6) plodding along through Book 5.1 in Taipei. I mean, what else was he going to do while recovering from jetlag?
I'm still waiting for my apology. Ahem.
WHAT HAPPENED?
Look, Could we have gotten more done that last week in the US? YES, OF COURSE.
BUT I ACCOUNTED FOR THAT BECAUSE I KNOW MYSELF AND DON'T SET UNREALISTIC GOALS.
Sorry for the shouting. I'm still salty over you betting against me. It really hurts my tender feelings. I may seem outwardly flippant but I'm a person, okay?!?
(Also, I'm just teasing. I'm not really hurt. Nor am I offended. Nor do I know for sure that you bet against me. Maybe you were one of the non-zero humans who rooted for me. In that case, I love you forever and ever and these aren't in ALLCAPS because I feel as if my ALLCAPS have been slightly overdone this week.)
Anyhow, I didn't get much done that last week in the US because I was stressing about packing and closing up our house and as a result, I mostly just floundered about stressing without doing anything practical to alleviate said stress by actually packing or closing up our house.
However, I did surprise myself by actually forcing my children to read Chinese while in Taiwan. Mostly out of guilt and panic. There's only so much screentime you can give your children before you feel like a horrible person. And you'd think that the screentime would be in Chinese because we're in Taiwan but you'd be wrong. Because I lack will and follow through and please stop judging me. I'm a good person. 
WHAT ELSE?
Glow Worm was compliant enough to read Sagebooks in Taiwan despite my promises of only fun things once we got there. But I guess my kids are used to my requirements of reading in Chinese prior to screentime so he was willing enough.
Also, I neglected to take any pictures or photos because of the aforementioned packing panic and then the jetlag despair once we arrived in Taiwan. I am only capable of so much, alright?
But once again, I'm pleased with myself and perhaps also Glow Worm because I guess he has something to do with this. PFFFFFFFFFFFFFFTTTTT. See you next update.