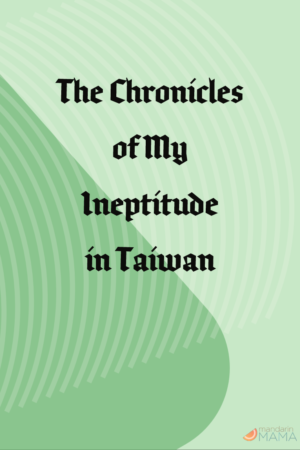 Ok, friends. I have a bunch of things on my mind about our Taiwan Trip thus far and I can't organize them well and it's super stressing me out. So, in the absence of any sort structure, I bring you Mental Flotsam: The Taiwan 2019 Edition. (I will also accept: The Chronicles of My Ineptitude in Taiwan.)
1) I forget just how much the heat saps my will to live.
I'm finishing up my third week so I'd like to say I'm a little more used to this weather, but honestly, I don't ever want to be accustomed to my body dripping more sweat than I produce in a given year after a tiny walk to drop off my children at their schools and it's only 9am. It takes me like an hour to recover and even then, I don't want to do anything else ever again.
Forget after I have picked up my children. I had all these delusions of writing after they sleep – but all I want to do after they're in bed at 9pm is also go to sleep. I have definitely readjusted my expectations and work schedule now that they're in camp. It does cut down on my own fun time, though.
2) My body is disintegrating.
TMI IMMINENCE WARNING!!!!
THIS IS YOUR LAST CHANCE TO SCROLL TO THE NEXT POINT. YOU ARE LUCKY I BURIED THE LEDE BECAUSE THIS IS GROSSLY COMEDIC.
Oh. Also? There will be CAPSLOCK abuse. You've been duly warned.
This entire week, my ass has been leaking shit that is burning me. Literally. And it got all over my underwear. I was outside. It wasn't a lot. But OMG – I didn't think I could lose any more dignity. WRONG.
OMG AND THEN AS I AM ASSPLODING ON THE TOILET SASQUATCH (2.5) HAS TO POO SO I MADE HIM STRADDLE THE WASTE BASKET AND HE POOPED IN THERE. FML.
Do you think I can shit belly fat away? If so, I will gladly shit a lot for the rest of this trip. Well, perhaps gladly is an exaggeration. But I would suffer this willingly.
ALSO ALSO two blood clots each the size of Nebraska just came out of my vagina. FFS. I haven't had a menstrual cup overfill in less than 12 hrs in a long time. BC OF NEBRASKA SITTING IN THE CUP TAKING ALL THE REAL ESTATE.
I TOTALLY LEAKED THRU MY THINX UNDERWEARS IT IS A MASSACRE
RIP UTERINE LINING
ALSO THE NONSTOP POOPING
My entire body is protesting and shedding itself from the inside out.
Still here? You're welcome.
3) I'm attempting to better my life while in Taiwan and establish healthier habits.
I do not know if I enjoy this. But since it's a minimum of 8,000 steps to drop off and pick up my kids, it should not take much more to get to 10,000 steps. I need to figure out a way to get these 10,000 steps in when I go back home since I'm basically inert.
I sent my husband home and told him to exercise so he's been walking 10,000 steps a day. I'm proud of him. I hope he takes the kids out with him when we get back. Tire those babies out.
I am also re-starting my attempt at the Jungkook daily exercise set and it doesn't destroy me as badly as it did when I started back in May but you know what? That's okay because my body is doing enough damage to itself.
Oh wait. I should be more careful of how I speak things into the universe.
At any rate, I better fit into clothing when I get back home. I was having trouble squeezing into YOGA pants. Like the softest, roomiest, stretchiest OLD yoga pants and yet my thighs were saran wrapped in them.
For the curious: Jungkook from BTS's daily upkeep exercises are a set of each of the following:
Warm up (I skip this because why?)
Squats
Pushups
Jump squats
Shoulder pike push ups
Plank
Mountain climbers
Burpees
Crunches
Leg lifts
Superman
Cool down (which I also skip unless you count me laying on the floor weeping)
4) I thought I brought enough money but I did not.
I neglected to account for my growing offspring, their increased appetites, and their father being around and needing to be fed and watered as well. Also, it's really hard to math and it still seems like fake Monopoly money BUT IT'S LIKE AN ACTUAL CURRENCY. I'm constantly mixing up the values of $100NT ($3USD) and $1000NT ($30USD).
IT MAKES A BIG DIFFERENCE!!!
5) I Overestimated my ability to focus.
Or did I accurately estimate my abilities but instead, lied to myself and sold myself a grand vision of incredible productivity? But there are only so many hours between 0900 and 1600 (7 hours really isn't enough) and how can I cram in work and dicking around and fun and shaved ice in these hours?
I CANNOT.
On the bright side, though. I wrote a decent amount this week so it was not entirely a wash.
6) I keep forgetting to update Instagram.
But I did last night so I just had to tell myself better done than perfect. So things are not in chronological order. I haphazardly uploaded photos onto my own Facebook page without worrying about captions, etc. I just wanted to make sure I could see these pictures show up in my Facebook memories instead of the strange abyss of Instagram which I still do not entirely understand.
7) Cookie Monster has a mouth injury that is getting worse.
At what point do I need to take him to a doctor? Glow Worm (~6) rammed his hard head into Cookie Monster's mouth a few days ago and then Cookie Monster kept biting the injury and it keeps getting worse. I thought the mouth was supposed to heal itself quickly?
8) My aunts keep sending me cases of fruit and I cannot eat them quickly enough before they rot.
My children are useless and I feel a LOT of pressure about this because I don't want to be ungrateful or wasteful but sheesh! That's a LOT of fruit.
9) I lasered my face again!
I should include pictures but we'll see if I can get my shit together long enough (difficult because of Point 2) to post pictures on my blog versus my handy dandy Instagram. Just go there and follow me. I'm really excited because it seems to be working and I can't wait until all the scabs fall off my face and it more closely resembles the spot free face of my baby hood.
Use sunscreen, folks.
Also, don't pick at acne.
Thus ends my PSA for the day.
10) I need to remove distractions from my life.
But it's so haaarrrrrrdddd! And I swear it's not only BTS. Okokokokok. It's not BTS specific – but related. I am now part of way too many group chats and though I didn't intend to care about the people in these chats, I now love these women. Look, I'm not a monster. I am capable of having a heart. It's just out of practice.
11) The best moment of my day is picking up Sasquatch from preschool.
Sasquatch is BIG MAD about attending preschool and I will talk more about this in updates about Taiwan bilingual immersion. But when I pick him up? He is joyful and exuberant and happy and RUNS to greet me and hugs me and is willing to actually walk a little on his own and we hold hands and stroll and he points out all the car colors to me and all the motorcycles and he babbles and I feel my heart fill so full it is near bursting.
I'm tearing up just writing about it.
But this moment is so precious to me. I don't know that I have similar memories of the other children because when they were Sasquatch's age, I was either pregnant or just had a new baby and thus, those moments are lost to the cruelties of time.
12) I need to write.
I say this every year. Every day. Every week. I do write, but I waste so much of my writing on things that I don't ultimately want to write about. If that makes sense. So. Gotta do better next week. I did okay this week. I'm not unhappy with the results, mind you. But I only have three weeks left and that last week will be eaten up by packing procrastination so really, I only have 2.5 weeks left.
Wish me luck and shaved ice!!