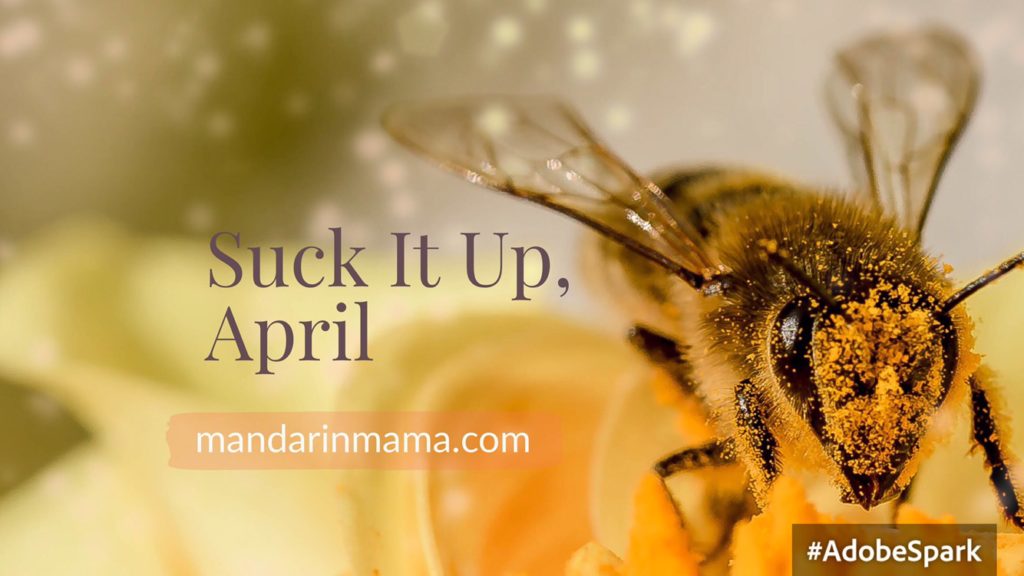 How is April mostly over?
You know what this means, right? 1/3 of 2017 is over. That just sounds wrong.
As usual, here is my monthly check in to see how I'm doing with my yearly goals, aka: My Year of Sucking it Up.
1) Take family and personal health seriously.
What does that look like? I want to:
a) Cook at least 5 meals a week.
Still doing well in this category. I was getting a little bored with my cooking, but whatever. At least we are eating.
Oh, the new thing I did was pre-made two dozen hard boiled eggs in the Instant Pot. That way, I can quickly add protein to a dish (it has to be separately added because Glow Worm is allergic to eggs) and Gamera LOVES eggs but rarely gets them so she is in Heaven. Hapa Papa is really happy about it, too.
I am a bit disappointed in myself this month, though. I have personally eaten out more, but my kids haven't. It has been mostly once a week, but that is more than I would like.
b) Be active once a week.
Ha! Next.
Does watching my children be active count?
d) Take vitamins and supplements.
Again, I'm still remembering to take these most days. I consider it a win.
e) Go to sleep when the kids sleep 4x a week.
Better than last month, though I have yet to sleep early 4x a week. But I do sleep when the kids sleep at least a couple times a week.
Sadly, STILL TIRED.
f) No texting while driving.
I did better this month although I slipped up again near the end of the month.
One good thing about these posts is that I catch myself texting or reverting to my naughty ways and I force myself to stop because I don't want to tell you guys how I am endangering my life, my children's lives, as well as the lives of other people.
2) Take my responsibilities as a grown up seriously.
Pretty sure I did a bunch of unpleasant adulting. I even got a handyman and a housecleaner.
Hey. Part of adulting is delegating.
WIN.
3) Write.
I did awesome this month!
I finished writing and editing my ebook!!! I finished the first draft of my action plan that goes with the ebook!!! I wrote a bunch of posts!
And get this. I got my first sponsored post! (You will get to read it Friday.)
And I also volunteered to write for a few friends' sites as well as swap posts with some other sites so look out for those next month.
So excite!
Alright. That's it for this month. How did you do for April? Let me know in the comments.