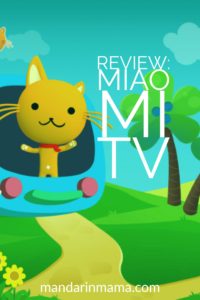 ** Compensation for this post was provided on behalf of Miao Mi TV. A free code was also provided so I could review the app. Opinions expressed here are my own. 
People always say we should have our kids watch and listen to Chinese media in order to improve their Chinese, but you know, it can be really hard to know where to start.
It's especially hard if you don't speak or understand Chinese.
I mean, I suppose you could just do a search on YouTube for Chinese cartoons, but if you don't understand Chinese, how do you do any sort of quality control or parenting? What if the cartoons are really bad dubs? Or really bad translations? Or worse – that pernicious sub-type of YouTube video where jerks dub cute cartoons with inappropriate dialog?
How do you know what your kids are watching?
On the other hand, even if you do understand and speak Chinese, there is also the matter of time and money invested in purchasing Chinese DVDs (some translations on Amazon are really expensive!) or getting a DVD player that can play the appropriate region code.
And then, there is no guarantee your children will actually LIKE what you bought! (For instance, I bought so many sets of Charlie and Lola, but my kids don't like it at all. You'd think that one out of the three older children would, but NOPE.)
Recently, I was approached by our sponsors to review the Miao Mi TV Channel on Amazon Prime and I think I have found a reasonable and easy solution to the What Should My Kid Watch In Chinese Dilemma.
Here are the important things to know about Miao Mi TV:
1) It is available in the US as an Amazon Prime Channel for $5.99/month.
2) It is also available as a free download in the App Store today and on Google Play in May. You can subscribe for $5.99/month.
3) Both versions come with a 7 day free trial.
4) The programming is geared towards 3-6 year olds and the vocabulary level is supposed to match what K-2 students in US Mandarin Immersion programs are learning.
5) The app is a safe, secure, and ad-free environment that features a child-friendly user interface.
6) Both the app and the Amazon Prime Channel have English/Mandarin language support.
7) The shows and educational videos are in Simplified Chinese. (This obviously doesn't affect the spoken language – just the titles and characters used in the videos.)
8) There are currently 8 animated shows available in both English and Mandarin as well as educational videos that focus on teaching children some basic Chinese. Each show has at least one season available with around 50+ episodes per season. Most episodes seem to clock in at about the 12-15 minute mark.
9) Here are some of the shows available:
– Pleasant Goat & Big Bad Wolf/喜羊羊與灰太狼 (xi3 yang2 yang2 yu3 hui tai4 lang2): This is the only show I had heard of and Cookie Monster (7) and Gamera (5.5) were familiar with them.
– Star Babies/星與星願 (xing yu3 xing yuan4): A highly acclaimed animated series inspired by Chinese icons such as Bruce Lee and Monkey King. Gamera really liked this series.
– Our Friend Remy Bear/我們的朋友熊小米 (wo3 men2 de5 peng2 you3 xiong2 xiao3 mi3): An award winning animated series that teaches children important life lessons about kindness and camaraderie. Glow Worm (3.75) really enjoyed this cartoon.
– Eori/優瑞歷險記 (you rui4 li4 xian3 ji4): A high-quality Korean animated series that features stories based on Asian folktales.
– Secret Y/因為所以 (yin wei4 suo3 yi3): An animated series that introduces scientific knowledge to young children through the lovable characters from the hit animated movie Axel: The Biggest Little Hero. This was Gamera's favorite and she constantly requested this show throughout the week.
– Pleasant Goat Fun Class/智趣羊學堂 (zhi qu4 yang2 xue2 tang2): An educational series featuring world-famous characters from the "Pleasant Goat" franchise that promotes cognitive skills and life skills.
Although I was only going to have my kids watch 2-3 episodes, they clamored for more and insisted on watching as many as I would let them.
Cookie Monster wasn't that interested in some of the cartoons, but he is a little older than the recommended age range. Despite his initial complaint, he had no problem watching several episodes in a row.
Gamera liked the most shows and kept requesting to watch the Secret Y series. Who am I to complain? They're educational and answer common questions like, why does the moon change shape? Is it being eaten? My kids got tricked into learning science.
Glow Worm liked most of the shows, too. He preferred the action cartoons because that's about the level of his understanding.
We did not check out the educational videos because I was worried my kids would be bored and then I wouldn't get buy in from them to watch the rest of the videos.
Here are the things I loved about the shows on Miao Mi TV:
Though there isn't breadth, there is DEPTH.
Good for beginners and non-speakers – especially the lessons on body parts, common phrases, and family members.
Cartoons are in both Chinese AND English – which is helpful to non-speakers or speakers who aren't as fluent as they'd like.
Shows are pre-vetted so we don't have to
Many shows are indigenous to China and not translations so the language is more likely to be what Chinese people actually say.
Very Chinese/Asian content.
Titles and descriptions are in English – which is SO HANDY for illiterate people such as myself. I have a ton of ripped Chinese videos and DVDs but it's virtually impossible to keep track of which episodes my kids have seen because the file names are MMCH_06_05 and has no info.
$5.99 /mo is less than 1 DVD.
Here are some of the things I wished could be improved:
I wish there were Chinese subtitles at the bottom of the cartoons. I know the purpose is not to teach written Chinese to children, but it would be an added bonus. Especially for the times where I'm not sure what the characters are saying – and the kids don't know what a term means. If there are subtitles, I can at least look it up. Without subtitles, I have to randomly guess based on tones, etc. and then blindly Pleco and hope for the best.
The Amazon Prime interface is a little clunky – but workable. The app is much easier to navigate – especially for children.
Overall, I am pleasantly surprised that I enjoyed this channel.
I fully admit to being a snob and thinking that I wasn't going to like it and thinking it might be helpful for non-speaker families but certainly not for my kids. But guess what?
I really liked Miao Mi TV.
I liked it so much that I told a bunch of my really good friends about it while the kids were watching the videos.
I liked it so much that I paid for another month and did not cancel after the first 7 free days. (Although our sponsors offered to reimburse me for it, I did not accept.)
Miao Mi TV is perfect for people who want their preschool kids to be exposed to Chinese in a way that is fun, easy, and entertaining. It is great for speakers and non-speakers alike and I am so glad I got the chance to check it out.
I highly recommend you check out Miao Mi TV, too.