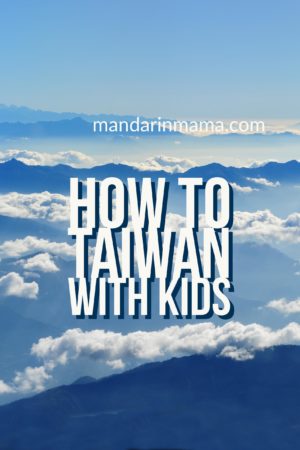 Upon hearing that I took four kids 7 years old and under (including an 8 month old) by myself for a month, most people immediately say, "You're so brave!" This is usually immediately followed by, "How do you do it?"
Well, the short answer is, "With a lot of yelling."
The long answer takes a lot of time (and a lot of swears) but because I'm a giver, here is how I personally get through it (and without any alcohol, too!).
1) Ask for help.
I cannot reiterate this enough.
Do not be a jerk. Do not let pride get in your way. Either ask for help or accept help when people who love you offer.
I will be honest. I was offended and pissed off at my mother when she told me she didn't want to go to Taiwan in the summer but was only going to help me on the plane (even though I did not expect her to come – NOR DID I ASK). She just could not fathom how my children would go to the bathroom.
I tried to explain that Cookie Monster (7.5) and Gamera (5.75) could go by themselves. I really would only have to help Glow Worm (~4) and as for myself, I have gone to the bathroom plenty of times with Sasquatch (8 months) strapped to my body.
I was a little less offended that my cousin rearranged his travel schedule to the US in order to accompany us on the trip back.
Either way, I felt as if they were saying I was not a capable person. After all, don't I take care of my four kids every day?
But you know what? FUCK MY PRIDE. My mother and cousin were helpful. And I accepted their help (despite internal grumbling).
Even though my mom ended up not sitting next to us on the plane (and only checking in once for about a minute), she was still helpful at the airport, going through customs, and when we moved into the apartment. She helped me at bedtime for the ten days she was there.
THAT IS NO SMALL MATTER.
Plus, my kids got to spend extra time with her – and she is so wonderful with them. They got to hear stories and just laughed and laughed and laughed.
And on the way back, I forgot that since we did not have a direct flight, we would have to go through customs with all our luggage then recheck them in for our domestic flight.
I could not have gotten it done without my cousin there. It was hard. SO HARD. (I was still recovering from the flu and I just could not manage all our luggage along with all my children.) I am SO GRATEFUL he was there. Even a minor thing such as him being there allowed me to go to the bathroom without worrying about my kids being alone.
As for during our stay, several times, my cousins would bring food over (both in terms of dinner and in terms of fruit and snacks). They also lent me supplies that I needed for the kids' school so I didn't have to buy them. Super helpful!
2) Make a packing list at least a month (or two) in advance.
That way, you have enough time to order stuff on Amazon or go to a physical store and buy. And of course, anything you forget to purchase, you can most likely buy in Taiwan. It is, after all, a developed country. The only problem is that everything is in Chinese.
THAT IS A REALLY BIG PROBLEM. (If you are mediocre like me.)
Here's a pic of my packing list. Obviously, YMMV.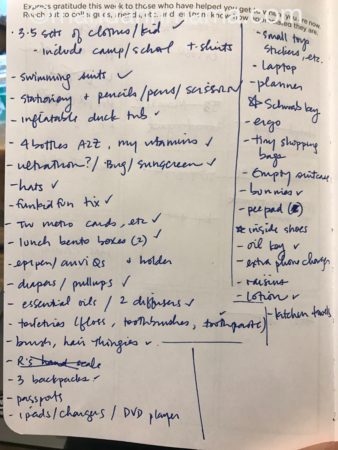 3) Know your limits.
If you are going to be single parenting it in a foreign country (or really, anywhere – and quite frankly, even if you have a partner in the picture), you really need to know your limits.
You have to be brutally honest with yourself about your capacity and ability to handle shit. BECAUSE SHIT WILL HAPPEN.
So, I know that I have a really low tolerance for sightseeing stuff – especially with so many wiggly and crappy kids. I also hate eating out with my kids. Or really, doing ANYTHING with my kids.
As a result, we saw nothing. We ate out at ONE restaurant. We avoided anything that I hated doing. If I knew something would piss me off if the kids were with me, I would either not do it or only do it when they were in school.
I also made sure I got enough sleep because I know that when I'm sleep deprived, I am even meaner. And because I have a low noise tolerance level, I was okay with the kids having a lot of screen time. Like, A LOT of screen time. Because that is the only time they are guaranteed to be silent. Because their brains are rotting.
4) Be OK with feeling stupid. ALL THE TIME.
I am not kidding.
I spent 99.9% of the time in Taiwan feeling like an idiot.
It's sad, really. I always forget and think that I'm fluent in Chinese when I'm in the US because really, my Chinese is pretty good. When I am in the US.
When I'm in Taiwan? MY CHINESE IS SAD AND JUST ENOUGH TO KNOW THAT I AM MISSING SOMETHING IMPORTANT.
I cannot wait until my children's Chinese is better than mine so they understand what people are saying to us. Better yet. When they can read the Chinese so that we don't have to speak to anyone.
I don't know how to explain to people who have not experienced this, but ultimately, it's not that we don't understand Chinese. It's just that everyone speaks so quickly. Or they use obscure terms. Or super polite terms. Or super official sounding terms. Or normal terms that our parents never saw the need to teach us. Or terms our parents didn't know to teach us. Or terms they might have taught us but we never retained.
Couple that with my functional illiteracy, I end up asking questions that are obviously labeled and answered IF ONLY I COULD READ ALL THE WORDS. OR IF ONLY I COULD COMPREHEND WHAT THESE WORDS I CAN READ MEAN TOGETHER IN A SENTENCE.
5) Have a routine.
This seems silly but routines saved me.
They ensured that I remembered to do things like pack lunches, refill water bottles, had clean clothes, sunblocked and bug sprayed my children, and washed the dishes.
I mean, would these things have gotten done WITHOUT the routine? Yes. Of course. How could they not?
But my life was much less stressful because these routines became muscle memory and I didn't have to expend as much brain power trying to make sure everything got done.
6) Appropriate footwear is key.
I am a big fan of kids having covered toes and sneaker like shoes because Taipei is an urban city and the last thing I want is for their flip flops or crocs to get caught in an escalator or snag on uneven sidewalks and then end up at the hospital to replace a toe.
So, I made sure we had shoes that were breathable, had sneaker like tread, but could dry quickly if they got wet in the rain or water. I chose to buy (affiliate link) Stride Rite Phibians. They're boring and sturdy and get the job done.
7) Take out is your friend.
I don't understand how some of my friends would physically bring their children to restaurants and then eat dinner during prime people eating time. That sounds like my personal version of hell.
Maybe it's because I have never trained my children to behave in public. Or that there are too many of them. But by the end of the day, I can't think of anything my children want to do less than sit still and quietly while waiting for their food (that they might not eat) and then eating it. (And also hoping there are forks because only one of my kids can use chopsticks.)
No thanks.
Instead, I found a place by my kids' camp and bought off their menu almost every week night (before even picking them up) and then we would eat it at home while they zombied out on iPads.
8) Indoor play spaces are also your friend. (But they are expensive.)
Look, maybe my feral children are unique, but they are used to a lot more space in the States and being at parks and running around to let out their boundless energy.
It's not that there aren't parks (and great parks) in Taiwan. It's just that it's hot and there are a lot of mosquitoes. Nothing makes a park less fun than a blazing sun that is trying to melt you and incinerate your body with fire. And when you're hiding from the sun, eating you alive with evil, tiny black mosquitoes.
Nope. No thanks.
So, indoor play spaces are great.
9) Make sure your kids understand how to navigate a city.
Since my kids are born and bred in the sprawl of an American suburb, they are not used to the density of people, the pace of the movement, and the rules of city life.
So most of my stress was making sure my kids weren't impeding the flow of traffic by coming to a dead stop in front of an elevator, turnstile, stairwell, escalator, MRT door, middle of a crosswalk – YOU NAME IT, THEY'VE JUST STOOD THERE LIKE IDIOTS WITH MOUTHS AGAPE.
Oh, I was also worried about them plummeting to their deaths from the 3-4 story high escalators.
Also? My kids are not quiet. Or well-behaved.
Taiwanese children apparently know that they're supposed to be quiet and well-behaved in public and on public transportation.
So, other than trying to civilize my children, I also had to make sure I didn't lose them among the crush of people on escalators, MRT trains, buses, and THE SIDEWALK.
10) Remember, your children get culture shock, too. And jetlag. My God, the jetlag.
You know how everything is hard and foreign and overwhelming to you? It's the same (and perhaps moreso) for your children.
Be kind. And gracious.
If you can remember. (I often did not.)
11) Get internet access for your phone.
You can buy a SIM card with a Taiwanese phone number at the airport and/or at local telecom stores. Or, you can rent a hotspot. Either way, YOU NEED INTERNET ACCESS.
In Taiwan, you buy two separate services: talking minutes and data. You need to buy both, but data is VITAL.
How else will you find what foods, attractions, activities, and addresses are by you?
12) Google Maps and Pleco are your best friends. 
This is, of course, predicated on having internet access.
Google Maps has improved so much since I started going back to Taiwan three years ago. (Has it really only been three years?)
As long as you know your destination, Google Maps will tell you how to get there. Of course, you can always take a taxi – and Google Maps will tell you how long that will take.
But, it will also tell you how to get there (and how long it will take) via public transportation (MRT, bus, train, etc.) or walking.
Plus, now if you click on the bus numbers, Google Maps will show you all the other buses you could take, how many minutes until they arrive, how many stops there will be until your destination, and how much it will cost!
Just keep in mind that there is sometimes more than one bus stop in a given location. It took awhile for me to realize that the buses are grouped by each stop (logical) versus just listing all the possible buses you can take near you. You need to click on the separate bus listings to see all the other possible buses that are available to you.
Also, you can also change the date and time when you're searching. This is important because if you search directions in the middle of the night, you might think there are zero to no options when in reality, during the day, there will be lots of options. Or, if you search during commuting hours but then travel on a weekend or during non-commuting hours, you will think you have more options when really, you have few.
Ask me how I know.
For the MRT, Google Maps will tell you which exit you take (there are many exits per MRT station) and trust me when I say, the longer you can stay within the air-conditioned confines of an MRT station and avoid the fiery ball of gas outside the better.
As for Pleco, unless you are native fluent and also functionally literate, YOU WILL NEED A GOOD TRANSLATION APP.
Some people prefer Google Translate. I prefer Pleco.
Plus, Pleco has OCR where you can just scan characters and it will tell you (for free) how to pronounce the characters (but not their definitions). That is useful if you understand Chinese but just can't read. Not so useful if you don't.
13) Don't bother with car seats. 
If you are super worried, just take public transportation or walk. For the rides to and from the airport, you can call ahead and book a taxi that will rent you up to two carseats. (In this same vein, there are companies where you can rent pack 'n plays and other baby things.)
Just keep in mind that no taxi will wait for you to install/uninstall a car seat – and even supposing you do find a taxi that will, are you really going to be walking around Taipei carrying a car seat along with your children?
Get over it. Kids here ride ON MOTOR SCOOTERS.
Anyhow, I hope this was helpful.
If you have a lot of time on your hands or just want more of me, here's my Facebook Live video that discusses a lot of these same things (but unedited and with perhaps some more swears).