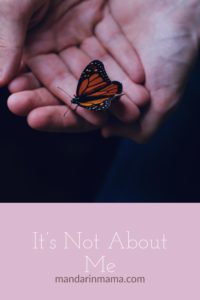 I have been hiding.
I was on a good roll for a few weeks, posting almost daily, writing and typing to my heart's content and then, last Friday, my brain ground to a halt.
I wanted to write about stuff. I even created time and space to write about stuff.
But I didn't.
I couldn't.
I felt fake.
I felt on the surface of things. Unwilling to delve deeper into what I was feeling. And most writing – at least the kind that rings true – requires some type of emotional honesty.
How can I be honest to others when I am lying to myself?
Even now, I know I need to write this piece. For myself.
But I keep procrastinating. (Which, let's be honest, is what I do anyway. But MORE SO.)
I do not want to face myself.
…
"It's not about you," Dr. T said. "It's not about you at all."
I squirmed.
"I know, I know," I glibly reply. Not really knowing. "But it's sooooo hard!!!"
"We can address your behaviors and try to fix them all you want, but at some point, we have to break down WHY you keep doing these things. What is the underlying belief that is behind it?"
"And you think it's because I'm still mad at my dad?"
"Possibly. It's not as simple as 'Oh, I'm mad at my dad. Now I am taking it out on the kids.' But it's related."
"Ok. I'll think about it."
We were interupted by Glow Worm needing to poop. Since there were only five minutes left to our session, we ended early.
Sometimes, hauling four kids to my therapy sessions really was inconvenient.
I went home and picked two all out screaming fights over really stupid things with Hapa Papa right before he left with the older three kids to LA for the long weekend.
He apologized, as usual. Ever the conscientious grown up.
I ignored him.
…
How long after a divorce is it reasonable to wish ill upon the offending party and their co-offenders?
I ask because sometimes, I forget why I have cut my father out of my life.
I think, if my parents are no longer married, why does it matter who he is with now? What their lives are like? Whether my nine year old half-brother is happy and healthy?
It feels like betraying my mother to think these thoughts.
My parents have been divorced over four years.
No, the math does not work out.
And then I remember.
My father is a consummate liar. A con. A cheat.
He is a man who faked being stooped, old, and frail for years when he was around us. Gingerly sitting down in a car, then painstakingly using both hands to lift his legs into the car one at a time. Talking constantly about his ailments, refusing certain types of foods because they made him ill.
Only to be found out when he and my mother were in China and she couldn't understand how he was walking so quickly, standing up straight, acting as if he were a man decades younger in age.
What is the point of such a lengthy deception? And how much contempt did he have for us that he no longer cared to keep it up?
…
My father and his new wife (of more than four years – again, the math does not work out) have three homes in Texas.
I know because Google.
To me, the only silver lining to Hurricane Harvey was the possibility that they have lost some or all of their homes.
It seems fitting that such a shitty person would have a flood of actual shit in his homes.
I don't want my half-brother and his half-sister to be hurt or injured or to suffer. (Well, no more suffering than the average human, anyway.) I don't like children to suffer for the sins of their parents. They're just living their lives. (I am reminded of Beatrice from Kill Bill killing Vivica Fox's character in front of her daughter.)
And I don't want my father and his second wife to die, exactly.
But I don't NOT want them to suffer. I don't NOT want them to experience hardship or crippling financial disaster. I don't NOT want them to be unhappy.
My brother says the best revenge is for us to live well.
My brother is a good person.
I am not.
I am petty as fuck.
…
Here's the thing. In previous posts, I have talked about how before I had kids, I could perhaps understand why my father was so selfish a human. Full of want and thwarted ambition. But that after getting married and having kids, your life is no longer all about you.
To quote myself, "Much of marriage and parenting is selflessness – a daily dying of your self to serve the other person."
Ah, irony.
It is so much easier to be theoretically selfless. It is another to actually be it.
Here's the thing.
My father was an abysmal parent. He was abusive. He was unstable. He was an asshole.
He would tell me he knew what I was thinking and that I wasn't even allowed to think that.
Really? I wasn't even allowed the privacy of my own thoughts?
What a fucking shithead.
He made me feel small and worthless.
I would never, in a million years, wish this feeling upon my children.
And, yet.
I always did what I was told.
I don't recall being mouthy or disobedient. I ate all that was set before me. Cleaned. Did my homework. Was a good kid.
I did what he wanted when he wanted how he wanted.
And if I am honest to myself, though his methods were execrable, he got what he wanted.
Sometimes, I would like to get what I want from my children.
…
On my birthday this year, Gamera told Hapa Papa that she wanted to go to the wishing well by Whole Foods and make some wishes.
She wished she wasn't stupid (because when I yell at her, she feels stupid). She wished she had a secret room to hide in when I yelled at her. She wished she didn't talk so much (because I often shush her because FFS sometimes, she doesn't stop talking at ALL). She wished she didn't cry so much (because she really cries a lot and I tell her to stop crying all the time).
She is 5 years old.
I have done this to my beautiful little girl.
My sweet, sensitive, thoughtful, funny little girl.
I have broken her. I am breaking her.
…
It's not that I treat Gamera any differently than I do Cookie Monster and Glow Worm. Ok, that's not entirely true, but for the most part, it is. She just internalizes everything I say whereas Cookie Monster and Glow Worm do not. Or, at least, they do not thus far.
But it is true that she pushes my buttons the most.
I love her. I love my girl.
It's just. She is hard for me.
And I don't know if it's internalized misogyny where I'm ok with my boys showing more of a full range of human emotions, but I want her to suck it up and get over things because FFS the world is hard and judges women so harshly so why does she have no sense of time or direction? Why does she seem to play into female stereotypes?
But it's not fair. It's not right.
Dismantling patriarchy means that BOTH my boys and girls deserve to live the full range of their emotions and be whatever they are – with or without a sense of direction.
It's just – could it be possible for her to still be herself but possibly with less crying and with a little more speed?
I have made my bright, shining girl think she is stupid and hate who she is.
I remember wishing I weren't so loud or chatty or whatever I was. I hated it. I felt miserable in my skin.
How can I be doing this to my precious baby girl?
I have spent so much of my life stuffing my emotions. Pretending how I feel isn't how I am feeling. Denying who I am. Blunting everything except anger.
This is not a life I want for my Gamera.
Why am I doing this to her?
…
It is not about me. And yet, it very much is.
…
I don't know how to end this piece today. There is no tidy resolution. I have not magically turned into a good mother to my daughter.
I do not have trite bullet points skimming over the hard work of denying the easy cycle of exploding at my children and then apologizing and then exploding again. (Or the occasional shame spiral and picking fights with Hapa Papa to avoid feeling the pain of being such a shoddy human.)
I cannot fast forward through the years of therapy wherein I am working on my relationship with Gamera and the other kids by working through my anger at my father – and to be honest, my very real anger at my mother.
I cannot conceive of a time when I am not a seething bundle of resentment desperate to escape my children on my bad days and then weeping at the inevitable silence when my kids head off to college and live lives of their own without me.
I have no idea. I can only hope.
Let us hope together.