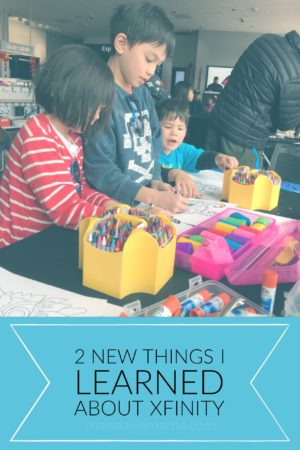 *This post was sponsored by Comcast Xfinity. All opinions are my own.
Last week, I went to the San Francisco Xfinity Store located at 2186 Geary Blvd. San Francisco, CA 94115 for their Lunar New Year celebration without my kids because let's be real. I was not going to drag four kids from the suburbs, take BART, and then either MUNI or Uber just to attend an event.
However, this week, I went to the San Jose Brokaw Xfinity Store at 1068 E Brokaw Rd Suite 50, San Jose, CA 95131. It's located in a shopping plaza and has plenty of easy parking so I had zero qualms about schlepping the whole family to the event. After all, I was pretty sure my kids would have a great time doing the crafts, getting their face painted by artist, Alison Soohoo, eating the snacks, and most importantly, drinking all the juice.
As you can see, I am glad I was not disappointed on that front.
Just like the San Francisco Xfinity Store, the new San Jose Brokaw Xfinity Store was laid out with lots of open space, several areas where an Xfinity customer service agent could sit with you and access a computer kiosk, several counters where you could ask questions, pay bills, and sign up for new services. TVs were nicely placed with inviting couches and all their fancy remotes out so you can play around with them.
There were even Express Pay Kiosks which I think is a nice addition for customers to bypass lines.
Here's where we come upon my two favorite things I learned about Xfinity from these visits to the local store. You would think that after being an Xfinity customer for 14+ years that I would know everything there is to know about it. You would be wrong!
2 New Things I Learned
If you are an Xfinity Internet customer, you can use Xfinity hotspots for wifi connection nationwide. There are 18 MILLION in the US!

When I told Hapa Papa and Guavarama this, they were both like, "DUH." Well, it was news to ME.
Here's how you do it:

Go to your Wifi settings and choose: xfinitywifi
Then choose: I have an XFINITY account and enter your email/username and password
BOOM! You have free wifi!

Xfinity now has a mobile division! You have to be an Xfinity Internet customer though.

Xfinity Mobile uses Xfinity hotspots to make phone calls and provide internet access. Included with your Xfinity Internet service, you get:

No line access fees up to 5 lines
Unlimited nationwide talk and text
100MB of shared data/mo
Access to 18M hotspots

If you want to use the phone when the hotspots are not available, they use Verizon's LTE network. You have your choice of paying $12/GB or unlimited for $45/line/mo.
Kid-Approved Xfinity Stores
I suppose the biggest endorsement of the new Xfinity stores is that Cookie Monster (8) keeps asking when we can go back to Xfinity. He said it was too bad that it was so far. I don't want to tell him that there's a store about 15 minutes away from us. He may never leave.
What I find so funny is that I had to bribe them with ice cream to go in the first place. And now, he wants to keep going back because they got to play Mario Run on the display phones. I'm not kidding when I say that he was on those phones for over an hour today and I almost abandoned him so that I could go home.
Anyhow, if you want to see a full tour of the Xfinity San Jose Brokaw location, here's the Facebook Live video.