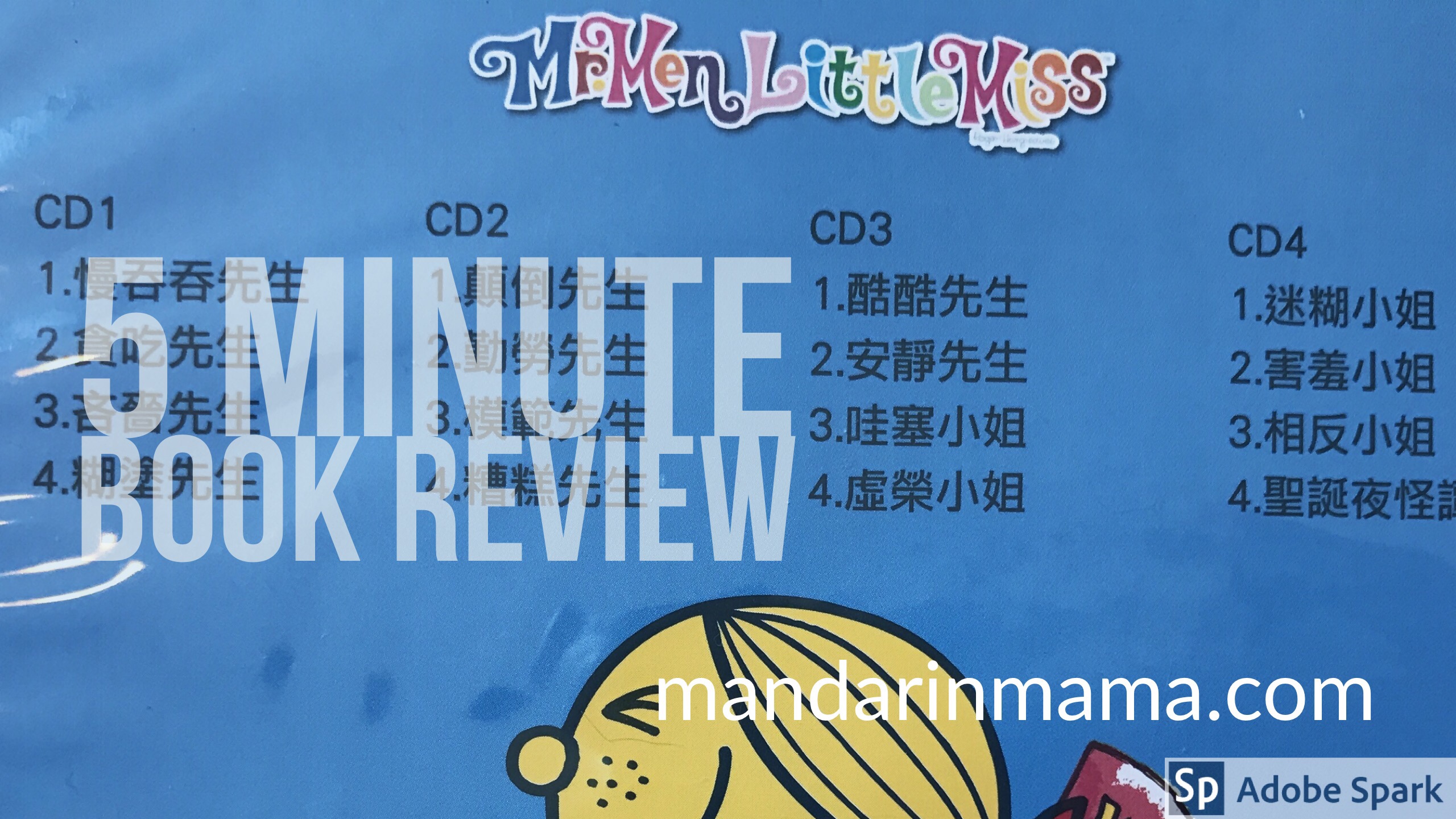 Like my reviews? Want more tips and advice on how to teach your kids Chinese? Want someone to just give you an Action Plan that you can follow? Check out my book (affiliate link), So You Want Your Kid to Learn Chinese.
Title: 奇先生妙小姐 (qi2 xian sheng miao4 xiao3 jie3)/Mr. Men and Little Miss Stories
ISBN: 4712834275481, 4712834275498, 4712834275528, 9789865984465, 4712834275504, 4712834275511
Author/Illustrator: Roger Hargreaves
Publisher: 鴻仁文教
Level: Beginning Reader, Zhuyin, Fiction
Summary: There are 6 sets of 4 CDs, each with 4 stories for a total of 96 stories. These are supremely high production value CDs with background music, sound effects, narrators, and consistent voice actors.
There are also 96 thin books that are translated from Roger Hargreaves Mr. Men and Little Miss series in English.
Sample Pages: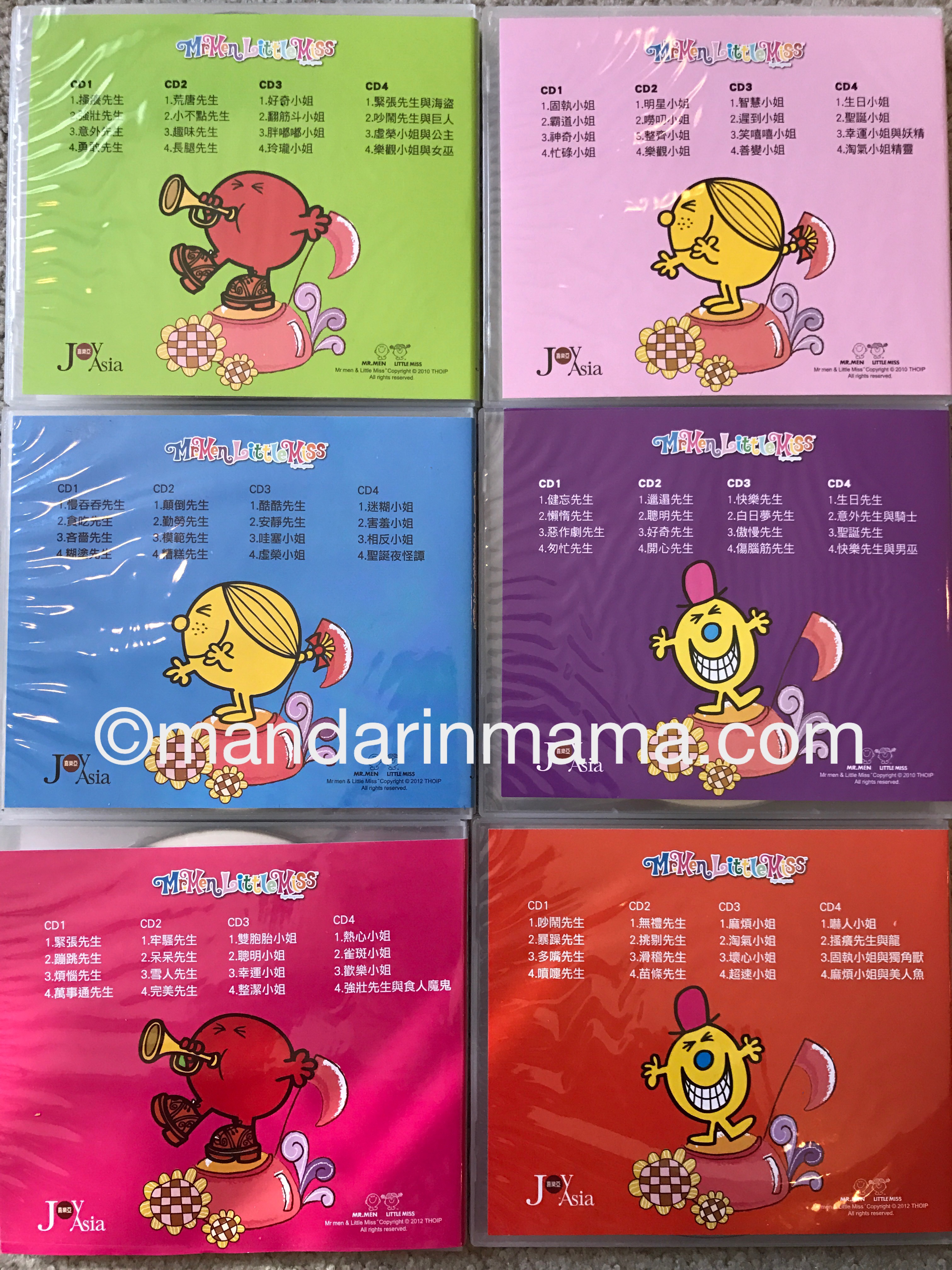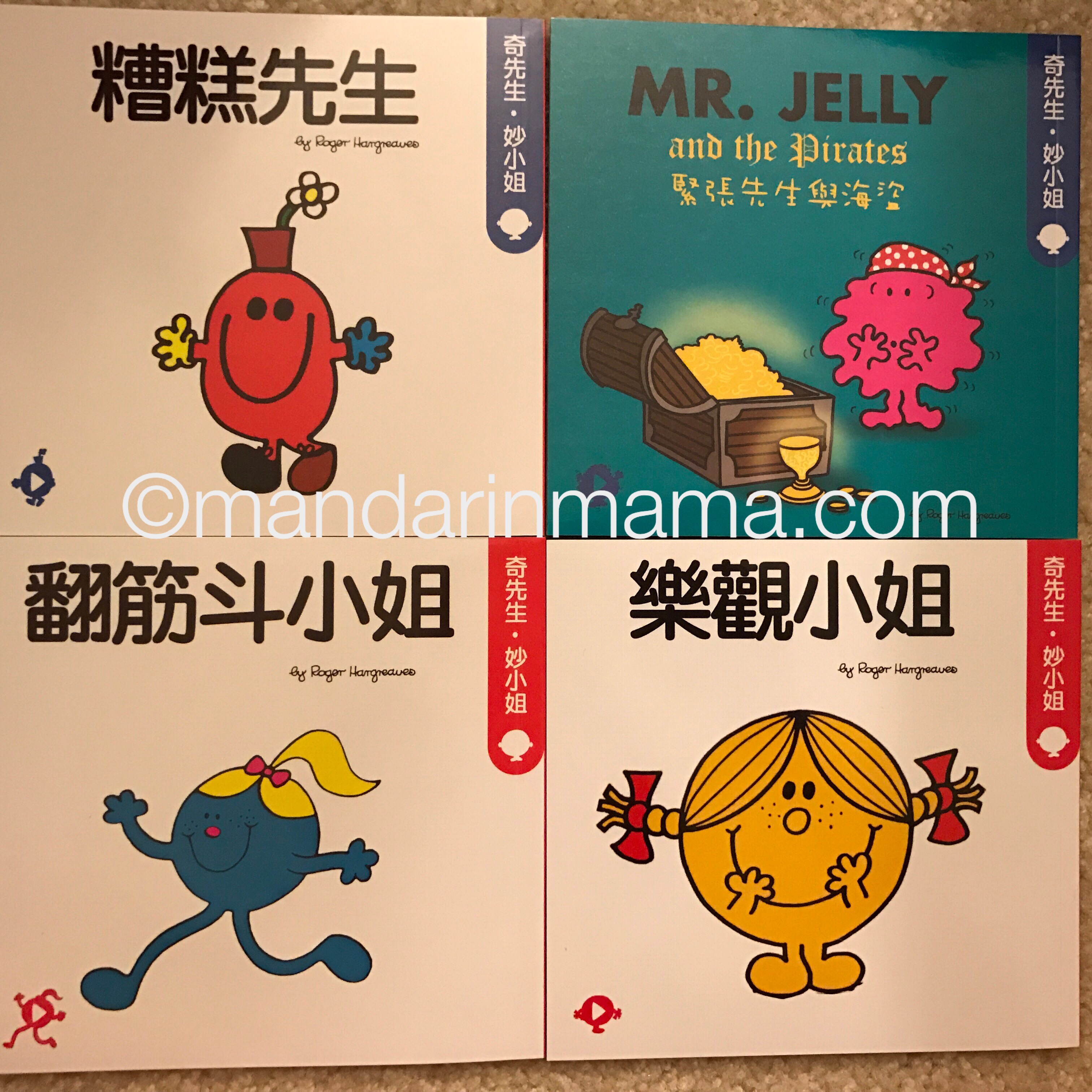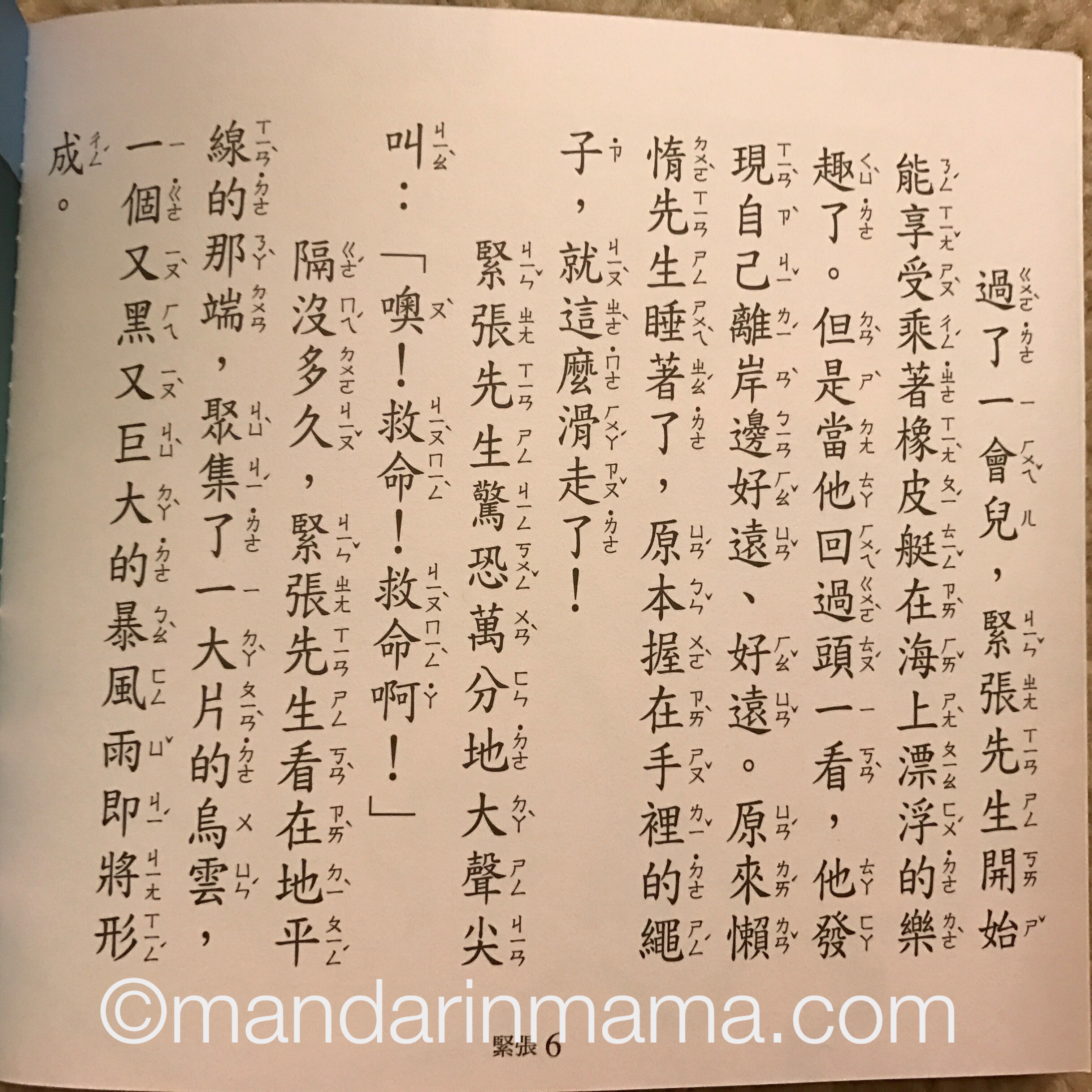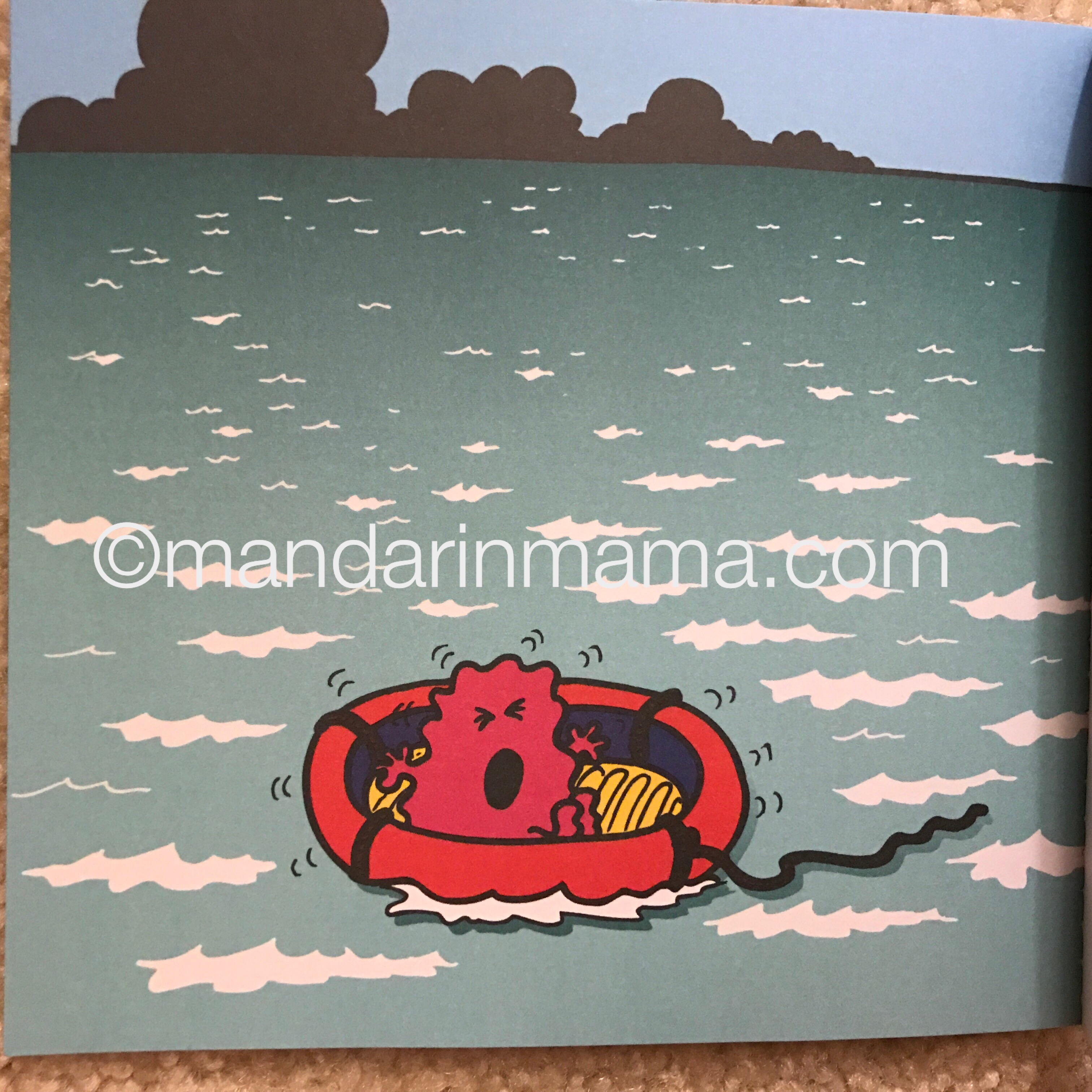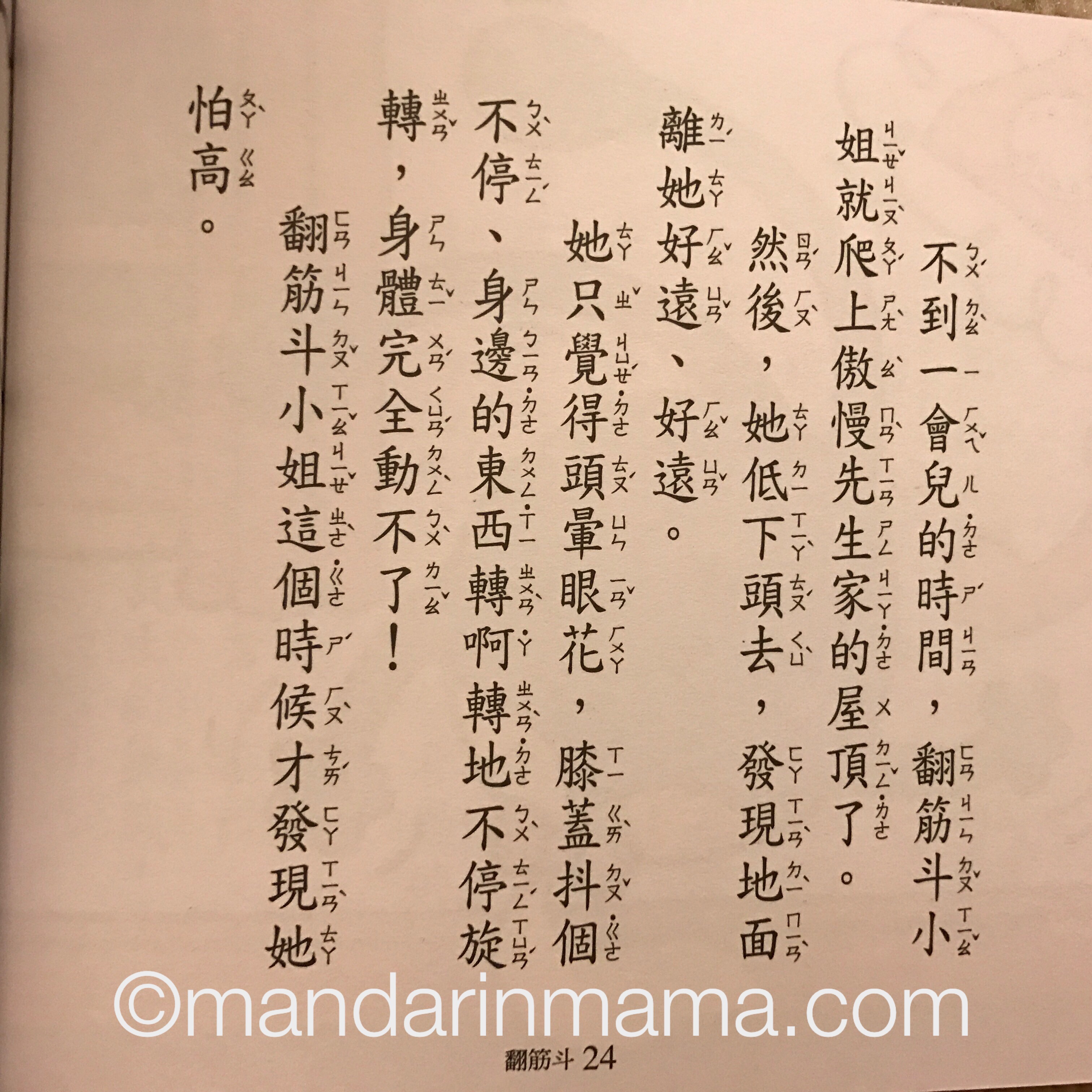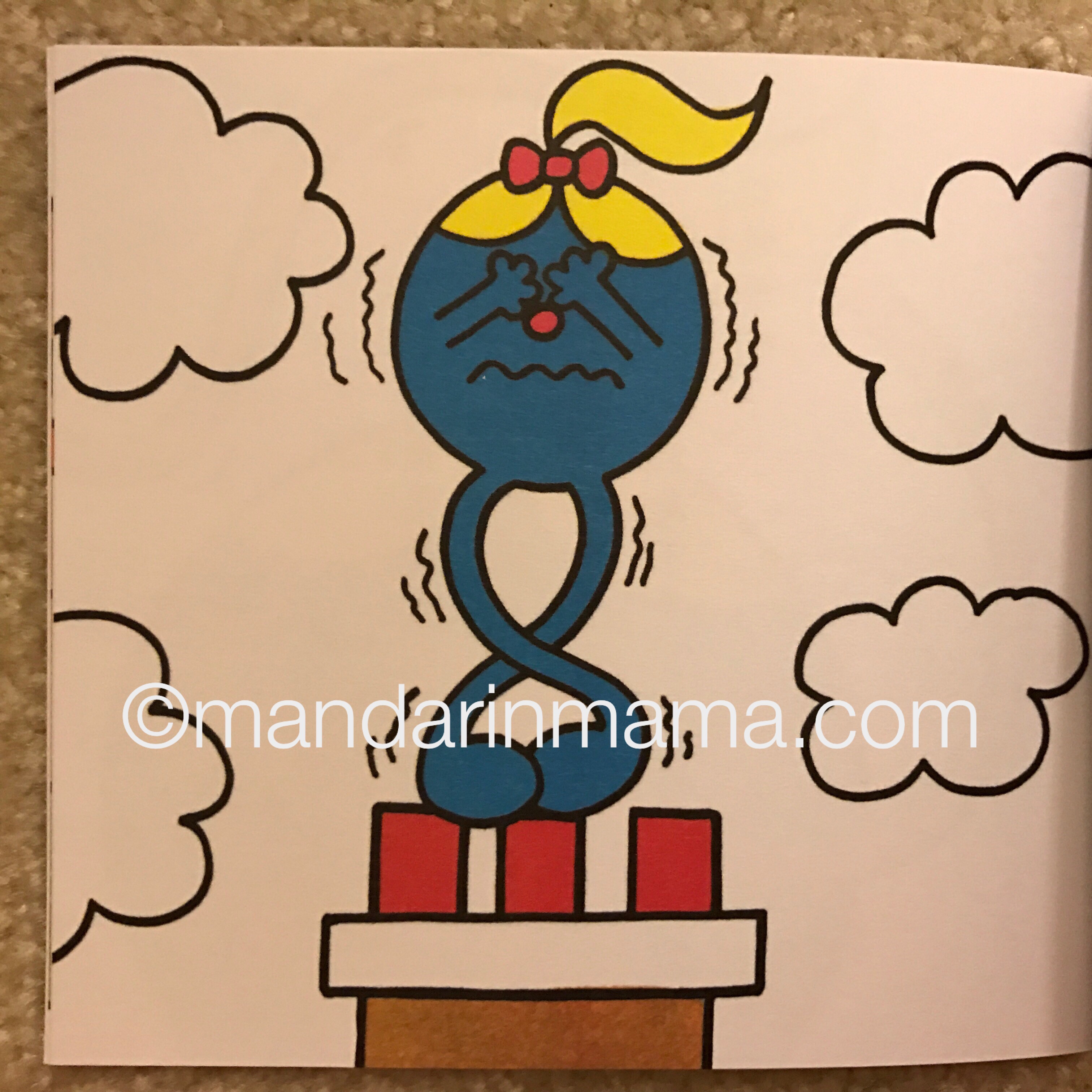 Rating: 5 out of 5 stars
5 Minute Review: If I could give a million stars for this product, I would. My kids (3, 5, 7) LOVE LOVE LOVE LOVE LOVE these stories.
They love listening to the CDs over and over and over again. Thank goodness there are 96 stories because otherwise, I would have thrown them out the window because we listen to them SO MUCH.
I rotate 6 CDs (24 stories) in the CD player of my minivan every 4-5 weeks. We aren't even finished with listening to all the CDs, there are so many.
Seriously, if the amount of money I paid included ONLY the CDs, I would have considered it worth every penny. As it is, there are also books with pictures.
The stories themselves are funny, the characters are silly, and truly, there are some problems with it in terms of actual morals or emotions or whatever. But my kids have learned SO MANY new words, phrases, idioms, emotions, adjectives, descriptions – YOU NAME IT, they've learned it. (Oh, who am I kidding? I HAVE LEARNED SO MUCH.)
They request specific stories, characters, and beg to listen to the CDs as soon as we enter the car. It has gotten to the point where I ask them to please let mommy listen to the radio for 5-10 minutes before I have to listen to any more of the Mr. Men and Little Miss.
They love it so much that they VOLUNTARILY read the books – and because they have heard the stories, they can immediately identify which character is which based on the pictures alone. And of course, they are reading it, too.
I know Guavarama has mentioned a few times that the actual reading level is more difficult because there are so many words, but because my kids have heard each story at least a bjillion times, they have no problem reading them.
My kids even try to draw all their favorite characters and will spend hours re-drawing plot lines and illustrations they find in the books. They love it so much that I actually bought a book with stencils and instructions on how to draw these characters.
The best part is, the narrators and characters speak in all types of Chinese accents so my kids are also getting used to hearing Mandarin in the many different forms it comes in.
The only downside is that since we're listening in the car, I often have to stop and look up terms because I don't always understand what they're saying. However, since we listen to each story many many many times, my kids will ask new clarification questions each time so their understanding deepens (as does mine).
This series is worth every single penny. I HIGHLY RECOMMEND.
For a more detailed review, I direct you to Guavarama's excellent breakdown (it also includes links to where you can buy the set).