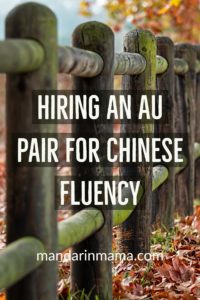 One of the many great suggestions for helping our kids with Chinese fluency is to hire an au pair. Since I have never hired one, our guest poster, Hapalicious, offered up a fantastic write up of her experiences and advice for those of us who have thought about hiring an au pair to help with Chinese fluency.
Please to enjoy!
…
It was a goal of mine to meet Mandarin Mama during our summer trip to Taiwan last year – I read her blog obsessively, and she (along with fellow ladyboss Guavarama) is my bilingual mom idol.  So after some light cyberstalking, I convinced her that I am not a crazy person—heh heh—and being shameless foodsluts, we met up to chat over some TPE noms.
Fast forward to a few weeks ago, when we got involved in a somewhat contentious online debate with another parent about Chinese au pairs (and racism, but that's a story for another time).  After the melee, Mandarin Mama generously offered to share a piece I wrote for some friends who were considering au pairs and wondering what issues to think about.
Some background info about me and my family:  I am ABC and hapa, my dad is a monolingual English speaker from Kansas and my mother is from China by way of Taiwan (she immigrated to the US for grad school in her 20s).  I was born and raised in the midwestern US, and my monolingual Mandarin-speaking maternal grandmother lived with us starting when I was about age 7.
My only formal Chinese language education growing up was Saturday school, which I hated.  However, I came back to my Chinese studies during college, and I spent a semester in Taipei interning at a bank and taking language classes at National Taiwan Normal University (my mom's alma mater).  As an adult, my spoken Chinese is fairly proficient but lacking in sophisticated vocabulary, and I have the literacy level of maybe a 2nd or 3rd grader in Taiwan – I've always wished my language abilities were better.
Ten years ago, I married a non-Chinese, non-Mandarin-speaking American and we have two kids, currently ages 6.5 (DD Peaches) and 3 (DS Blueberry).  We call them our "quapas", and to look at them one would think that they have no Asian heritage whatsoever.  Their non-Chinese physical appearance has definitely fed into my crazy tiger mom obsession with raising our children bilingually, so that they will feel some meaningful connection to their ancestry.
Luckily, my spouse is onboard with this, so I have been free to create our Chinese Language Ecosystem (h/t Oliver Tu) as I see fit.  A huge part of that ecosystem, of course, is surrounding the kids with Chinese-speaking caregivers.
To that end, we have had two au pairs from mainland China, each of whom was with our family for the maximum 2-year term.  We welcomed our first au pair when Peaches was just under 3 months old, and our second au pair arrived when Blueberry was 3 months old.  There was a gap of about 1.5 years between the two au pairs, when Peaches (then an only child) had started preschool and I needed less help.
CHINESE LANGUAGE ACQUISITION
My strategy toward achieving multilingualism for my kids has been to establish Chinese as the dominant language in the early years (0-4).  When Peaches was an infant, I was usually around the house since I wasn't working at the time, so I decided to utilize my au pair more like a mother's helper. I just wanted an extra pair of hands to help out with everything – and, most importantly, a true native Mandarin speaker to help create a richer Chinese language environment in the home.
So my au pair and I would only speak Mandarin to Peaches and to each other, giving Peaches the benefit of both participating in direct language interaction and hearing adult conversation. With the help of my au pair, I bought a bunch of Chinese board books, CDs, and toys, downloaded songs and nursery rhymes from the internet, and generally acquired tons of materials to help surround Peaches with the written and spoken Chinese language.
As she got older, my au pair and I continued to speak to her only in Mandarin, even when she started a Spanish/English bilingual school (I'll leave the trilingual element for another post).
Once Blueberry was born and our second au pair arrived, we took the same approach. An unexpected bonus of using this strategy was that since both kids started out strongly dominant in Mandarin, Blueberry wasn't able to play with Peaches in English at all (which she had inevitably picked up from my spouse and our outside community by age 4.5).
So Peaches has very willingly continued to speak primarily Mandarin at home since that was her younger brother's only real mode of verbal communication. Even now, when they are almost 3.5 and 7, their preferred common language is Mandarin. I attribute that to always having a "jiejie" around playing with them, modeling Mandarin and tipping our at-home language environment heavily toward Chinese.
Along the way, both au pairs continued to help me find age-appropriate books, games, apps, audiobooks, DVDs and other materials (many thanks to Mandarin Mama and Guavarama) –this has been a huge bonus since I am quite illiterate, and many of the Chinese and Taiwanese websites are difficult to navigate.
AU PAIR BASICS
Now, a few quick au pair facts:
The au pair program is actually regulated by the State Department as a cultural exchange program (the au pairs enter the country on a specific au pair / cultural exchange J-1 visa, not a work visa).  As a government-regulated program, there are a number of rules, including…
The rate you must pay to the au pair is a stipend of just under $200 per week.  Any agency fees are over and above that, and they are mostly around $3000-4000 for a year — for us, it ended up working out to a total of less than $400 / week (including all fees) for each au pair.
Au pairs can work up to 45 hours per week, and no more than 10 hours per day.
Au pairs must be between the ages of 18-26 when they begin the program.
The initial commitment is for 1 year, and the host family and au pair have the mutual option (i.e. both have to agree) to renew for up to another additional year (i.e. two years total).  Au pairs can also transition to a different family after the first year if they prefer.
There are many au pair agencies, and their websites have a ton of other info about the program, including the process of finding, interviewing, and selecting an au pair, transitioning to a new au pair if you find that your first choice is a bad match, etc – so I won't talk too much about all of that here.  Many of these websites also list the benefits of having an au pair, versus a nanny or other options.
There are pros and cons to everything, of course, which will depend on your specific needs and your family / home situation.  Here is my own personal overview on some things to think about in general – again, every family is different, so I've just laid out some pertinent issues and you can relate them to your own personal situation.  YMMV.
OTHER THINGS TO CONSIDER
1)  Cost.
Au pairs are generally less expensive than a full-time nanny.
Total monetary cost for an au pair is around $350 / week for 45 hours of childcare.  That number is made up of two things — first, you have to pay an annual agency fee (a lump sum of a few thousand dollars, which usually averages out to about $150/week), and second, you have to provide a stipend to the au pair of about $200/week.
In addition to those two costs, you have to provide room and board (i.e. food), and pay $500 per year toward their educational requirement – they basically have to take one or two classes at a local college during the year, it's up to them to choose what/where.  They also get 2 weeks per year of paid vacation – that is, you still pay them $200/week, but they can travel or do whatever they like.
Even with all that, it's still a lot cheaper than a nanny. Full-time nanny costs vary pretty widely, but in urban areas most of them are between $15-20 / hour plus paid sick days and vacation.
2)  Space and privacy.
You have to provide a private bedroom for the au pair, as well as a bathroom (the bathroom can be shared).  You would probably need to provide this for a live-in nanny as well.
There is definitely less privacy with live-in help – with another (non-spouse) adult in the house, you can't exactly walk around naked, and you have to be more conscious of who might be around if you plan to have a romantic interlude.  You might also feel like you have to keep the house cleaner / in better shape – of course, the au pair can and should pitch in to make this a reality.
Since you're all under the same roof, if you have an argument or misunderstanding it is more important to resolve it quickly since you can't just ask her to leave.  On the plus side, I actually like to have another young adult around even if she's not officially working – it makes me feel less like I'm in a "mommy bubble".  In any case, there is an initial adjustment period of getting used to having a stranger living in the house, driving the car, etc.
3)  Flexibility.
I happen to love the "live-in" situation, because we have the space and it gives me and my spouse flexibility – for example, if we want to go out to dinner at night, we don't have to rush home to relieve the babysitter, because she lives with us and doesn't have to get home to her own family.
Or if I suddenly need to change my schedule one day because I need to go to a last-minute appointment, I can almost always work it out with the au pair (it's VERY hard to find a babysitter on short notice where we live).
Au pairs have quite flexible hours – you just give them a schedule every week based on your needs, though of course you should take into account their other obligations (like the monthly au pair meetings or their class schedule).  You can have them work a split shift, like a few hours in the morning, then a few hours in the afternoon.  Or not work at all for a couple of days, then work 10 hours per day for a few days (10 hours / day is the maximum they can work, which may or may not be a problem for you).
You could possibly do this with a live-in nanny as well, but probably not with a live-out nanny.  This aspect has been particularly helpful since our kids started school, and we don't need childcare during the day – I can have the au pair work in the morning to help everyone get ready, and then again in the afternoon / evening after school.
4)  Emergencies.  
This is related to the flexibility issue – if I wake up sick at 6 am, I can just knock on her door and she will help me with the kids even if she's not yet scheduled to work.  Or if my spouse and/or I have to go to the hospital or have a work emergency, I know that she'll be there for childcare.  Basically, we can depend on her to be there for us, and we're happy to make it up to her later (adjust her schedule accordingly).
5)  Driving and transportation. 
You do not have to provide access to a car, but depending on the proximity of your home to mass transit, as well as your kids' transportation needs, it may be wise to do so.  You are responsible for making sure the au pairs have a way to get to and from their other obligations (monthly au pair meetings and classes).
There is a huge variation in the driving ability of au pairs.  Ours have all been from big cities in China and had licenses but not much driving experience, so we paid for additional lessons.  Our house is not really accessible by public transportation, so it was important for the au pair to be able to drive herself by car (we have an extra car shared with a neighbor).
Depending on where you live, this may not be an issue, especially if there are bus or subway stops nearby.  Also, many au pairs from other countries do have solid driving skills and experience, so that may not be an issue either.
6)  Quality of childcare.
All au pairs have some level of childcare experience and receive a week of additional training upon arriving in the US.  However, as with any caregivers, their levels of experience, childcare philosophies, and personalities vary widely.
It's really hard to generalize about the overall quality of care, except to say that I have seen the same range of positive and negative experiences among my friends with au pairs as with those who have nannies.  I think you just have to interview them really thoroughly and get to know them (as much as possible via Skype), and talk to their references to get a sense of how well they will meet your needs, take your direction, and vibe with you and your kids.
For me, I love that I have gotten to see our au pairs interact with the kids nearly every day whether they were on or off the clock.  I feel like I really got to know them in a way I wouldn't if I was dropping my baby off somewhere every day, or leaving the house when a caregiver arrives and coming home as she leaves.
I also like that I've been able to shape their ideas about childrearing, "discipline", communicating with kids, etc.  The definition of childcare is also broad – au pairs generally do laundry for the kids, help keep their rooms & play areas tidy, and prepare meals for them.
7)  Language. 
Au pairs and nannies vary widely in their language ability, and their English fluency may be a higher or lower priority to you depending on other factors.  If they have a different native tongue, it can be a huge bonus for your kids to learn a new language.
Again, for us, I specifically wanted a native Chinese speaker and English ability was less important because I knew I'd be around most of the time to translate for my spouse or other non-Chinese speakers.  For me, it's been wonderful to help me improve my own language ability and be more disciplined about speaking Chinese with the kids.
It is important to discuss language expectations with potential au pairs, since many of them really want to improve their English (or whatever the majority language is in your country) during their au pair term and may be less willing to speak in their native tongue so they can "practice" English with your kids. We required consistent Mandarin interaction with the kids and myself but offered up my spouse as an English-language model. We also provided plenty of opportunities (classes, activities) outside of the house for the au pairs to learn and practice English.
8)  Cultural differences.
I haven't experienced any major problems in this area, but I chose au pairs with whom I share a cultural background.  I actually have some Chinese friends who tried to have older Chinese "auntie" or "grandma" nannies, and they found it very difficult to be their boss.  I think because it's so ingrained in Chinese culture to respect your elders, sometimes it can be a problem for older Chinese women to take directions from younger women (especially about parenting issues).
I think this would be less the case with nannies of other cultural backgrounds.  As for au pairs/nannies from other countries – obviously each culture has its norms, and there can be some bumpiness as you get used to negotiating those differences.
On the other hand, there is also a great deal to be learned about how things might be done differently in other families / parts of the world (holidays, games, food, parenting practices, etc), and the idea of cultural exchange is definitely a core mission of the au pair program.
9)  Age.
I personally love having younger caregivers because they generally have a lot of energy to play with and carry the kids all day!  Our au pairs have actually spent some of their off-time joining us for our kids' other activities, like special outings or friends' birthday parties, just because they love being around kids so much.
Unlike most of my friends' older nannies that I mentioned earlier, they have listened and taken direction really well.  They have also treated me, my husband, and all of our friends and relatives with greater respect than I would have even expected – this may be the Chinese culture at play again.  The flip side of the age factor, of course, is that some younger adults may be more into partying / meeting boys / etc than maybe a middle-aged nanny (but not necessarily!).
This is where your own due diligence, personal judgment and values come into play.  We realized pretty quickly during our first interview that we had found a lovely, slightly dorky au pair who was more interested in visiting museums and libraries than nightclubs – and that was just fine with us.  For our second au pair, we sought out someone with a similar personality because it really suited our family.
10)  Sense of entitlement.
I haven't experienced this personally, but some au pairs come from wealthy families who have a lot of luxuries, or from a family where it is expected to have a full time, live-in maid (more common in developing countries).  And some au pairs do live with VERY wealthy families while in the US, so it could be hard for a host family of lesser means to feel that they are giving their au pair "enough", especially when the au pair starts talking about the foreign holidays or expensive gifts other families give their au pairs.  Again, I haven't really seen this happen in my circles, but I wanted to mention it.
11)  Continuity.
Each of our au pairs stayed with us for the maximum two years.  On one hand, I worried a little bit about the transition at the end of the term, but on the other hand, I have heard many horror stories about nannies or babysitters who just quit with no notice.
Not that this cannot happen with an au pair, but it is much less likely.  In any case, when each of au pairs returned to China, the kids adjusted quickly and without incident, and we continue to communicate regularly with our former au pairs via Skype – bonus language practice!
12)  Meals & food. 
For meals, we pretty much only eat dinner all together on a regular basis since everyone in the family is on different daytime schedules.  Our au pairs have generally eaten breakfast and/or lunch with me and/or the kids, depending on work schedules.
There is an open invitation to join us for family meals if everyone is at home, and if she makes plans to go out with friends she is on her own financially.  She does not expect to be brought along if we are going out for a meal, unless it's a special occasion or if she is working that day (like if we bring her to help with the kids on an outing) – but we do invite her if we feel it's appropriate and not super expensive.
She pitches in on all the cooking, food prep and shopping (we reimburse her if she shops for us) as well as helping do the dishes.  It's definitely nice having someone else help with the shopping, though she sometimes gets a bit of what I consider junk food (e.g. processed snacks or cookies) for herself that I personally wouldn't eat, and she knows the kids aren't allowed to have it.
13)  Vacations / travel / inclusion as "part of the family."
Au pairs are expected to be treated as members of the family – it is closer than most employer/employee relationships. This can be hard for folks to understand.
I remember one host family asking about whether it would be okay to not invite their au pair for Christmas – and someone else asked her, "Well, where is she meant to spend it then, if not with you?" The host mother hadn't thought about the fact that her au pair would be essentially alone at the holidays if she didn't bring her along.
On the other hand, the first holiday break we had with our au pair, we asked if she would mind taking her paid vacation during that time (we were just going to be nesting at home with our then 4-month-old) since my husband had time off from work and could help me. She had no problem with that, she joined up with a few other au pairs to organize a really fun group vacation.
On other holiday breaks, we've brought our au pair along on trips so we could have some childcare and get proper R&R – in these cases the au pair would technically be working but had a lot of downtime both with and without us. On other occasions, our au pair has taken a "staycation" at our house when we traveled and we had a housesitter we trusted. So you can have some flexibility, I think it just requires solid and ongoing communication.
14)  Other misc thoughts.
There is more initial legwork with au pair than with a caregiver you find locally – for example, going to the social security office, helping her set up a new bank account, teaching her how to use mass transit and/or helping get a drivers' license, showing her how to use appliances (some come from countries where washers, dryers, dishwashers, etc. are not the norm).
There is also more social/psychological support required, as well as uncertainty/nervousness before they arrive, than with someone who is from the area.
Finally, whether you decide on an au pair or a nanny, I highly recommend creating a "Family Handbook", a detailed manual of instructions that covers family rules / regulations, all the nitty-gritty on your lifestyle and how you'd like your caregiver to care for your child.  It's very handy to have something in writing to clarify and reference when there are any questions.  If you can create a bilingual version, even better!