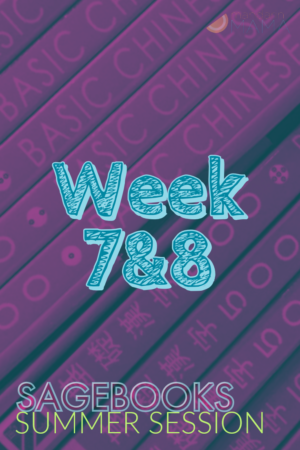 This post was sponsored by Sagebooks. All opinions are mine and mine alone. 
During the last update, I was super awesome and actually made sure Glow Worm (~6) did his daily Sagebooks readings – even through travel to Kaohsiung and the start of summer camps. DID YOU PROPERLY PRAISE ME FOR THAT, YET?
Ahem. I'm waiting.
Ohohohohohoh – ALSO – we are SUPER close to finishing the last set of Sagebooks. It's been 79 weeks so we'll see if we can finish the whole thing (excluding the Treasure Boxes) by the end of Week 80.
WHERE ARE WE?
We ended Summer Session Week 6 at the end of Book 5.3 leaving two more books in between me (I mean, Glow Worm) and finishing Sagebooks for the THIRD time. I won't lie. My goal was lofty. I wanted to finish the last two books and the Treasure Boxes before we left for America because I know myself (and my schedule). There was no way we'd keep up the momentum after travel and jetlag. Why would I do this to myself?
DID WE DO IT?
YAAAAAAAAAAAAAAAAAAAAAAAAAASSSSSSSS!!!
Friends, do you hear that? That is the sound of my triumphant yell screaming through the bounds of space and time.
I am so amazing that I transcend the space time continuum. 
What? What's that you say? That's not how it works? TOO BAD. I'M DONE WITH SAGEBOOKS YOU CAN'T SAY NOTHING TO ME!!
WHAT HAPPENED?
Apparently, when I really want to do something, I make it happen.
Through a combination of me reading with Glow Worm and me forcing my older two children to read with him on the premise that it would halve their own Chinese reading (hey, whatever it takes – they are already literate), we read every single day.
Turns out, all it takes to finish something is to do it. Every day. Consistently. Even if it sucks.
I'm sorry. I hate it, too.
But now, we are done!!!! (Yes, yes. I still have the Treasure Box Set 5 and all my other supplemental books I bought from Sagebooks. Why are you like this? JUST LET ME BRAG A SECOND, OKAY? IS THAT ALRIGHT WITH YOU?)
WHAT ELSE?
Fine, fine. Glow Worm does not remember every single word he ever learned during the course of reading Sagebooks. I have not done flashcards (and I am unlikely to because it's against my nature). I'm going to rely on the fact that he has a Chinese tutor, we're going to do other readers, eventually teach him zhuyin in the fall, and do what I did with my older two children. My older two impress me daily (and yes, I am easily impressed) and if Glow Worm does even half as well, he'll do pretty good.
By the way, our next update in two weeks will be the LAST post I write for my work with Sagebooks. Since Glow Worm is done and I am at least a year from starting again with Sasquatch (2.5), it's a good stopping point and I've been ever so grateful for the experience.
See you next week when I talk about what I learned as I went through Sagebooks this third time!