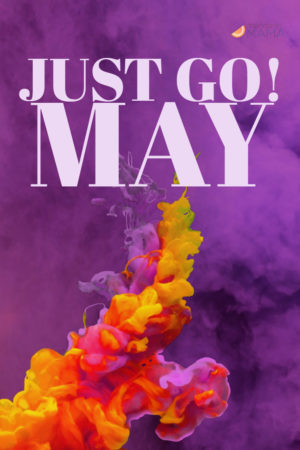 How is May over? More importantly, how did I totally forget to post a Just Go! April? FAIL FAIL FAIL, that's how.
This month, I think I was a bit written out due to writing and posting almost every day in April. Then, I was at Mom 2.0 and THEN, I was sick a few times and fell in a funk. And now, May is over.
I cannot deal.
Anyhow, since I really do believe in keeping accountable to my goals and find that a monthly review is helpful to myself and one other person, here we go.
1) TAKE FAMILY AND SELF-CARE SERIOUSLY AND ADULT.
So, this means:
Taking daily vitamins so I am caring for my health.
Getting at least 6-8 hours of sleep so I'm not grumpy.
Eating on a regular schedule so I don't get hangry.
Taking care of my skin because I'm vain and when I look good, I feel good.
Keeping my kitchen table 85% clear every day because when it's cluttered, I get cranky.
Not buying more stuff (including toys) because clutter in my house makes me apoplectic. Also, I want to save more money.
Doing the household/life maintenance work because when it builds up, I get stressed out and procrastinate and that makes me feel bad.
I did AMAZING in the adulting department because I spent 6 hours one day finally clearing off my kitchen table and filing mail from 6 months ago. Filing is particularly painful because I hadn't switched out the 2017 folders for 2018 yet (stop judging me) and I finally did that, too. Which is good since the 2018 files are likely going to be here until mid-2019 (stop judging me). I even paid some medical bills. STOP JUDGING ME!
I was 50/50 on the sleeping before midnight but I'm claiming it. Fine, it was mostly because I was so zonked from Mom 2.0 and getting sick that I slept a lot but I'm going to take it because I can. FIGHT ME.
I finally sorted clothes and bins in the office and now, there's actually space. Look, I have four children ranging from 1.5yo to 8.5yo. I get hand me downs from 4 different families and I also need to keep clothes until my youngest no longer needs them.
It took me 7 fucking hours.
But it was worth it. I bagged a ton of stuff for several different friends and then cleared out a TON of baby stuff for another of my friends. EVEN MY HIGH CHAIR!! WHOOOOOO!!!
Also, because I finally did something with that room, the Universe finally responded to my train set post and I sold it for almost asking price!! WHOOOOO! And they didn't flake! We all know that is a minor miracle in and unto itself.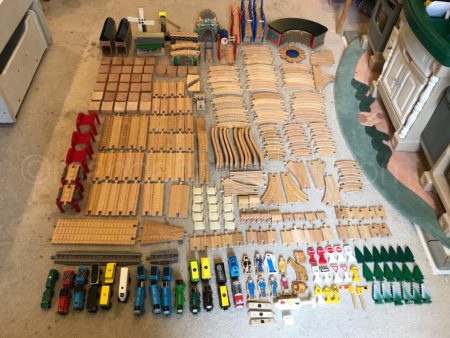 THEN, I finally built the IKEA Billy shelf that's been sitting in my front room for about 6 months. It's not the building that's difficult. It's the attaching it to the wall because my children make poor life choices and CLIMB the gorram bookcases because they lack all sense.
I try to tell myself they really want to reach the harder Chinese books on the top shelves but I don't think that's true.
I finally sucked it up and used a power drill for the FIRST TIME EVER. Why didn't I just trust that YouTube would know how to teach me and it would be okay? After all, my two youngest children have learned everything from YouTube. Why can't I?
And because I'm extra special and on it, Guavarama even came over to organize (AGAIN) my shelves because I have SO MANY more books and they are no longer in boxes on the floor and are now arranged prettily (and functionally) in my 3rd Chinese bookshelf.
LOOK UPON THESE SHELFIES AND TELL ME I AM AMAZING AND WONDERFUL AND EVERYTHING YOU HOPE TO BE IN THIS LIFE AND BEYOND!!!
Since Guavarama left several huge piles of books unaccounted for (they were English so she said they were not her purview. Hmph.) and WALKED AWAY, I had to obsessively clean up my space. I did not want to buy another bookshelf and then I remembered that my kids love the logic games I bought but rarely bring them out because they're hidden here and so I moved them to a poorly used space in the family room and shoved all my English books and rearranged crafts.
If you want closeups of the shelves, head over to my Teach Kids Chinese instagram. Then, because I was already reorganizing the front room, I continued to sort my kitchen table and even took out 4-5 random bags and boxes full of stuff we "tidied" away for parties that were taking over the utility room.
I did such an awesome job (alcohol helped) that I did even more clearing of my kitchen table and counters that Glow Worm (4.5) asked if we were throwing a party. He had no other category for this level of tidiness. Also, that boy throws some serious shade.
On top of this nonsense, I took care of a bunch of tax things and it was the opposite of fun and my CPA is earning every penny of her fee and she refused to accept more money which makes Hapa Papa happy but makes me worry that she is undervaluing her work.
2) DO THE WORK.
Here are my work goals for 2018:
Make enough money to cover business expenses associated with my blog and related events (eg: conferences, CPA, etc.).
Stretch goal: to also make enough to cover all my monthly mortgage expenses for the year.
Pitch 3-5 times a week.
Submit to other publications at least once a month.
Write weekly LinkedIn posts.
Write a book.
Weekly FB Lives.
Revamp/rehaul site.
Daily interaction/activity on LI/IG/P/Tw.
I'm very pleased that I just recently signed a contract that puts me within $6,000 of my STRETCH goal for the year. Of course, this also terrifies me and I want to run away. Especially when Brandi Riley told me to start submitting to places like The Atlantic or The New York Times. I want to dismiss her but I paid her for this advice so it would be stupid not to take it. And I guess there's no shame in being rejected by either of these publications because EVERYONE GETS REJECTED BY THESE PUBLICATIONS.
Ok. Well, not everyone. Everyone except the people who do NOT get rejected by these publications.
So, I'm going to put it out there. I want to have a piece published in The NYT's Modern Love column. Hot damn, I love that column.
I did not write any of my next book. SUCH FAIL.
But… I did do a reading of an abridged version of my piece, Learning to Be Human and here's a video of me doing it. Yes, it's vertical. Yes, that's bad or something. LALALALALALALALALALA LOOK AT MY PRETTY DRESS AND MAKEUP IT'S OK YOU WON'T NOTICE THE VIDEO IS VERTICAL.
Thanks, Moxie Road Productions, for inviting me!!
Also, I did do some pitching (but not nearly as much as I planned on doing). But I guess I can do it in June. PFFFT.
OHOHOHOHOHOHOHOH!
I also upped my Instagram game. (Follow me here and here. DO IT. DOOOOOO EEEEEEETTTTT.) And I tweeted. And um… I signed up and semi-participated in an online video course by Megan Samarin and Wendy Nielsen. I just need to start APPLYING the stuff I've learned.
Sigh. That's always the problem, isn't it?
Alrighty. That's it for May. One more month and then half the year will be through. I find that both unacceptably fast as well as just about right. How have you done with your Word of the Year? Are you still on the proverbial wagon? If yes, let me know how it's going. And if not, IT'S NOT TOO LATE TO GET BACK ON.
Oh, ahem. I'll stop yelling now. How embarrassing.
Don't be embarrassed. Just get back on the wagon. There are still 7 months left in the year. You can do it. I believe in you.