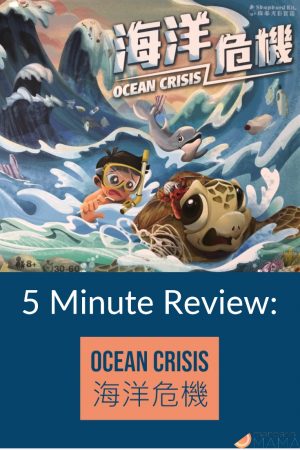 I was provided with review copies of Ocean Crisis 海洋危機 and the expansion set, Ocean Crisis: Catastrophe Expansion by Shepherd Kit.
All opinions are mine and mine alone.
Before I gave birth to four children and promptly lost all ability to follow complex instructions, I used to LOVE boardgames. The more strategery required the better! Bonus points for screwing over other people in the process. (I was a very competitive and unreasonable person. I'm not sure if that has changed or if my children have just sucked the will to live entirely out of my body. This suddenly took a dark turn. I apologize.)
At any rate, when Mrs. Books of Mr. and Mrs. Books fame asked me if I would be interested in checking out a new Kickstarter boardgame in exchange for an unbiased review, of course I said, "Yes!"
Plus, MY VERSION IS IN CHINESE. (NOTE: The version for sale is all in English.)
But because I'm not stupid (and also functionally illiterate) and don't believe in doing hard things like playing with children – particularly my own – I promptly outsourced the actual game-playing (and instructing) to my amazing Chinese tutor.
Yes. I paid someone to play a board game with my children. Don't @ me.
In my defense, IT WAS ALL IN CHINESE.
Alright, on with the review. I've eaten up at least 1 minute of the 5.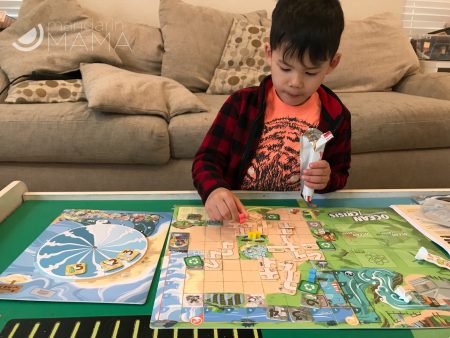 what is it?
Ocean Crisis is a cooperative boardgame wherein 2-5 players work together to clean up a garbage patch in the Pacific Ocean and develop green technology to solve the problem before time runs out. The game is complex, multiphasic, educational, and can be played in any language. Expected gaming time is 30-60 minutes and comes with varying levels of difficulty.
The game cards, expansion set, and instructions come in English but if you would like Chinese instructions, scroll down for details.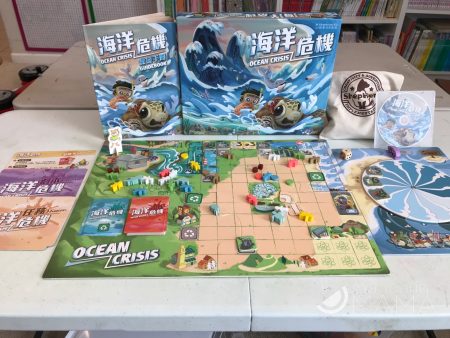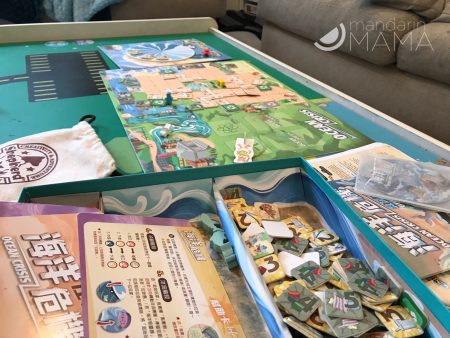 Who is this for?
Ocean Crisis is for families who love to spend time with each other (or if not, they pretend really, really well) and enjoy boardgames – especially of the more complex variety. Technically, if you like cooperative games in general, you are in the target demographic whether you have children or not.
If you would like to play the game in Chinese, please note that the instructions in Chinese really require you to be fluent. (Also, no Chinese game cards will be provided.) However, it never hurts to have the instructions for the terminology alone. (Or, if you're enterprising like me, you ask someone who IS literate to play instead.)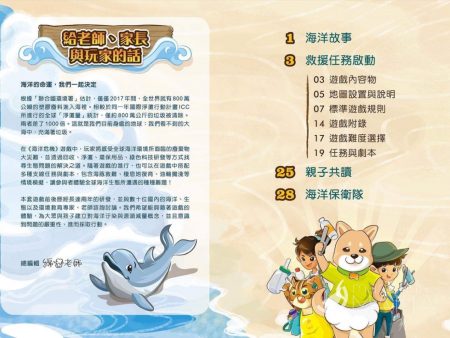 WHERE CAN YOU GET IT?
You can purchase the game at the Ocean Crisis Kickstarter page until May 1, 2019. (Note: the game was fully funded within 4 hours!)
Choose "TAIWAN" for your destination EVEN IF YOU DO NOT LIVE THERE to save at least $6 off shipping. (For US Addresses ONLY.)
If you would also like the Chinese instructions booklet, please do the following:
1) Order the game on Kickstarter and choose "TAIWAN" for your destination EVEN IF YOU DO NOT LIVE THERE to save at least $6 off shipping. (For US Addresses ONLY.)
2) Join Mr. and Mrs. Books's Facebook Group.
3) Once you are approved, go to this Ocean Crisis Facebooks Post and comment, "Ordered via Mandarin Mama."
IF YOU DO NOT COMMENT, YOU WILL NOT RECEIVE THE CHINESE INSTRUCTION BOOKLET.
Mr. and Mrs. Books are doing me a favor and are extending this offer only to my readers because I like Chinese things. (Note: If you cannot read Chinese or at the very least aren't fluent, the group – as well as the game instructions – will be difficult to navigate.)
what's good about it?
The game is made of quality materials. The cardstock used is thick and sturdy. The wooden pieces are smooth and well-crafted. The bag is nice and not too thin. The instructions are clear and a demo/instructional CD-ROM/DVD included.
Cookie Monster (9), Gamera (7), and Glow Worm (5) all seemed to enjoy the game. They learned a lot of specialized scientific and gaming vocabulary in Chinese and were forced to do simple math. They also learned about the garbage patch in the Pacific as well as concepts such as recycling, real-life consequences, and mostly, they had fun.
There are many different scenarios and ways to vary game-play so it won't get dull or boring. If your children are on the younger side, you can scale down the difficulty so your kids won't be discouraged.
I think it's a good way to introduce science and gaming in Chinese without overwhelming kids – especially if they are not fluent. Since playing games usually involves learning new terminology and concepts anyway, it's a low-barrier way to teach even older children Chinese vocabulary.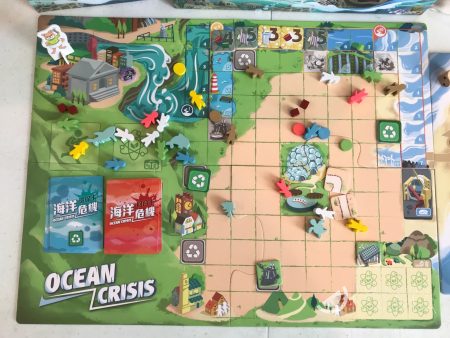 what could be improved?
I'm not gonna lie, friends. The learning curve is steep and slow – especially if you're not personally used to multiphasic games with many moving parts and concepts. It's even harder if your children are not used to it. (And if they're wiggly like mine, it may drive you insane. I wasn't even the one teaching my kids how to play and I was thisclose to sending them all to their room.)
final verdict
This game will require patience and the willingness to practice several times before players get the hang of things. Also, it's hard to win. But once you get over that initial hump, it's totally worth it.
If your family is into games or you're looking for a fun way to introduce science and even specialized Chinese terms, Ocean Crisis is a good game to add into your rotation.
If you would like a more robust review with game play videos and parents who actually enjoy spending quality time with their children, I highly recommend you check out my friend, Darcy, and her thorough review at her site, Stay at Home Gamers. Plus, if you love games and family time in general, you should check out the rest of her site.
Below is a video of my unboxing. You can tell I'm terrible with things such as this. But it survived!