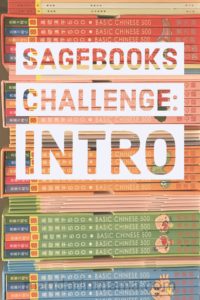 I'm so excited!
I finally get to announce that Sagebooks HK and I are working together for the next four months.
If you have been reading me for a long time, you'll know that I'm a super fan of Sagebooks HK and that I think they are without a doubt, the most effective way to teach Chinese characters for children in Chinese speaking families.
I have dreamed of partnering with them on anything for at least several years. And now, at the start of 2018, my dream has finally come true.
Okokokokokok.
Enough preamble. Here's what's coming to Mandarin Mama and the Sagebooks HK Blog.
Sagebooks Challenge
Starting Monday, February 5, 2018, I will be featuring a weekly series called The Sagebooks Challenge.
Every week, I will be chronicling Glow Worm (4) and I going through the Sagebooks HK Basic Chinese 500 series and their Treasure Boxes. We'll go over our objectives, our challenges, our wins, and pretty much anything I think will be helpful to someone going through Sagebooks for the first time. (This will be my third time through – I'm definitely getting my money's worth!) I will also include photos and videos for people wanting to check out the sets before they purchase.
For those of you who are unfamiliar with Sagebooks, it is a series of 5 sets of 5 books that teach your children how to read the top 500 high frequency characters in children's books. The books come in both Traditional and Simplified characters, with pinyin and an English translation at the bottom. Each chapter builds on the previous chapter so that your child acquires new vocabulary and character knowledge in a trackable, systematic way.
They also have a set of Treasure Boxes of 5 books per set for a total of 25 Treasure Box books which are readers that ONLY contain the characters they have learned up until that point (with maybe an additional new character or two).
I will be coming back to this post and updating it with links to the ongoing series.
Sagebooks HK Parent Support Group
In partnership with Sagebooks HK, I will be managing the new Sagebooks HK Parent Support Facebook Group. If you are thinking of buying this series or already own the series, join us!
We all know how hard it is to do something alone – let alone the prospect of teaching our children how to read Chinese! Join the group and meet other parents who are teaching their kids Sagebooks Basic Chinese 500 at all different ages and levels.
We just opened up the group and would love to have you!
This group provides a space for you to have accountability, ask and answer questions, exchange ideas, and have partners as you go through the sets. The more your participate, the more you will receive.
Plus, I'll be doing weekly Facebook Live videos on how to use Sagebooks Basic Chinese 500, the Treasure Boxes, and other special announcements!
One note: Please remember to answer the membership questions. All requests without answers will be deleted.
Sagebooks HK Blog
In addition, every Tuesday morning, I will be on the Sagebooks HK Blog providing a time tested tip from our more seasoned parents as well as a fun and easy activity/game to help your kids remember the characters in a way that doesn't involve a book or flashcards.
The more ways we can make learning Chinese characters fun, the better!
I am super excited.
In case you can't tell, I am ecstatic about working with Sagebooks HK. I'm a little bit terrified, too (but don't tell them that).
I hope you will join me on the Sagebooks Challenge with me and Glow Worm and either follow along with us or, if you've already started, to continue ahead of us. Then, check out the Sagebooks HK Blog and finally, tell us what worked, what didn't, what you need help with at the Sagebooks HK Parent Support Facebook Group.
Have you tried Sagebooks before? Let me know in the comments.