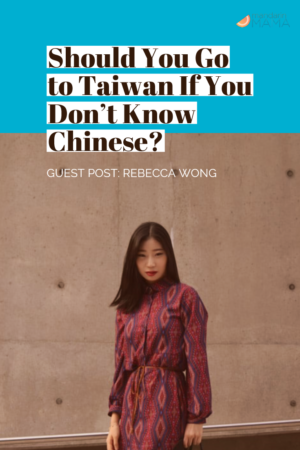 Today's article is a guest post by Rebecca Wong. I met her in Taipei in the Summer of 2019 and knew immediately we were each other's people. I hope you find her piece helpful!
Maybe you've heard about all the benefits of Chinese immersion in Taiwan, but you don't know Chinese at all. You might be really apprehensive about going to a foreign country with your young child when you can't speak or read the language. But this might be an amazing experience for your family. What do you do??
Ni Hao! My Mandarin vocabulary doesn't go that much further than that. I do know some basic conversational Cantonese. I've spent three summers in Taiwan with my son (currently 8 years old), both in Taipei and Kaohsiung where much fewer people speak Chinese. My son's father is fluent in Chinese, but he is only able to be in Taiwan for two weeks out of the summer.
So how do I spend summers in Taiwan if I don't know Chinese? Below are answers to questions people are usually curious about.
How do you find a camp?
There are actually tons of choices for camps. It depends on what you are looking for. My recommendation is to search on social media and also join the Facebook group, Summer Camps in Taiwan. People post about all their experiences and ask questions.
Most of the camps for International kids have English websites. The websites for the local camps are sometimes difficult to navigate. I've emailed, messaged them on LINE (a messaging app), or sometimes called the camp and asked if someone spoke English. Someone has always helped me.
The tricky thing is that you usually need to pay with Taiwan funds. Luckily, we had relatives that could help with this. However, many camps, including the local camps, let me register and then pay in cash on the first day of camp, or there was a wire transfer option.
Where do you stay and how do you stay so long?
I have had pretty good luck with renting an AirBnb, and others use VRBO or rent service apartments. I needed laundry and a place to work remotely, so AirBnb worked best for me. There is usually a discount with any of these options when you stay for more than 30 days.
In terms of length of stay, you do what you can, and sometimes the trip can just be a trial run for a few weeks to see if your child likes it. I've been lucky to negotiate a work remote agreement in the summer. Sometimes parents switch off. Sometimes, one parent takes their children for the whole summer, including, my hero, Mandarin Mama, who takes her four kids all by herself!
How do you get around in Taiwan, if you don't know Chinese?
Because English is part of the curriculum in Taiwan schools, you'll usually find someone that speaks English in Taipei. In other cities, fewer people speak English. This was definitely the case in Kaohsiung. I used Google Translate and the scanner on the app for a lot of things. I also asked for English menus in restaurants.
Although I took public transportation most of the time, I also took Uber. I didn't have to deal with explaining where I wanted to go to someone that may not understand a lot of English. If there was a surge pricing, Uber would also call a taxi for me with the destination already communicated to the driver.
The best benefit of going to Taiwan not knowing any Chinese is that I have my son speak Chinese for me. Hey, if he doesn't want vegetables in his beef noodle soup, he'd better tell the waitstaff, so they understand!
I've found these summers to be incredibly beneficial to my son, not just for learning Chinese, but also making friends. His accent has definitely improved, and he picks up a lot of commonly used phrases playing with friends. My son now loves going to Taiwan in the summer, and we've made friends across the globe. I hope you try out Taiwan, even if you don't know Chinese.
Rebecca Wong has spent the past three summers in Taiwan with her son, who has participated in various summer camps. Her day job is marketing, but you can also find her searching for yummy food in a foreign country, walking her geriatric Yorkie, or training for a triathlon.
IF YOU LIKED THIS POST, YOU MAY ALSO LIKE THE FOLLOWING ARTICLES: