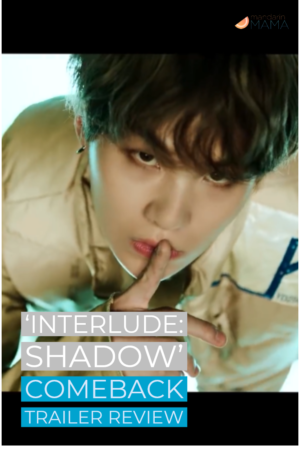 "Interlude: Shadow Comeback Trailer Reaction" is part of my neverending love letter to K-pop boyband BTS. You can catch my ongoing series about BTS here or just sign up for my newsletter. This post also uses affiliate links.
The "Interlude: Shadow" comeback trailer by K-pop global sensation BTS destroyed my soul in the best way.
You know the feeling: it hurts so good in all the tender spots of your heart (I have feelings sometimes) and you're left curled up in the corner weeping and other totally normal reactions to hearing a song. The imagery (visual and lyrical) is striking, painful, and raw. The video is full of symbolism and callbacks to their O!RUL8,2? album and the M/V for "Intro: Persona" (which itself is also reminiscent of the "Intro: Skool Luv Affair" M/V).
It is BTS at its finest.
After giving us only a one day head's up (welcome to the fandom, friends), the lead single sets the stage for Map of the Soul: 7 (out on February 21, 2020 KST). Finally, all their hints and performing songs from their old discography at all the 2019 year end award shows (eg: "Intro: Skool Luv Affair") are about to bear fruit. Comeback season (what K-pop calls a new song/mini-album/full album) is coming – and we're gearing up for many a sleepless night and endless streaming.
I LOVE IT.
About "Interlude: Shadow" Comeback Trailer by bts
Sung and rapped by BTS member SUGA, "Interlude: Shadow" is what I hoped for and expected in terms of tone and subject matter. SUGA raps in his powerful baritone about the fears and responsibilities he experiences now that he and BTS are so successful. Produced by SUGA, PDOGG, GHSTLOOP, and ELCAPITXN (all Big Hit producers), the emo hip hop track samples "Intro: O!RUL8,2?," paralleling "Intro: Persona's" samples of "Intro: Skool Luv Affair."
Oh, and he sings. HE SINGS.
In the comeback trailer (a K-pop term for the M/V), SUGA is seen surrounded by a crowd that personifies his multiple egos and desires. The scenes rotate between shadowed figures (sasaengs/stalkers, media, fans, his fears) chasing him, SUGA performing on a stage, SUGA addressing the viewer directly while surrounded by mirrors (reflecting himself and his personas), and him pressing through a crowd as himself. I count at least three versions (or personas, if you will) of SUGA – Min Yoongi (his real name), SUGA (his BTS persona), his younger self, and perhaps another integrated persona.

What I loved
I mean, we all know that I'm a huge BTS stan so I would likely have loved it eventually if I didn't like it right away. But my immediate visceral reaction was to LOVE it. This song called to my soul and made me cry. I don't usually cry watching music videos because I'm not that kind of fan (no shade if you do) – so needless to say, I was very surprised.
Check out my first ever reaction video of "Interlude: Shadow." Like and subscribe and be gentle!

For those of you who are new to me, I found BTS in January of 2018. In 2018, I tried to set my life on fire because though I got everything I thought I wanted (married with 4 kids and a comfortable life) – I was still so, so angry. BTS – and especially SUGA – threw me a lifeline and saved me. (Well, I saved myself. But you know what I mean.)
I tell you this because while I love BTS for a myriad of reasons, it's their art – specifically their music and lyrics – that keep me coming back. Witnessing how they transmute their pain into beauty comforts and inspires me. I hope to give back just a fraction of what they give me.
Anyhow, back to the song, "Interlude: Shadow."
Sonically, the beginning sounds a lot like "SUGA's Interlude" that SUGA wrote and produced for Halsey's new album, Manic. Both discuss the perils of getting what they wanted – and the fear of falling from such great heights. Whereas "SUGA's Interlude" stays melodic and contemplative the whole way through, wallowing in the melancholy, "Interlude: Shadow" shifts from plaintive to menacing, moving from doleful musings to thunderous determinations.
The lyrics reference so many of SUGA's past lyrics (he has admitted to enjoying doing so) and it's evident. Just off the top of my head, "Interlude: Shadow" echoes his verses in their debut song, "No More Dream;" a song off their last album, "Home;" "The Last" off of his Agust D mixtape; and "SUGA's Interlude" off of Halsey's Manic. He even references a poem he wrote for their variety show, Run BTS! 
Yes. For a variety show. (It's also my favorite thing he has ever written. Ever.)
What A Relief, by Min Yoongi

Note: Yoongi has used this metaphor of flying quite often. Consider his response for the Dicon interview (https://t.co/OnGXPfFSMl), and how it was then repeated for 2018 Festa's Hwaeshik/Dinner. pic.twitter.com/Et1n7m8tX0

— wisha (@doyou_bangtan) July 24, 2018
What I Wished Could be Different
Honestly, the only thing I wished was that SUGA and the other BTS members did not have to deal with the negative side of fame. Because I love them so very, very much. It hurts me to see them struggle – especially since by being a fan, I likely contribute to their pain – though I hope I contribute more to their joys.
If you're a new BTS Fan
If you're new to BTS and the fandom, you may want to check out my post, Intro to BTS. If you're specifically looking for a detailed breakdown of how "Interlude: Shadow" links to all the previous videos of BTS ever made and in the Bangtan Universe (an alternate universe where the individual BTS members are not in a band but come from multiple traumatic backgrounds and involves time travel, time loops, and endless suffering), check out the following video by Celeste.

Additionally, if you're in the mood to submit yourself to a suffering trifecta, I highly recommend you listen to these three songs on loop: "The Last," "SUGA's Interlude," and "Interlude: Shadow." If you don't weep loudly in the corner with the gnashing of teeth and the wringing of hands, do you even possess a soul? (Sadly, my husband is soulless. I'm not sure why we're still together. Ah, yes – financial stability.)
Final Thoughts
After almost a year of speculation thanks to the their previous album, Map of the Soul: Persona, we finally have some hints for the upcoming album, Map of the Soul: 7. As an interlude, the song's purpose on the album is to help transition the listener from one section of the album to the next, whether aurally, thematically, or mood-wise. Since the theme of the song moves being fractured personas to a final integration of all these aspects of their lives, I am particularly anticipating how BTS continues their interpretation of Carl Jung's Map of the Soul.
Also, if you want to hear me wax emotional about Suga, his lyrics, and "Interlude: Shadow," watch my second episode of Noona ARMY Podcast.

I LOVE LOVE LOVE "Interlude: Shadow." And with that, I will leave you now because otherwise, I will keep rambling because in case you can't tell, I'm super excited.
Oh, and STREAM "INTERLUDE: SHADOW."
If you like this and want to read more about my BTS Obsession, then you'll love these posts: