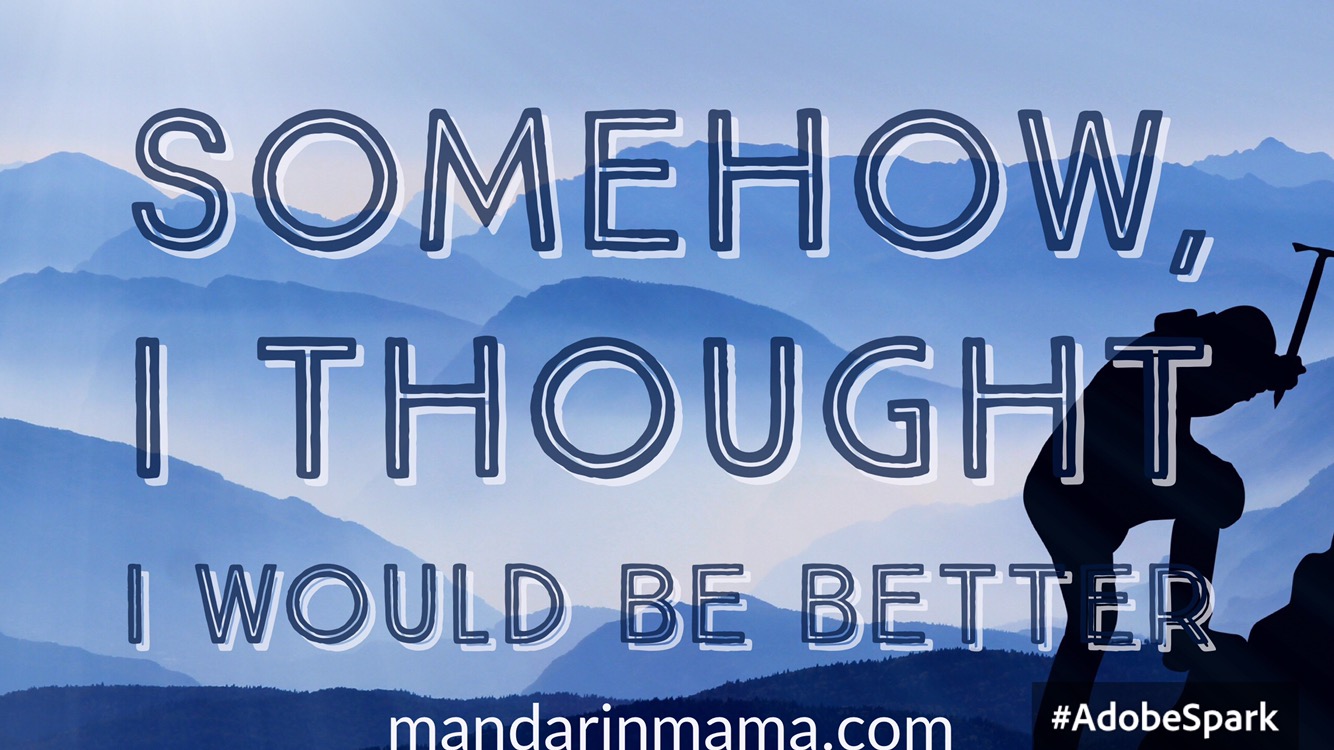 Here's the thing. I actually feel somewhat embarrassed admitting this, but it's where I'm at right now.
I thought it would be different.
I thought it would be better.
I thought I would be different.
I thought I would be better.
But truthfully, although things got better briefly, better eventually just became the new normal.
You see, for years, my main pains in life were the daily minutiae of which a life is made.
You know the sort.
Cooking meals. Cleaning the house. Paying bills. Sorting mail. Keeping the kitchen table clutter free. (hahahahah! Like THAT is ever going to last or happen for longer than a day or two.)
And FINALLY, these past three months, I have been making big strides. I now cook the majority of my meals and a lot of my psychic pain revolving around meal times is gone.
I've given up on cleaning the house, but I have vacuumed a few times, and decluttered a few times (and I could really do it a few more times), and I am finally now considering getting a housecleaner again because my house is probably filthy I'm just accustomed to its filthiness.
I sort the mail and take care of any outstanding medical bills immediately (because those are the only ones that are not on autopay – despite my best efforts to make them so). I mean, gone are the days of being 90-180 days late for no reason other than not opening mail.
But after a few months (and likely a few weeks) of my new reality, the shine has worn off and now it's just regular old reality and I'M STILL DISSATISFIED WITH MY LIFE.
Damn you, hedonic treadmill!
And last Friday, I was talking with Dr. T about how I feel unfulfilled and like I do nothing of substance all day and how I'm still not done with my ebook despite being 95% done and how I start things but don't finish them and how I want to try for things but I am so afraid of failure and —
And you know what? I'm terribly worried that even if I do finish that ebook that a few weeks later and it will be my new normal again and I will go about feeling BLAH about my life again. 
The irony is that during the first or second session ever with Dr. T, she mentioned that she thought some of my feelings of stress and whatever was due to my not having a clear idea of what my identity was. That it used to be tied up in work or the things I did or accomplished, and now that I am a SAHM, I felt adrift and identiy-less.
At the time, I thought she was full of crap.
Oh, the crow I eat whenever it comes to things Dr. T observes. (Seriously, the only really good decision I ever made about Dr. T and her advice was sticking with her despite me thinking her kinda woowoo at the beginning.)
And now, here I am. TOTALLY FEELING UNIDENTIFIED.
I felt somewhat comforted the other day when I saw an old post of mine pop up in Facebook Memories. I guess this is how I feel every spring.
But then, I got bummed out because it seems that no matter what I do, no matter how many successes or risks I take, it all goes back to me being terrified of failure and being immobilized by it.
I start so many things only for them to end up abandoned and collecting dust in the wayside.
I have so many ambitions and yet so little follow through.
I feel as if life is passing me by and I can't even get my shit together enough to homeschool my children.
I feel like a huge failure. 
I don't know if it's my Virgo-ness, my ESFJ-ness, my Type 7 Enneagram-ness, or something else entirely (FWIW, I hold very low stock in astrological determiners of personality), but there it is.
And it's no use telling me how I manage to keep four children alive, blah blah blah blah blah.
In my wretched mind, if I can do it, it's not that hard, therefore it doesn't really deserve praise.
Truthfully, I don't know what will make me feel better. And whether if something makes me feel better, whether the feeling will be permanent or just become the new baseline.
All I know is that I feel kinda meh and blah right now.
Maybe this is how I feel every spring. Restless and desiring bigger and better things. And then life crushes it all out of me.
Anyhow, there is no neat resolution to this post. I'm still figuring it out.
Dr. T asked me what I wanted, and again, I have no idea. Except maybe to feel as if I am doing something worthwhile. (And yes, raising four small humans is eminently worthwhile – but the end result takes SO LONG.)
I want to feel as if I am productive; making something of concrete value and worth. Yet all day long, I do lots of things and am productive but it is the stuff of life. You can't just eat once and then you're done. (And that is DEFINITELY not possible with cleaning or laundering or the folding of the laundry.)
And so, each day, it feels as if all I did was erased and swept away by the tumult and happy clamor of my tiny and forceful humans.
It is very unsatisfactory.
Don't get me wrong. I'm  not depressed. I'm not UNhappy. Just not SATISFIED.
I'm positive Hapa Papa is feeling the same thing (except perhaps slightly worse since he's not very happy at his job and at least I have more free time than he does and get to stare at all my adorable babies all day).
And before people start writing in with the comments about me needing Jesus or essential oils or both, thanks. I have both. In abundance. (Seriously, I have an entire DRAWER full of oils. And I suppose I have Jesus in my heart or something. So admittedly, that might be in less abundance because I have a cold, dark heart.)
Anyhow, no neatly wrapped bow on this post because that's not the way life works. We just keep trudging along until one day, we're on the other side (and hopefully, feeling less blah when I actively pursue the things I think I want).
Have a good Wednesday! May you find what you're looking for.