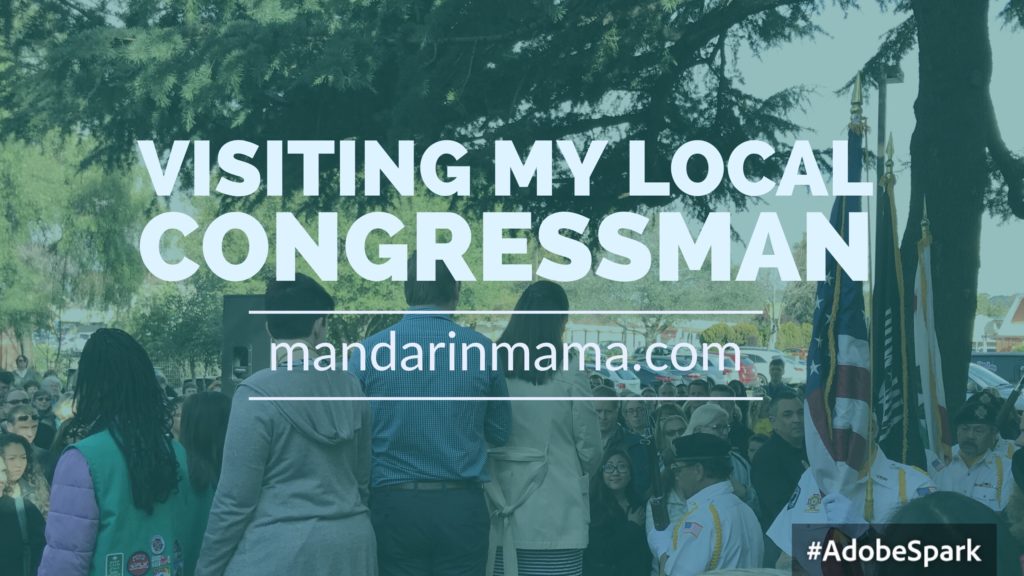 This past weekend, I attended an open house of my local congressman, Congressman Eric Swalwell. Swalwell had consolidated two offices into one more centrally located office and I guess they were doing a ribbon cutting for the new place.
It was not what I expected – but then quickly became what I expected. (After all, I used to be a board member of my local Chamber of Commerce.)
I was a bit nervous. For some reason, I thought I would get face time with the Congressman, like we would all file in and speak to him in his office. And I was nervous because I had no idea what to even say to the guy.
NOPE.
Basically, it was an Open House and the local Chamber of Commerce was there and brownie troops, and booths, and a local taco shop giving out free tacos. They were giving guided tours to his office and I went on that, too.
According to staff members, they had 1500 RSVPs and I'm not sure if everyone showed up, but they looked like a lot of people to me!
I dressed up a bit because I wanted to be taken seriously on the off chance that I actually got to meet Congressman Swalwell.
I didn't. But I did see him on stage and now no what he looks like (despite the fact that I voted for him).
BUT, I did learn things, and am thinking of becoming more involved in local politics because if this past election taught me anything, it is the importance of being involved.
Voting MATTERS. Annoying your local representatives matters. Squeaky wheels matter.
So, how can I complain about things if I don't call my reps (my phone phobia persists – sigh), email my Senator and Congressman, and most importantly, get to know the people in charge of my town and city and schools.
Thus, I am likely going to be more politically active (if even on the local level) this year and slowly scale up. After all, I JUST HAD A BABY.
So, what does an Open House look like?
I got in line to sign in, got a ticket for a free taco, and got in another line that I originally thought was to see Congressman Swalwell. It turned out to be the line for a guided tour of the office.
There was a little stage set up with a bunch of girls from a local Brownie troop having folks add their painted hand print to a UNITE banner. I am just paranoid enough to not add my hand print to a banner that might be seen to oppose Trump. (Not that they don't have my info and prints from a bjillion other places.)
There were also a few info booths set up with comment cards and pamphlets. And of course, a table with free donuts, coffee, and water. I did not avail myself to any of them because I was in line and didn't want to lose my spot.
Of course, by the time I was the front person in line, they stopped letting folks in because Swalwell was supposed to be coming soon and they didn't want us to miss it. So, I stopped being anti-social and eavesdropped and then inserted myself into a conversation with the elderly folks behind me.
It pleased me to no end to see a really old white man in a bright yellow t-shirt proclaiming love, wearing a Black Lives Matter pin, and hearing him talk so knowledgeably about volunteering, etc. It made me happy.
The crowd was diverse – so diverse, I even saw a Trump hat. But the most important hat I saw was the Metallica one. The man knows what's important.
Finally, the Veteran's Colorguard presented colors, we sang the National Anthem, said the Pledge of Allegiance, and Congressman Swalwell said a quick speech (with some heckling from Trump supporters) after the ribbon cutting.
Some time during the speech, Guavarama and her family showed up and we hung out and then went on the office tour together.
I mean, nothing special about the office tour, but it was still cool to see the offices (your typical small office environment), see the people who answer phones and represent constituents, and get a tiny idea of what Swalwell (or any Congressperson) and their staff do.
I didn't realize they had staff to advocate for immigrants, veterans, police officers, elderly folks having problems with social security, etc. Who knew?
I am going to see if I can get my kids in to tour their offices with some of my homeschool friends. Even though my children have no idea about what this means, I suppose it's a good time to educate them. (I recently told them about our POTUS as a bad man. Hey, they're my kids. I am allowed to tell them the truth.)
Anyhow, after the tour, I was tired and wanted to go write and wasn't sure if we would see the Congressman in person so we left.
As a side note, I didn't realize folks thought he was eye candy. To me, he looks like a mashup of Dennis Quaid, Timothy Olyphant, and Michael C. Hall. He's a good looking fellow, but not my cup of tea.
Also? I ELECTED HIM TO CONGRESS NOT TO A GIRLIE MAG.
But hey, I suppose if people comment on female Congresspersons and Senators and Presidential nominees, we can comment on the mens.
Anyhow, turns out, it wasn't a big deal at all! I'm glad I went and might go to more in the future.
Have you ever met your local congressperson? What did you talk to them about? Tell me in the comments.