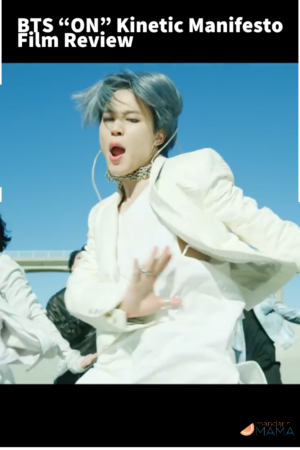 BTS: "ON Kinetic Manifesto Film: Come Prima" Review is part of my neverending love letter to K-pop boyband BTS. You can catch my ongoing series about BTS here or just sign up for my newsletter. This post also uses affiliate links.
The BTS "ON" Kinetic Manifesto Film: Come Prima delivers on every level. Definitely kinetic – in the music and the movement of bodies as well as loose sleeveless shirts (all praise physics and the stylist noonas) – "ON" is a rock hop song exploring the ups and downs BTS have experienced since their debut in June 13, 2013.
Watch the BTS (방탄소년단) 'ON' Kinetic Manifesto Film : Come Prima below. Click the CC if you want to read the official English translation of the lyrics.
About 'ON' Kinetic Manifesto Film : Come Prima by bts
"ON" is the title track off of BTS's new album Map of the Soul: 7 (out now) and "Come Prima" is Italian for "like before." Starting off with keyboards, clapping, and a quick choir note, the drum line kicks in along with the driving electronic bass the song drives inexorably forward. The lyrics open disoriented, filled with trepidation but then move on to acknowledge the hard work they put in to reach their current success, ultimately ending in triumph, claiming their wins.
The song and the choreography go so hard.
What I loved
"ON" and its accompanying MV are exactly what I want in a title track. The song is rousing, exciting, and the brass and drum line make the song aurally interesting and makes me want to cheer – like I'm at a halftime show. (Ah, memories of being on the color guard during high school.)
The first OMG moment is when RM comes in, singing low and raspy. His part in the video is also so excellent. I shivered at the way he and the backup dancers crouch and walk in a somewhat creeping and threatening way while his lyrics describe his feet and shadow shaking. Plus, Jungkook's solo is perfection. His soaring vocals float and carry the momentum even when the music technically slows down.
I love how dance group The Lab is featured as background dancers, I love the marching band included, I love the formations, and how it reminds me of a halftime show, and I LOVE THE OUTFITS.
I would be completely remiss not to mention the intense dance break as well as the short-circuiting of your brain when you see the wonderful consequences of physics combined with loose tank tops with huge arm cutouts and Jungkook and Jimin gunning for our souls and uteri. The dance break gives me life – it has to because Jimin's closeup body roll murdered me and I need to be revived.
Please click and watch my reaction video wherein I swear a lot read BTS for filth. (Then like and subscribe to my channel!) I appreciate you!
What I wish were different
Umm, short of wishing they were shirtless or something, (I would never), I can't think of a cottam thing I would like to change.
final thoughts
The video and dancing are fantastic. I don't know what else there is to say.
Ultimately, "ON" does exactly what a title track is supposed to do: generate excitement and interest in the album at large. I could NOT wait to listen to the album so check out my review for the entire album when it's up.
If you like this and want to read more about my BTS Obsession, then you'll love these posts: