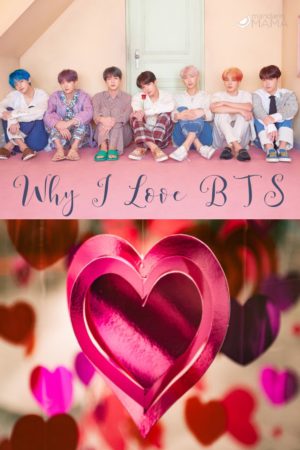 This post is part of my ongoing series about BTS. If you prefer not to constantly refresh my site for updates, sign up for my newsletter and I will send you a handy round up every week. 
People often ask me why I love BTS. Usually, I end up flailing about, gushing about their looks, dancing, talent, personalities, music, concepts, theories, and EVERYTHING.
Then I watch as their eyes glaze over and dismiss it as a middle-aged woman thirsting after virile young men.
I mean, it's not NOT that. THEY FINE.
But though these are all valid reasons and how I got sucked in in the first place, they are not the REAL reason.
After all, the Kpop world is full of hot, young, talented men and women who can sing, dance, perform, and act. They're even trained to have fantastic personalities. It's a $5 billion dollar global industry for a reason.
I mean, look at these humans. Are they even real?
So, why BTS?
Truthfully, the core reason has been stuck inside me for over a year except I haven't been able to voice it. And so, it's been lurking in my brain, waiting for me to figure it out.
Inchoate.
For long time readers, you know that in 2018, I turned 40 and set my life on fire.
It was as if my 17 year old self saw my life, judged me, and found me wanting. How the fuck did I get here? Why did I go to UCLA or have a career if all I was going to do was pop out too many babies, decide to homeschool them – and in Chinese of all things – and throw my life away?
I was supposed to do big things. I didn't know what, but they were going to be big. Huge.
And what a lie it was. What a massive swindle it all turned out to be.
I felt betrayed and there was no one to blame except for myself.
That's interesting and all, but really, why BTS?
Well, in January 2018, through the miracle of the YouTube algorithm (all praise), BTS entered my life. I didn't realize then, but BTS would see me through from May onwards when everything else in my life was just a slog through the shittiest of shits.
At first, I only casually watched their M/Vs and dance practices. Then, I slowly started watching fan made videos of funny BTS moments, reaction videos, and other official content. I looked up lyrics and lyric videos in an effort to understand what they were singing about and was surprised at their depth and poignancy.
And then, Singularity dropped and it was over.
I was lost.
If you would like to know more about why Singularity is one of my favorite BTS songs, I talk about it in detail here. I've included the official M/V both for your convenience and enjoyment.
Hit the "cc" button for the official English lyrics. You can also find lyrics here.

What a relief it was to have BTS in my life – if only to tether me to the wifi in my house so I wouldn't walk out the door and abandon my long-suffering husband and children.
I spent almost every single waking moment consuming BTS related content because my actual life was too unbearable to deal with. Not the actual motions of life, mind you, though they were annoying.
I was unbearable.
Me.
I despised myself.
But that still isn't why I love BTS.
FFS, Are You Ever Going to Tell Us?
Eventually.
But first, more meandering. That's what I do.
You see, I cannot talk about my love for BTS separate from their story told through their music and lyrics. In particular, via the journeys of RM (leader/frontman) and Suga, two of the main rappers.
RM and Suga used to be big in the Korean underground rap scene and RM had a sizable following and respected reputation starting from when he was 13. (Yes, 13.) But many of their former friends, associates, and fans accused the two of selling out and becoming "like women" because they chose to dance and wear makeup and fashion due to becoming Kpop idols instead. (Note: Kpop rappers are not considered to be "real" rappers/hiphop because they usually do not write their own bars or create their own beats.)
If you read a lot of RM and Suga's lyrics on their individual mixtapes as well as BTS albums, you can see their struggle with identity play out over time.
Who are they? Are they what the worst of their critics claim? Or are they the best of what their fans declare? Are they none or all of these things? And can they face themselves when they discover it?
Their best lyrics deal with fear – a topic with which I am intimately familiar.
Fear of love. Of loss. Of not knowing who they are. Of being who they are. Of not being known. Of being trapped.
All things I was experiencing in real time.
It was a comfort. A solace.
I Give Up. Seriously. How long can you keep this up?
Baby, I can go all night. (Ok, no. I can't.)
Haven't you been paying attention? I have been telling you why I love BTS this whole time.
I love BTS because I feel as if they see me.
They give voice to what I have locked away and stuffed deep inside my heart, desperate to forget and erase.
All the pain from my abusive childhood. The disconnect of motherhood and personhood.
They know what it is to suffer. To struggle with their identities. To feel as if they are living a lie.
Are they artists or idols? Heroes or monsters? A persona or themselves?
Yes. The answer is yes.
Am I a middle-aged suburban mother of four or am I a BAMF with mouthy opinions?
Yes. The answer is yes.
It has been such a joy to watch BTS members go from the brash, struggling hiphop idol band in 2013 to the confident – but most importantly – secure men they are now.
And though I didn't initially enjoy their hit, Idol, the words still meant a lot to me. Both in light of their career and internal journey, and in how much I can relate as I navigate between my roles as mother and human.
You can call me artist (artist)
You can call me idol (idol)
No matter what you call me
I don't care
I'm proud of it (proud of it)
I'm free (free)
No more irony (irony)
Cuz I was always just me

– Idol by BTS
Hit the "cc" button for the official English lyrics. You can also find lyrics here.

I won't lie to you and say everything is fine now and that BTS's music magically healed me, watered my crops, and gave me clear skin. (In fact, my skin has been being very rude to me lately.)
However, watching them as humans – to whatever extent they allowed us fans to witness – gave me the courage to be a bit more myself and continue facing my pain head-on (and sometimes sideways).
Could I have made it without them? Sure.
But BTS is now the soundtrack of one of the most pivotal years of my life and for that, 2018 couldn't have been that bad.
If you like this and want to read more about my BTS Obsession, then you'll love these posts: