100+ Reasons to Love Kim Namjoon of BTS is part of my neverending love letter to K-pop group, BTS. You can catch my ongoing series about BTS here or just sign up for my newsletter.
In honor of the birthday of Kim Namjoon (September 12, 1994), the leader of record shattering K-pop band BTS, I will be itemizing in detail the manifold reasons to love this fine, fine man. Namjoon, also known under the stage name RM (from his previous moniker of Rap Monster), is a South Korean singer, rapper, songwriter, and record producer.
This article is for adults by adults so prepare yourself accordingly. We don't shy away from the hard-hitting issues (and by this, we mean his Namtiddies and pelvic thrusts) because we have high journalistic standards, friends. Strap in, folks. this article is long like Joon's legs (and ahem) and if I don't get started, I'll become too intimidated to continue.
All errors are mine (and please let me know in the comments and I will update).
100+ Reasons we love Kim Namjoon
Have you ever tried listing all the things you love about a person? You start and get distracted, going on tangents, terrified of forgetting something because it's inevitable. Before you know it, you're just blurting out useless observations like: they do that thing! You know — that thing! Well, this is my list of why I love Kim Namjoon — and though loosely organized, please consider it one long blubbering NAMJOOOOOOOOOOOOOONNNNNN with my whole chest.
Yeah, it's kinda like that.
Kim Namjoon's talent
First and foremost, we would be incredibly shallow to start with anything other than Namjoon's talent. And we're anything but shallow here. (Okay, that's a lie. We're really shallow, but allow us to pretend we have layers.)
1) Namjoon is so talented that Bang Si-Hyuk (Bang PD), the founder of BTS's label, Big Hit Entertainment, formed BTS around him.
2) RM is a rapper not an idol who raps. (Yes, there's a difference.) An underground Korean rapping sensation since ~13 years old, he went by Runch Randa or Randa starting circa June or September 2007 and was part of K-hop crews before another rapper, Sleepy, introduced him to Bang PD in 2010 when he was approximately 16.
For fun, here is RM's rap battle audition before debut. (It's cued up to his first appearance.)

3) According to the Korea Music Copyright Association (KOMCA), RM has over 160 songs attributed to him as composer and songwriter. Many of these are for other bands or artists he's featured with.
4) Besides writing and performing for BTS, RM has also released two mixtapes, Rap Monster (2015) and mono (2018). These tracks showcase styles, lyrics, and beats that don't fit the BTS sound and color but are still wholly RM's sound and flow. Though I love both mixtapes, I prefer Rap Monster because it hits so hard and furious — and if you've been on my site or my reaction videos for any amount of time, you'll know that's right up my alley.
5) RM is a lyrical genius. He effortlessly weaves in allusions to literature, English, hangul, Korean, and slang in his verses, all while rhyming both within a bar and the more traditional ends of a line. Don't believe me? Check out BTS fandom translator muish's translation and explanation of "Trivia: Love" or "Ddaeng."
Come back and fight me if you don't find RM brilliant. FIGHT ME.
6) RM spits bars. Not only does he have a poet's soul as demonstrated by his pensive lyrics, he raps like a man possessed. Not content to have only a few default flows, Namjoon constantly switches up the cadence, rhyme schemes, and even melodies of his verses.
7) Did you know that RM also sings? His singing voice is husky, low, and like a warm hug. Listen to him and fellow bandmate, V, on a song he co-wrote with V, "4 O'clock."

8) I know I mentioned it already, but it bears its own line item. RM is a fantastic record producer. That's it. That's the post.
9) He is a talented musician. As can be seen from the songs he writes and composes, he is good at his job. But more than that, if you listen to Namjoon discuss their albums on his Vlives, you'll learn so much about how to make music, how to structure a song, as well as the meaning and stories behind some of their music.
10) He's a deft leader, liaising between the members and Big Hit, as well as supporting the other six members as a team. All the members have said they would not have gone as far as they have with anyone else as leader.
11) While I take very little stock in IQ scores due to its cultural and classist biases, I would be remiss not to point out that RM has an IQ score of 148. For scale, a minimum IQ score of 135 is required to qualify for Mensa, the oldest high IQ society in the world.
12) Since we're on the subject of IQ, RM's also really good at solving puzzles. Check him out during Season 1 of Korean variety show, "Problematic Men." Can you even imagine a show in the U.S. featuring celebrities solving math problems and logic puzzles?

13) He can dance! I know, I know. RM and Jin used to be consistently singled out for their lack of dancing skills, but you know what? I really can't see it anymore (for either of them). After a decade of dance practices and touring, RM is a pro.
14) He's fluent in English. As much as Namjoon downplays his English abilities, he's really very good. Does he have native fluency? No. But the fact that Namjoon can hold his own in high pressure conversations like late night talk show interviews and red carpets is super impressive. I'm a native English speaker and I don't know that I would be that fluid!
15) His voice. Not just for singing, but for speaking. His voice is so smooth and such a pleasant rumble to listen to as he talks.
16) Speaking of voices (pun intended), he is so articulate. Not only does RM use his voice for actual talking, he uses it to speak up for and speak out for those without voices. Check out the RM's full speech at the UN in 2018.

17) He's deep. Keep your mind out of the gutter — we're not there yet. His notes to ARMY (the BTS fandom name) explaining his thoughts or feelings are always so introspective and wise beyond his years.
Kim Namjoon's physical attributes
I have a soft spot in my heart for RM's visuals because he's the first BTS member I could consistently identify. Also, his hair in the "Do You" M/V from his mixtape and the entire "Dark & Wild" era was my hairspiration and blond RM with an undercut and mohawk is my favorite (although Grammy's mullet RM is also a close second). Oof.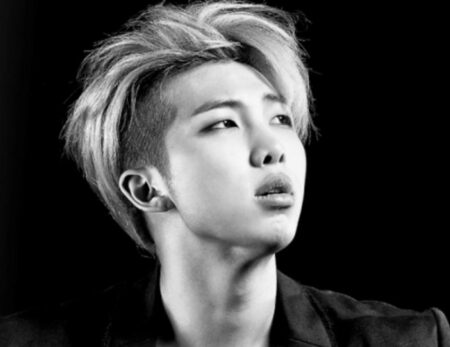 I'll not belabor the point and just start listing parts and attacking you with hot pics. Isn't that the entire purpose of this post? So I can repeatedly hurt myself?
18) Face – His FACE. Whew. Yes, yes. I will focus on individual parts of his face, but the sum whole of his facial features? WOW.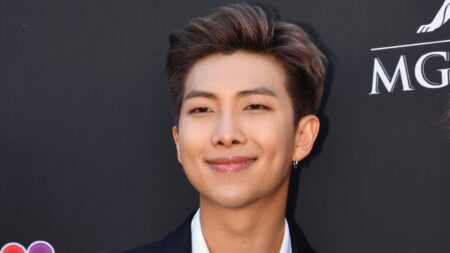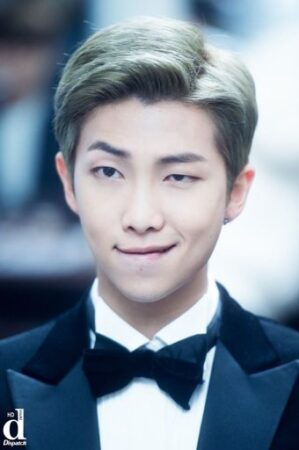 19) Eyes – They're just crinkly and warm and kind and he'll keep all your secrets safe.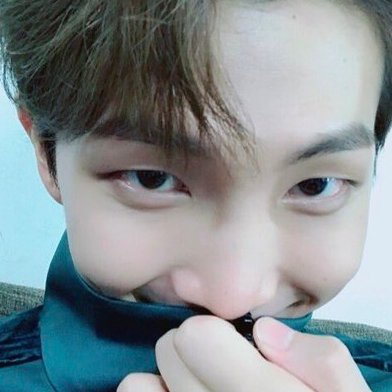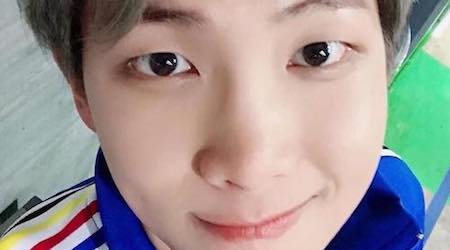 20) Smile – His smile is just so happy and sweet and sincere! I'm a melty pile of goo.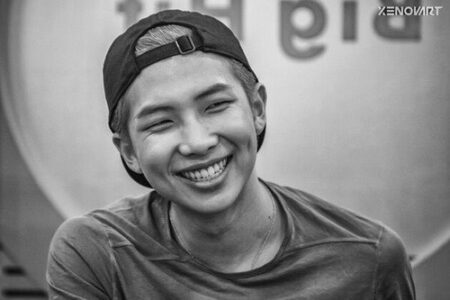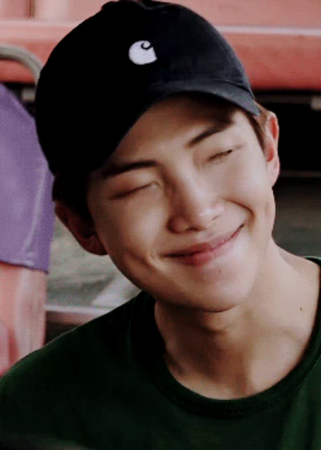 21) Dimples – I was never a dimples person and then I met Kim Namjoon's dimples and now, I am a believer in the power of small depressions in a person's face when they smile. And by person, I mean RM.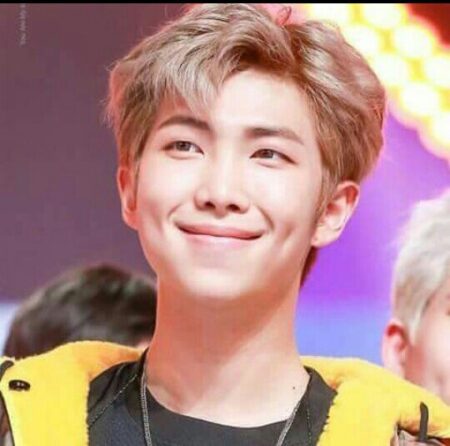 22) Lips – A proud member of the BTS DSL line, Namjoon's lips are a dream. Full, plush, and so naughty. GAH!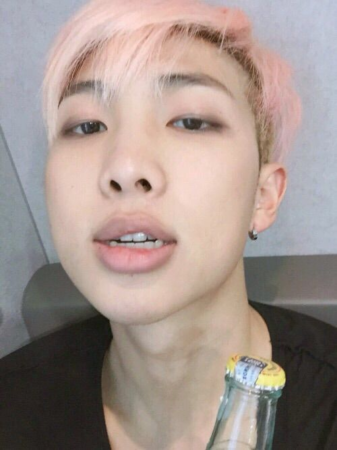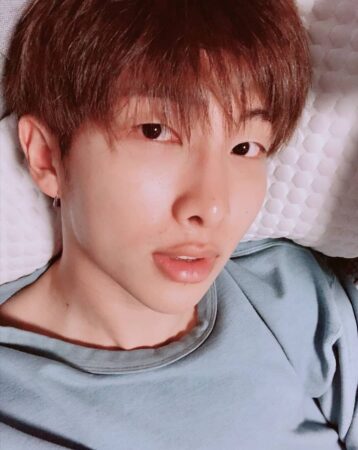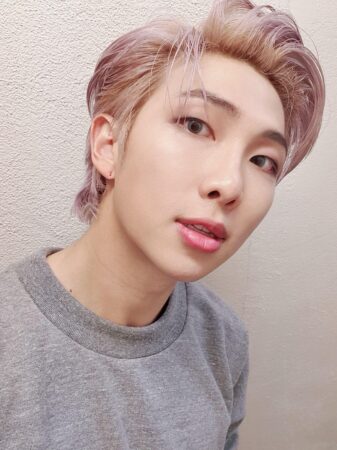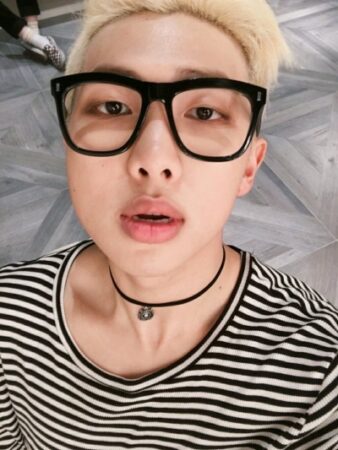 And because I enjoy pain, here's a video.

23) Chest – Namtiddie Nation, RISE! Seriously, all praise Pilates and personal trainers. WHEW.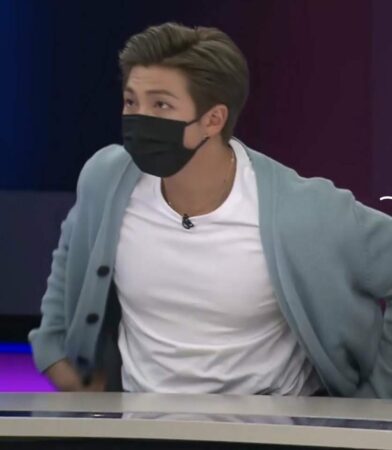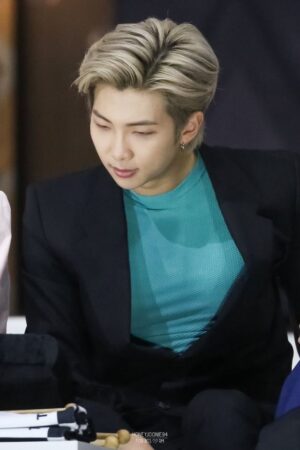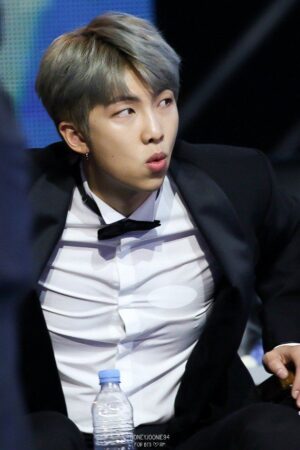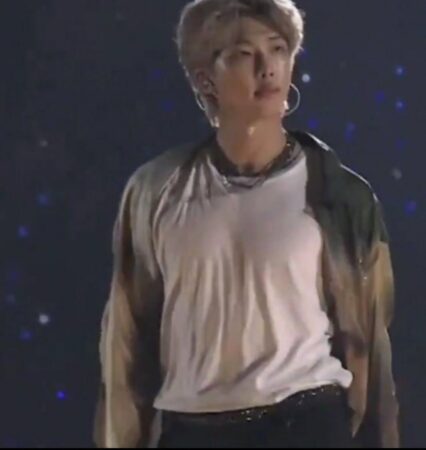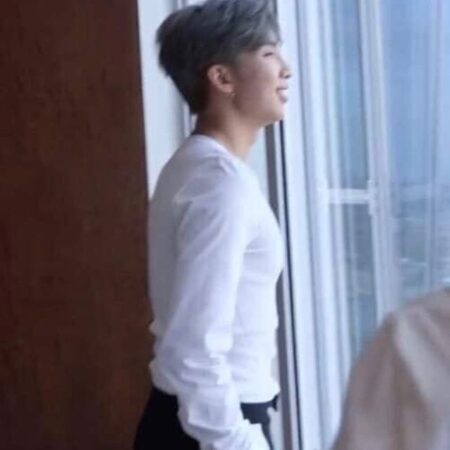 24) Thighs – He's bringing the thickness and his thighs are sooooooo meaty.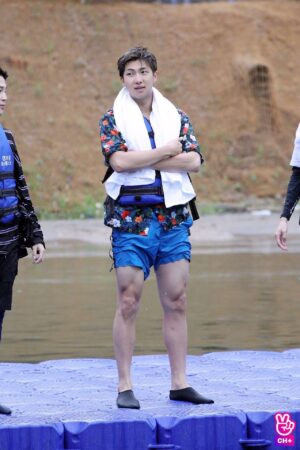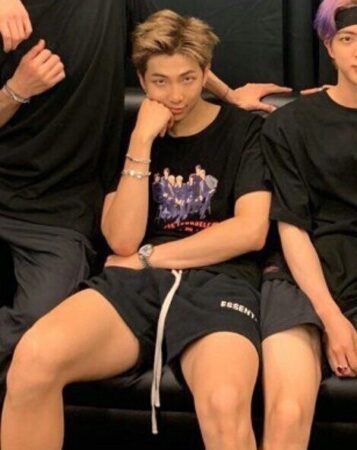 25) Legs – I mean, yes. Thighs are a part of legs — but I believe we've already discussed this when I mentioned his face and then his individual face parts. They're just soooooooo loooooooooonnnnnggggggg.
26) Hair – I already mentioned it above, but for your viewing pleasure, "Do You" RM, "Dark & Wild" RM, and Grammy's RM. Folks, don't @ me about the lack of Grape!Mon. I don't enjoy Grape!Mon.
27) Arms – OMG HIS ARMS PLEASE CHOKE ME — ahem! He has, um, very nice arms. Yes, nice. Nice is the word.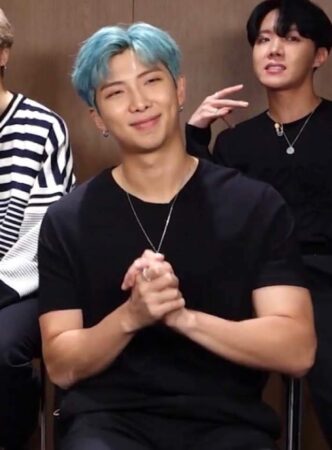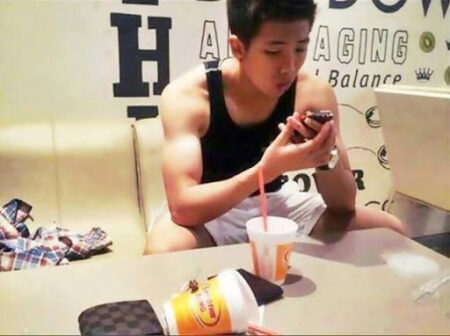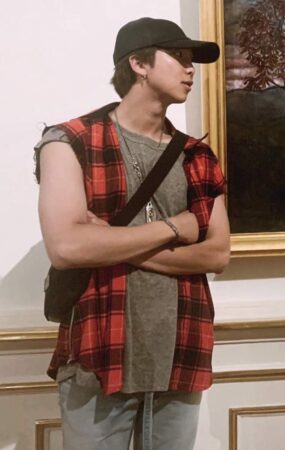 28) Hands – OMG HIS HANDS PLEASE CHOKE ME — goodness! Who is writing this? His hands are so big with such long fingers and OMG HIS HANDS PLEASE CHOKE ME! I —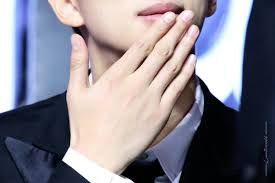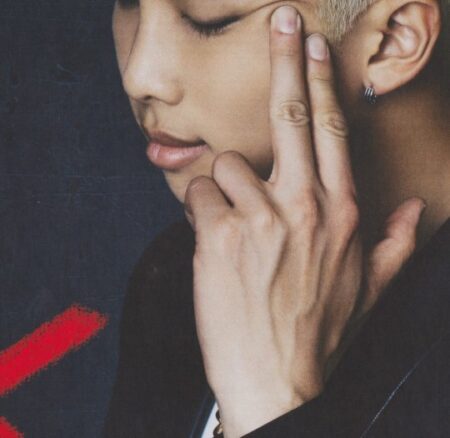 29) Skin – His skin is golden and just so, so beautiful.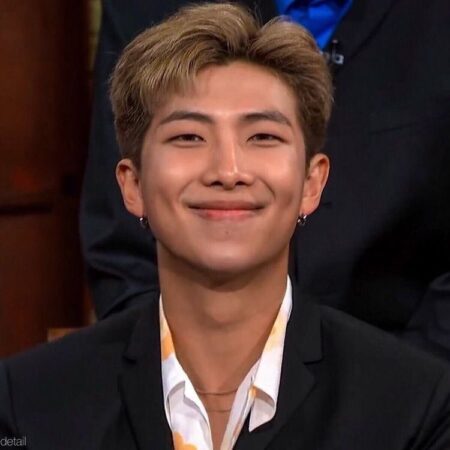 30) Sweat – You know what? STOP. JUDGING. ME.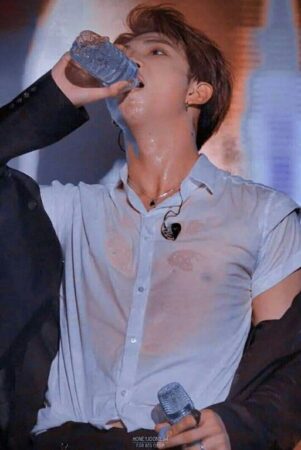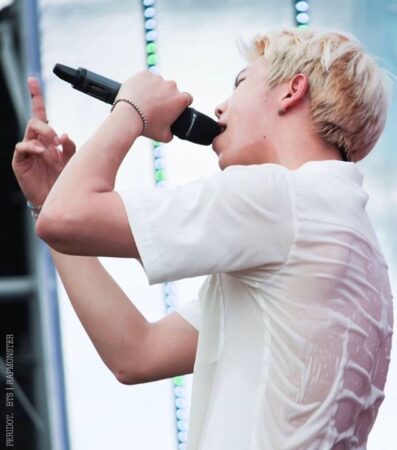 31) Whole damn body – What a work of art. Let us just stare longingly at the beauty of Kim Namjoon.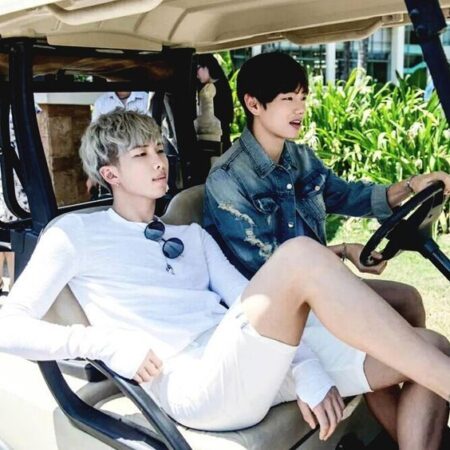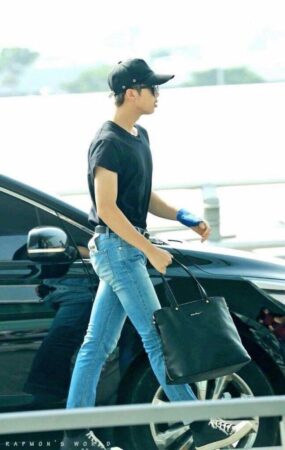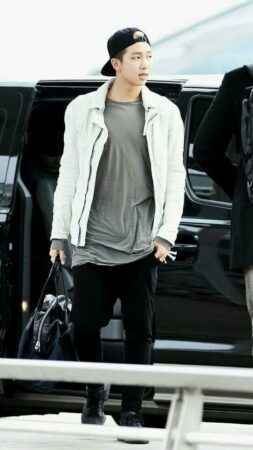 Namjooning
What is Namjooning? To my understanding, it's doing anything that Namjoon likes doing — with an emphasis on nature, art, and enjoying your own company. However, it has perhaps evolved into a more general idea of doing the activities that bring you life and fill your soul — with the emphasis of nature and sight-seeing remaining.
32) His love of art.
33) His love of things made from wood.
34) His love of the sky.
35) His love of sea creatures.
36) His love of crabs. Yes, that technically should be included with sea creatures. But I have spoken. I HAVE SPOKEN.
37) His love of nature.
38) His love of bonsais.
39) His love of trees.
40) His love of books.
41) His love of museums.
42) His love of bicycling.
Kim Namjoon's fashion
Remember when Namjoon used to do Kim Daily pics on Twitter? I miss it. I miss him. BOGOSHIPDAAAAAAAA!! The proportions on this man's body, friends. It's time to clutch your pearls because we're going into Namjoon x FASHUN.
43) His love of Japanese street brands like VISVIM and streetwear like Supreme and Fear of God.
NAMJOON #BTS 180928 #RM #방탄소년단

VISVIM pic.twitter.com/nsDTrOC1dl

— Beyond The Style ✼ Alex ✼ (@GetOnSwag) September 27, 2018
44) I know it was for the Singles magazine shoot, but this is my favorite RM fashion. EVER. RM in fishnets and a skirt. WHEW.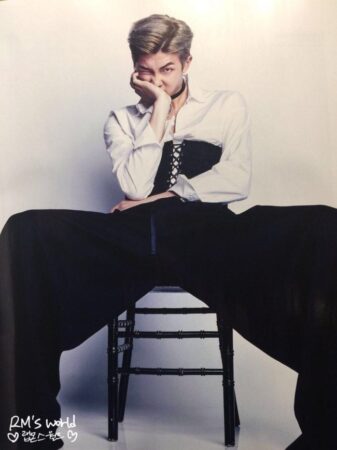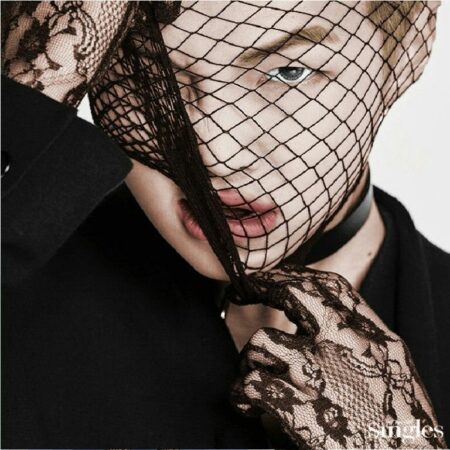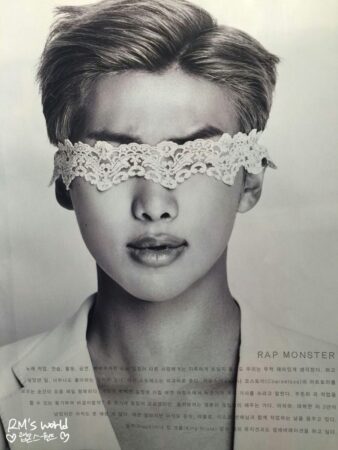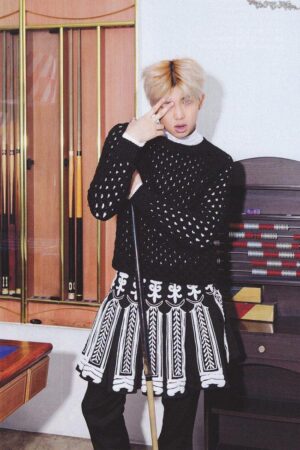 45) Namjoon as a goth prince.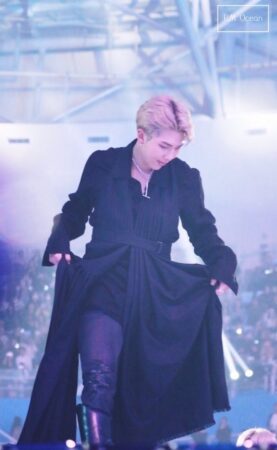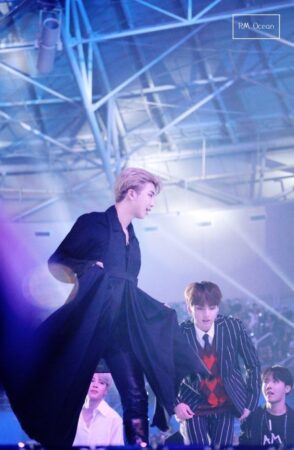 46) Namjoon AT THE GRAMMY'S OMG I AM ON MY KNEES!!!!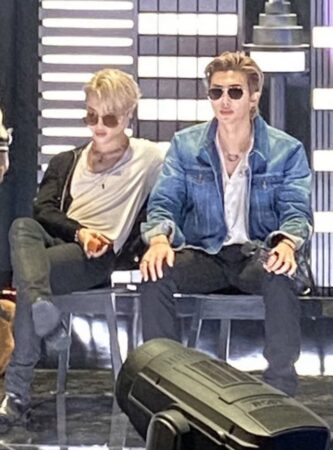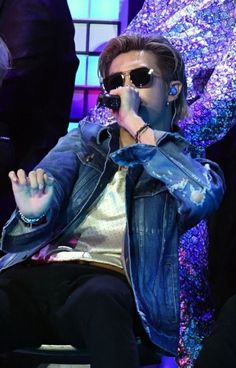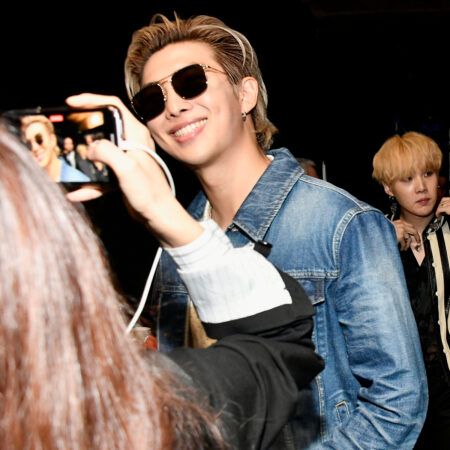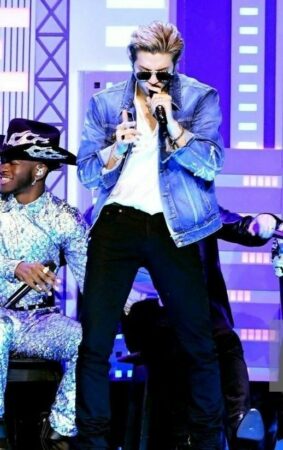 47) Baepsae dance practice RM.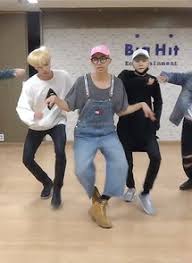 48) HYYH RM with pink hair and undercut.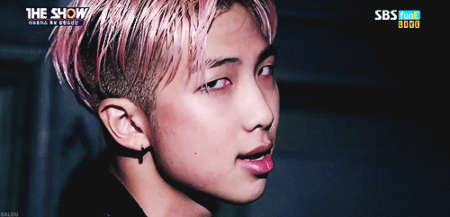 49) RM at the 2018 Billboard Music Awards in Gucci.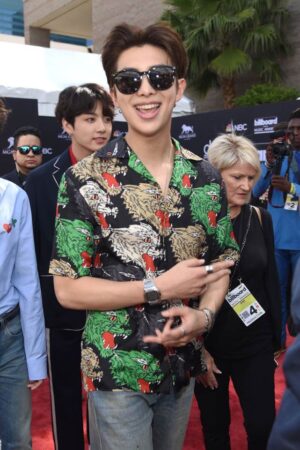 50) Namjoon in glasses.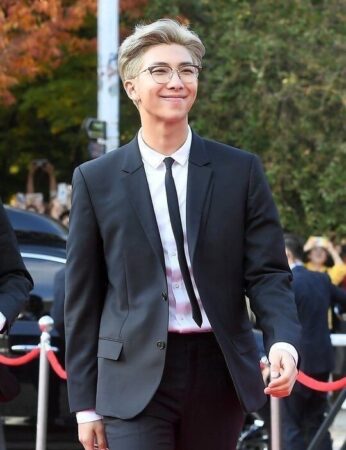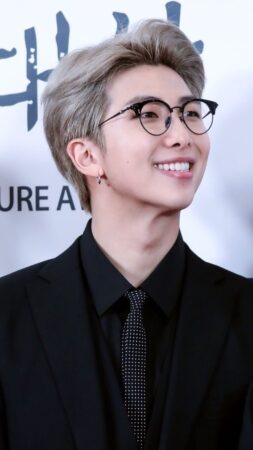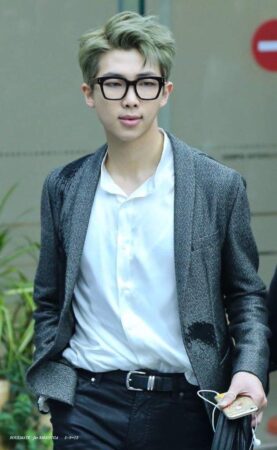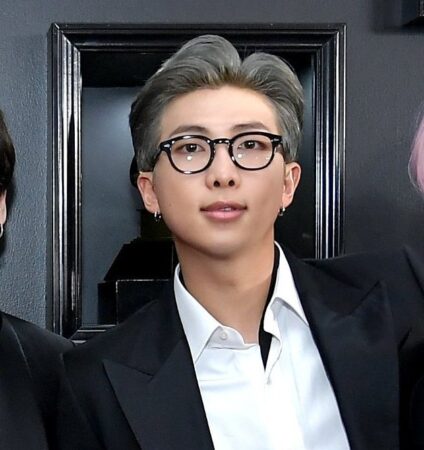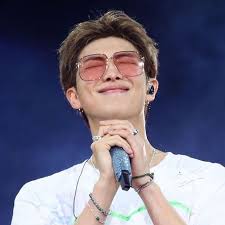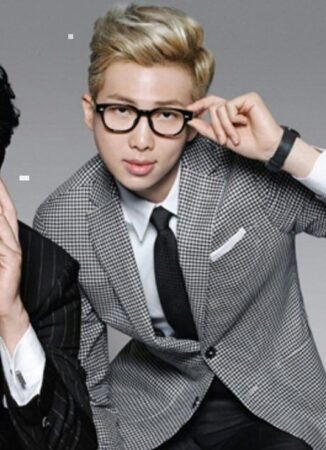 51) Namjoon as a professor.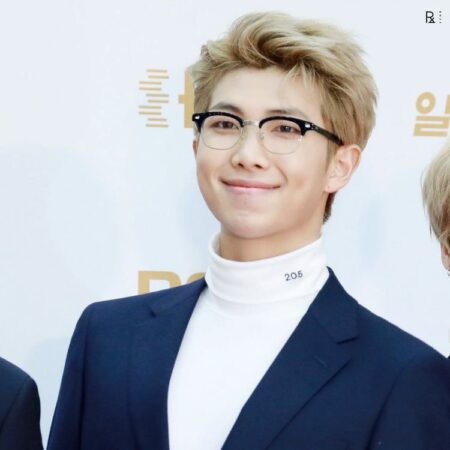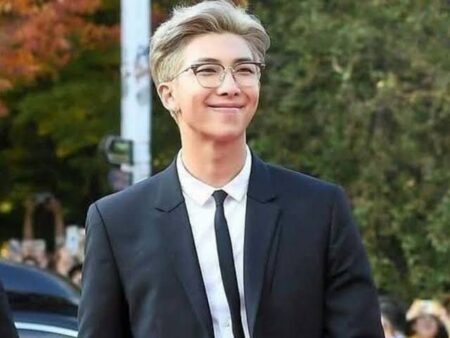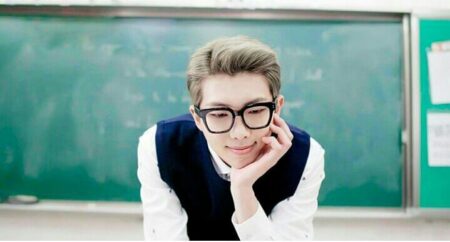 52) Namjoon in turtlenecks.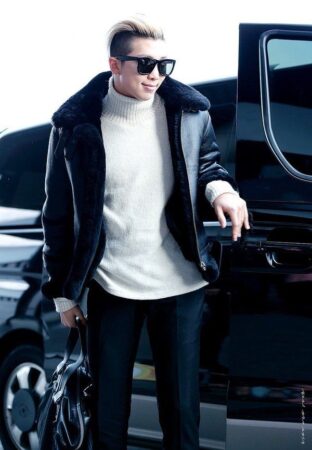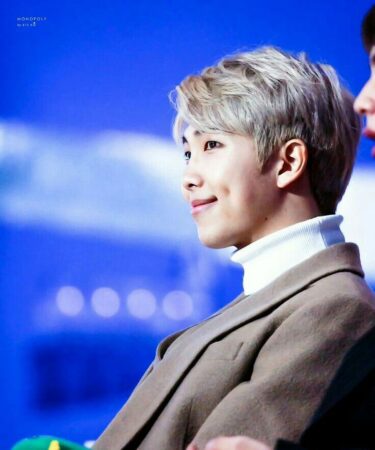 53) Namjoon in oversized clothes and experimental proportions.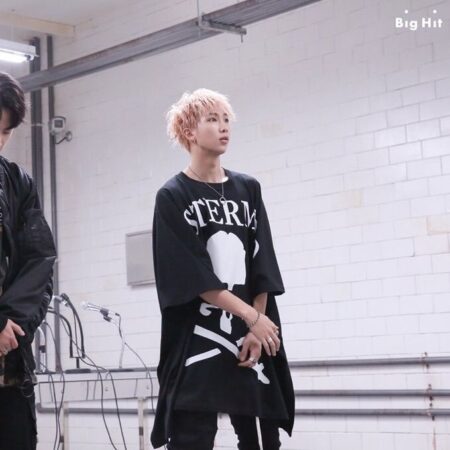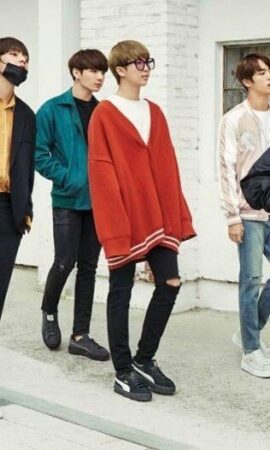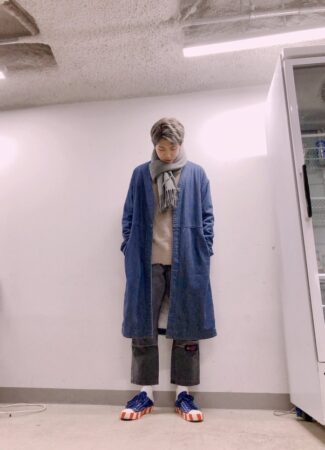 54) Namjoon in shorts.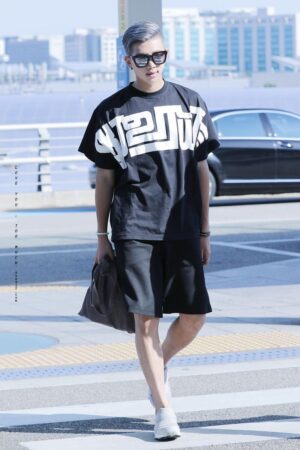 55) Namjoon in suits.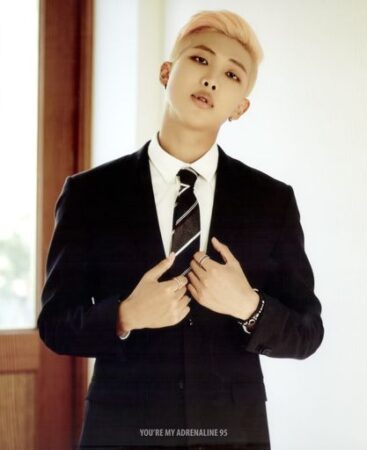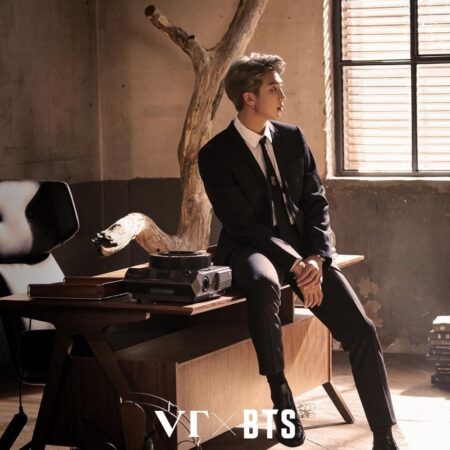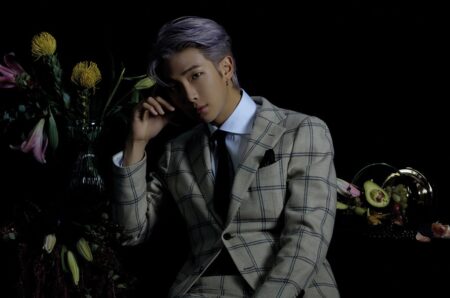 56) Namjoon in a tux.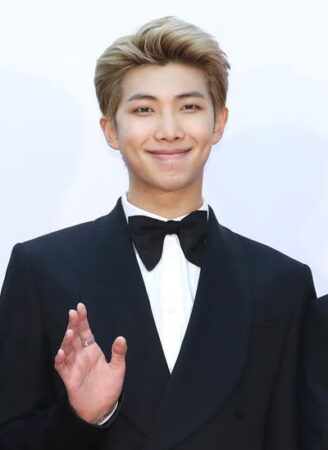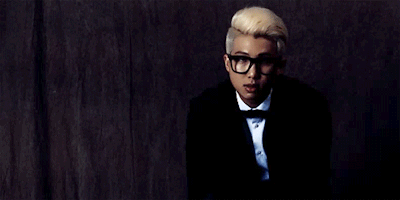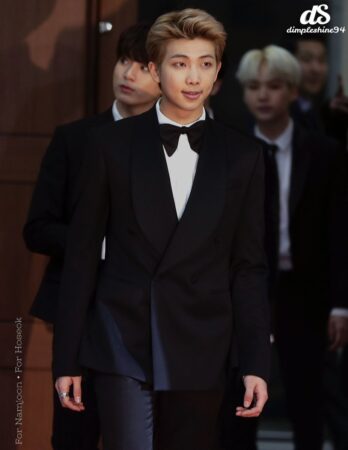 57) Namjoon in hanbok.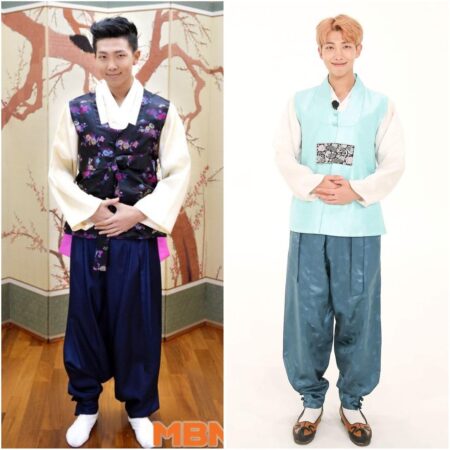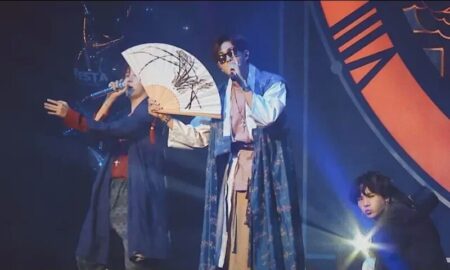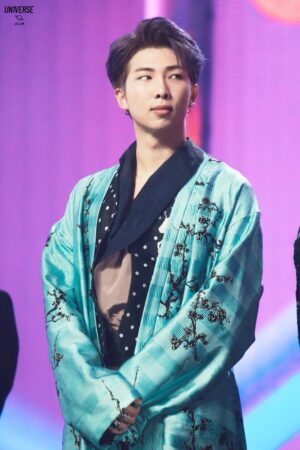 58) Namjoon boyfriend look.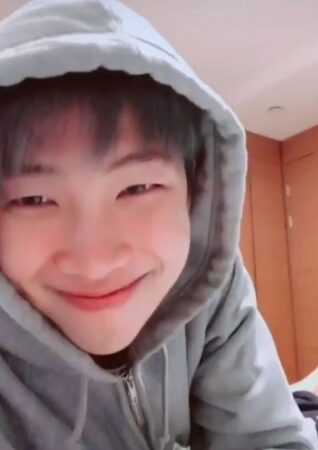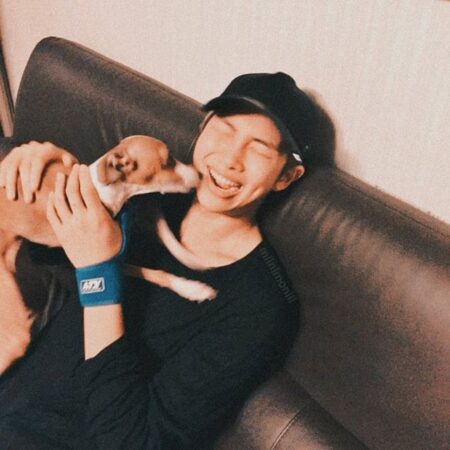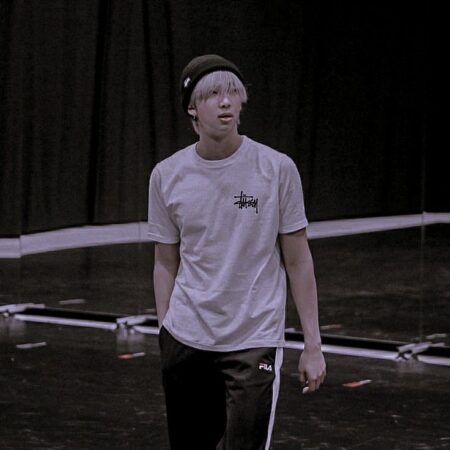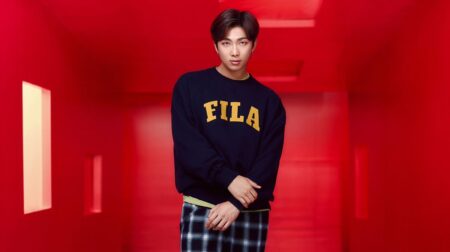 59) Namjoon in sweaters.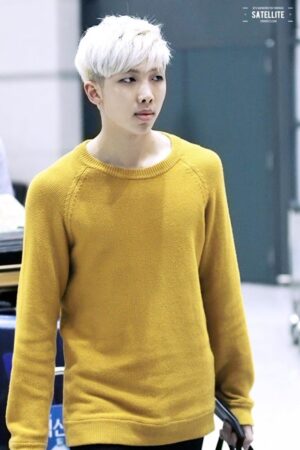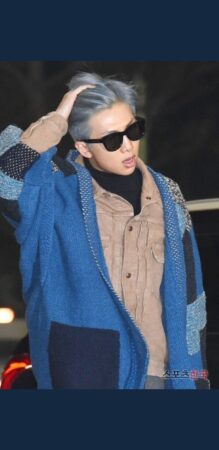 60) Wet Namjoon.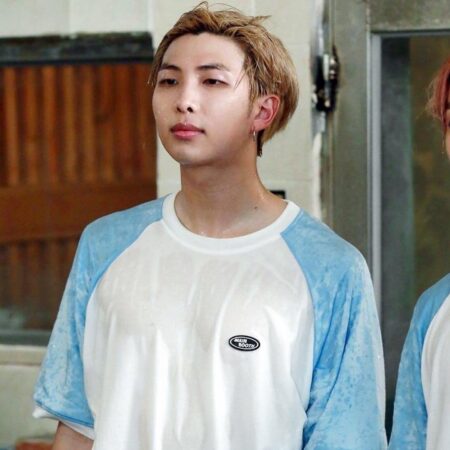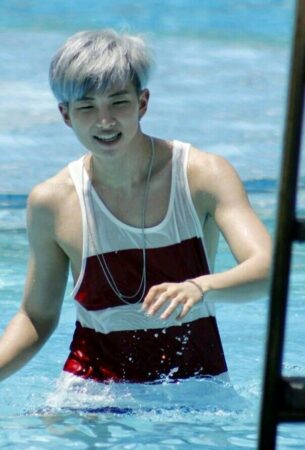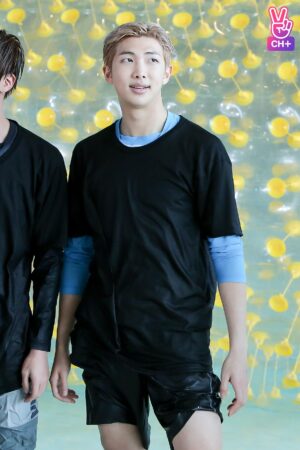 61) Mullet Namjoon.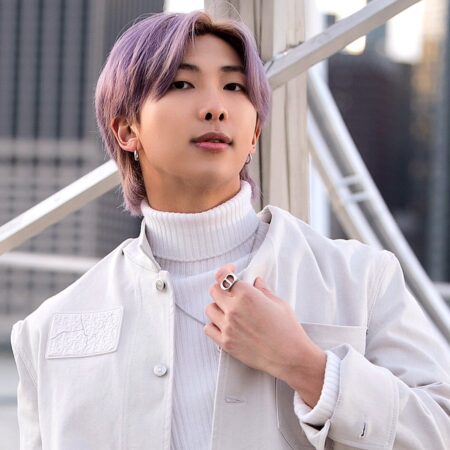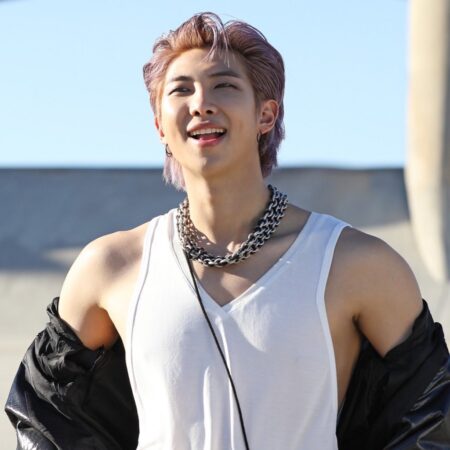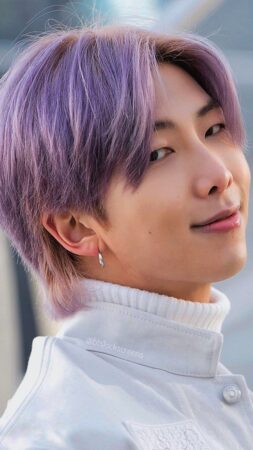 62) Namjoon with wings.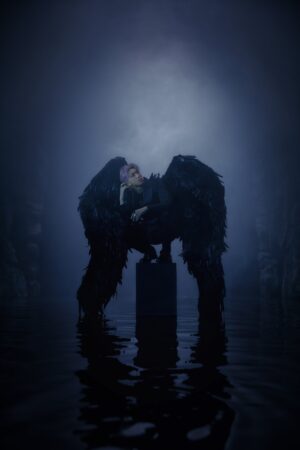 63) Namjoon in t-shirts.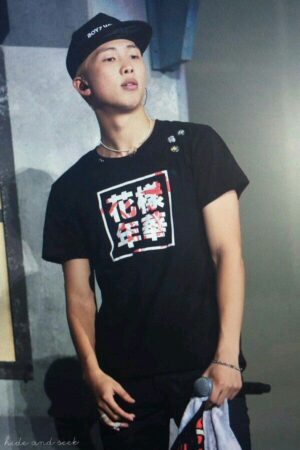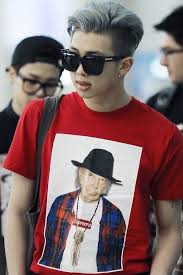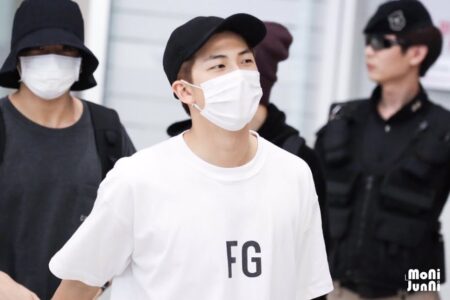 64) Namjoon in pajamas.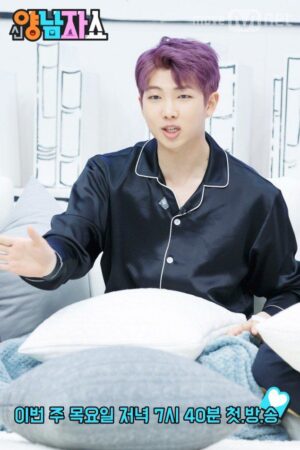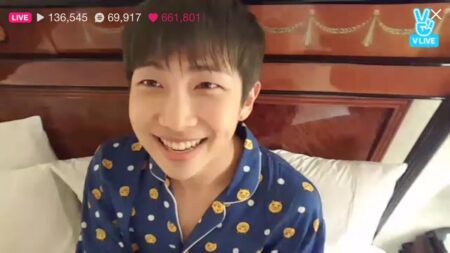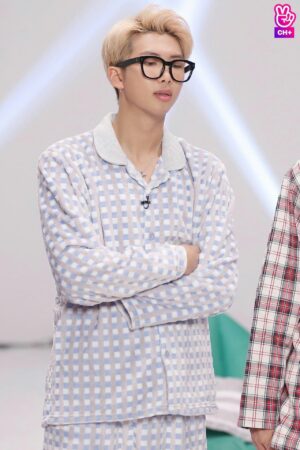 65) Namjoon in sweatpants.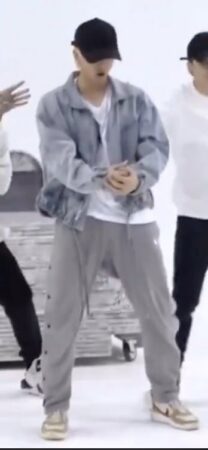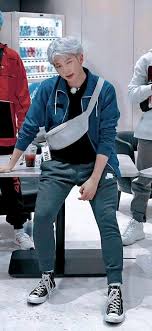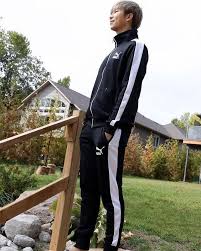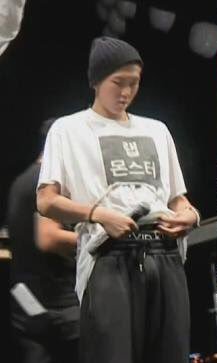 66) Namjoon in sleeveless shirts.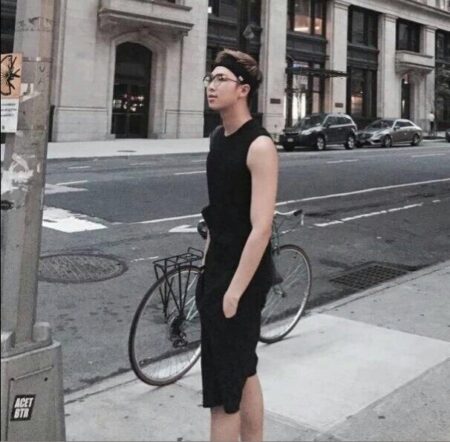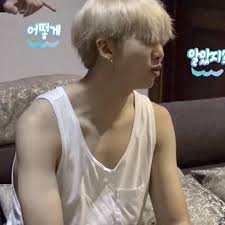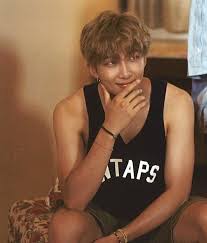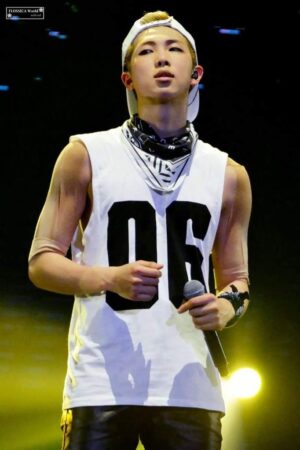 67) Namjoon in uniform.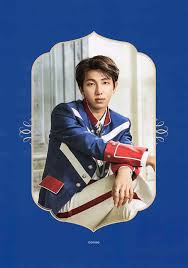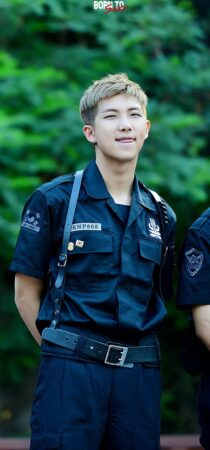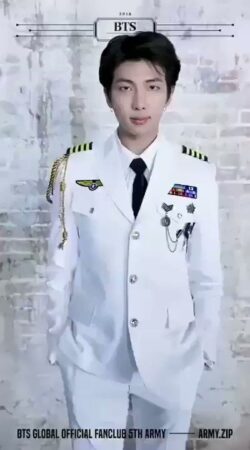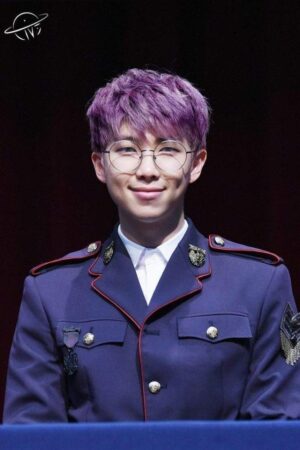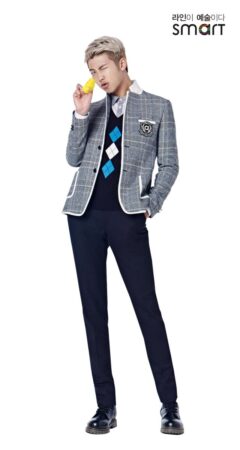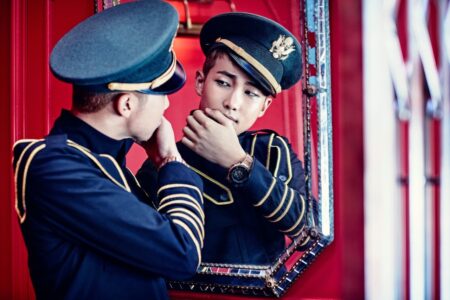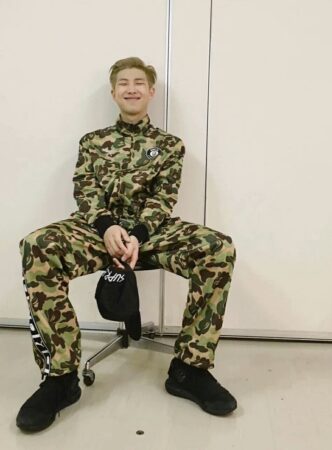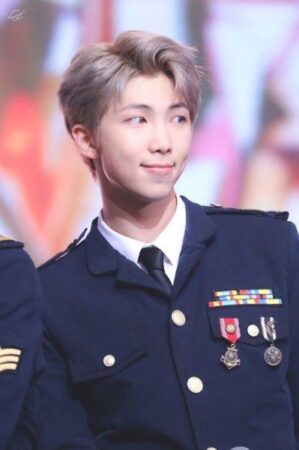 68) Namjoon in costume.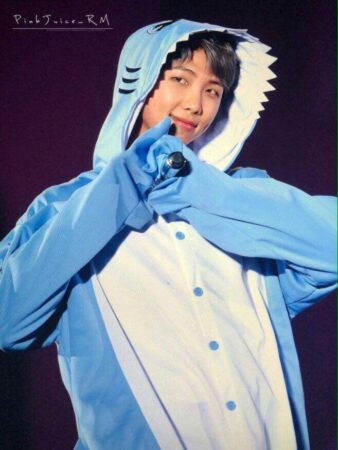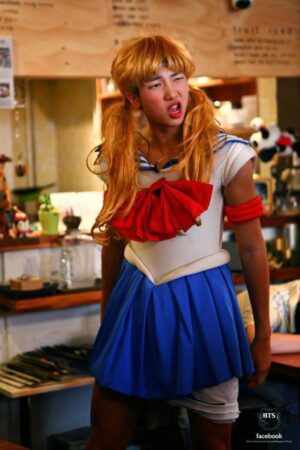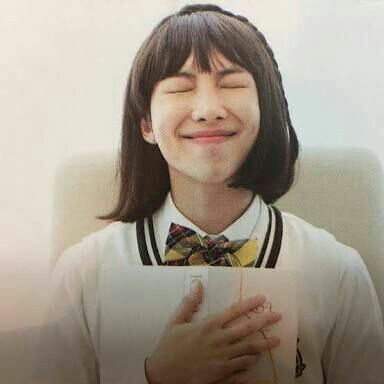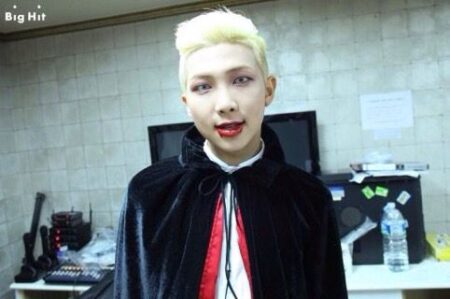 69) Namjoon in hats.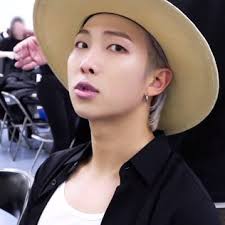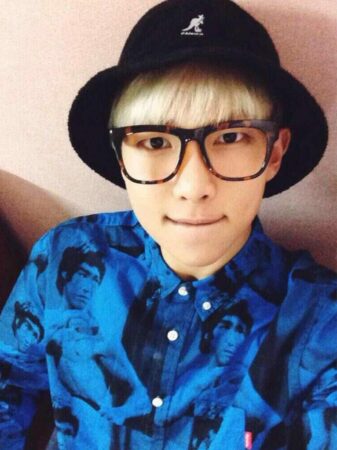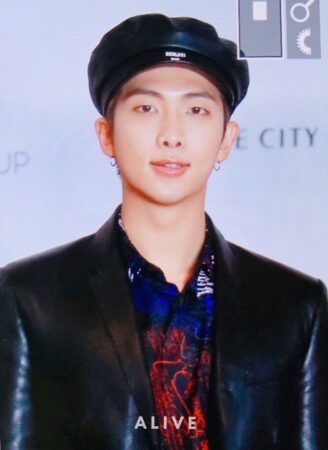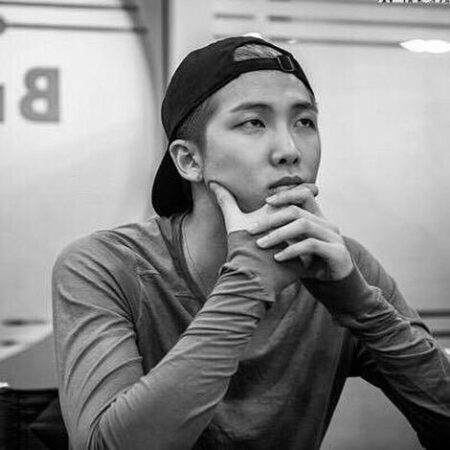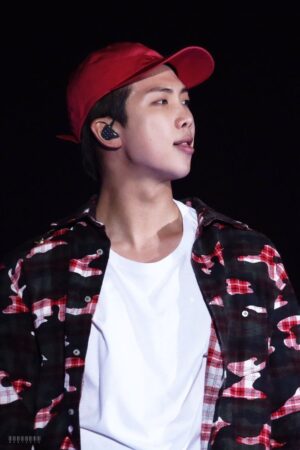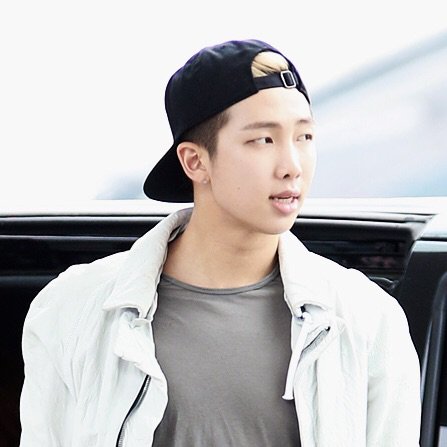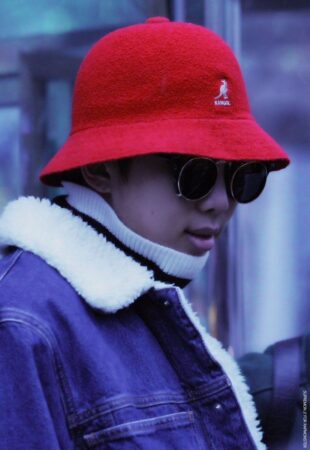 70) Namjoon in anything.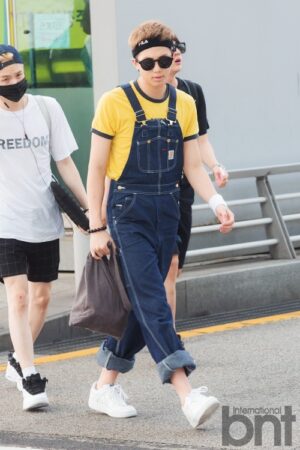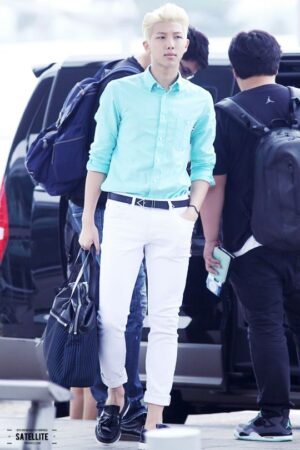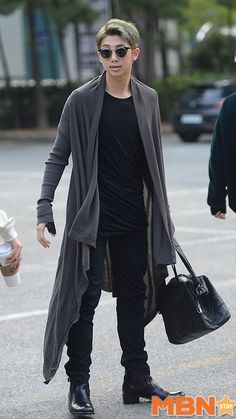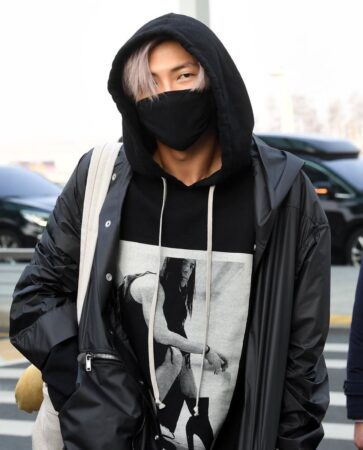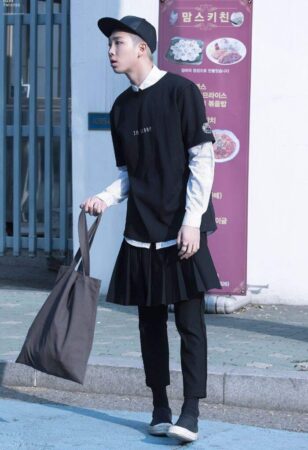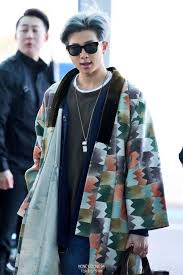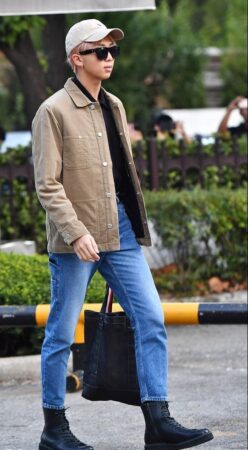 Kim Namjoon things
When you love a person, you love all of a person — even the weird quirks and wrong decisions. So, here is my catch-all section for the things Namjoon loves and hates.
71) When he does that eyebrow thing.
72) When he does that cheek sucking thing when he's mad or annoyed.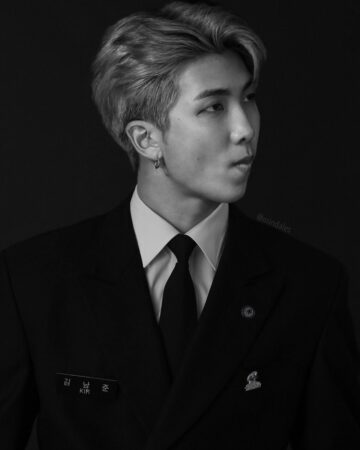 73) When he fake laughs (especially when he's done with interviews).
74) When he's done translating his members' answers into English.
75) When he called us a good girl. YOU KNOW WHEN. (5th Muster Magic Shop)
76) When he gets embarrassed after doing aegyo.
77) When he is the god of destruction.
78) When he constantly misplaces his phone.
79) When he loses his passport.
80) When he loses his airpods.
81) When he's worried about not contributing much to the group during their travel shows so he tries to help with clean up, working on their album, or other things.
82) When he gets excited and does that twitchy, dancy, flaily thing.
83) When he sings offkey.
84) When he gets hype.
85) When he disses his fellow members.
86) When no one returns his high fives.
87) When he accidentally gives spoilers.
88) When he makes fun of ARMY.
89) He is generous to his members, giving them chances to speak.
90) He loves KAWS.
91) He loves Ryan the hairless lion from Kakao Talk.
92) He unreasonably hates mint chocolate chip ice cream.
93) He inexplicably dissociates from vanilla ice cream.
94) He doesn't like seafood.
95) He doesn't have his driver's license.
96) He truly loves hiphop and knows his hiphop history.
97) He loves himself and is constantly working on loving himself.
98) He wants to be a dad.
99) He's a moonchild.
100) He shares the music and artists he loves and is listening to.
Notable Kim Namjoon performances
Namjoon is the consummate performer: dynamic, engaging, and intense. Add in his charm and downright sexiness? It's a killer combination. I'm sure there are sweet, cute, and funny performances of his, but I lean a certain way and cute and adorable is not it. But feel free to leave those performances in the comments for others to enjoy!
101) Namjoon feeling himself is one of the most precious sights in the world.

102) RM performing with Zico in a hiphop rap battle at 2014 MAMA Awards. From the way he raps to his whole look with his red hair, his undercut, the tight white suit with pink shirt, his legs, and his motherfucking shoes, he's got me feeling some type of way.

103) RM performing at 2015 All Force One. I mean, COTTAM.

104) RM performing "We Are Bulletproof Pt. 1" during their 2015 BTS Live Trilogy Episode 1: BTS Begins performance.

105) RM performing "Buckubucku" with MFBTY at the 2016 Seoul Music Awards (SMA). (It's cued to his entrance.)

106) RM live during Ddaeng for 2018 Prom Party for FESTA.

107) RM in the Intro to "O!RUL8,2?" and the "Fake Love" shouting at the 2018 MAMA in Hong Kong. (It's cued up.)

108) RM performing "Trivia: Love" (a compilation) on the 2019 Love Yourself: Speak Yourself tour.

109) I know I already mentioned Namjoon calling us a good girl, but um, NAMJOON CALLING US A GOOD GIRL during the 5th Muster in Busan Day 1. Don't be like me and misremember it as Namjoon calling us a good girl in English. It's in Korean (착한 여자) and I nearly had a meltdown finding it and thinking I'd gone crazy.
[📹] 190615 @BTS_twt 5th Muster in Busan Day 1

Pied piper!! A Song that always remind me that i have a real life, i should study etc. and makes me a good girl😊 #BTS #RM #방탄소년단 #알엠 #BTS5THMUSTER #BTS5THMUSTERINBUSAN

©NIsayDitto
-cips🍫pic.twitter.com/XHIriEh3Vp

— ⁷RM DAY₁₁₈ (@RMxBASE) June 15, 2019
For the full performance with English lyric subs (seriously, it hits different when you know what they're singing when). Fair warning, I watched this performance several times to verify Namjoon's part and I'm not okay. I'M NOT OKAY.

110) RM performing "Persona" at the 2019 MMAs. (It's cued.)

111) RM performing "Skool Luv Affair" at 2020 Golden Disk Awards (GDA).

112) RM performing "Old Town Road" with Lil Nas X at the 2020 Grammy's.

113) RM performing "Respect" with SUGA at 2020 Bangbangcon. The quality is potato but honestly, it's the best version thus far on YouTube and might get taken down. But the 90's suits and The Lonely Island vibes they're giving off and the sheer fun RM and SUGA are having onstage is a gift.

Favorite RM guest features
RM is such a solid artist and I really love his guest features on other artist's tracks. If you want to hear all of the RM and BTS features on other artists (or at least the ones available on Spotify), check out my playlist here.
114) "Strange" by Agust D ft. RM (Okay, this could be cheating but I don't care. This song is fucking awesome.)
115) "Gajah" by Gaeko ft. Rap Monster
116) "Buckubucku" by MFBTY ft. EE, Rap Monster, Dino-J
117) "Winter Flower" by Younha ft. RM
118) "Champion – Remix" by Fall Out Boy ft. RM
Memorable Kim Namjoon moments and quotes
There really are too many to list and numerate, but I will attempt a few. I try to link to the direct quotes (or translations) so if you want to see the full video or context, click on the link.
119) RM cheering for Tiger JK at MAMA 2018.
120) RM losing his passport in Sweden during "Bon Voyage 1" and on the plane to Chile in "Burn the Stage."
121) RM being exposed on Yaman TV as the reason why their studio computer keeps getting a lot of viruses. (Just use your phone like the rest of us, bebe.)

122) "No matter who you are, where you're from, your skin color, your gender identity, just speak yourself." [2018 UN Speech]
123) Namjoon asking for a hug at the 2018 Love Yourself World Tour Seoul Show Day 2.
124) After RM read a bunch of hate comments on Episode 3 of the MNET show, "4 Things," he said, "I will prove it to you all." And you did, love. You did just that.
125) "Pardon?"
126) "That's why we call puppies, 'Pupp-pees.'"
127) "Shut up Malfoy!"
128) "You got no jams."
129) "That's when the power of money comes in."
130) "It is, of course, the presence of tongue."
131) "I'm so pure."
132) "That's my boy."
133) "Mangnanyong! I don't know what it is in English. Boom. Boom. BWAAAANNNNGGG BWAAAAAANNNNGG. The yellow one. With laser. Yellow dragon and… It's Mangnanyong in Korean." [The Noisey Questionnaire of Life, 191011]
this is mangnanyong.. pic.twitter.com/oClbUqjPht

— 방탄소년단 (@BTS_twt) October 12, 2018
nbsp;
134) "I just wanna give you all the voices till I die (yeah) /I just wanna give you all the shoulders when you cry (yeah)." ["Persona" by BTS]
135) "Please use me. Please use BTS to love yourself." [Love Yourself, Citifield 181006]
[TRANSCRIPT]
RM Ending Speech #BTSxCitiField Love Yourself Concert
181006

"Please use me. Please use BTS to love Yourselves." pic.twitter.com/T6PBQbq5r4

— closed 민지 (@minmeraki) October 7, 2018
136) "If we helped your dream and your life a bit by our existence, our music, our performance, our pictures or videos, even if it's not big, if we could reduce your pain from 100 to 99, 98 or 97, that makes our existence worthy." [Wings Tour Final, Seoul, 171210]
If we helped your dream and your life a bit by our existence, our music, our performance, our pictures or videos, even if it's not big, if we could reduce your pain from 100 to 99, 98 or 97, that makes our existence worthy.

RM at Wings Tour Final
10 Dec 2017 @BTS_twt

— Soo Choi⁷ a fan of Billboard Hot100 No1 singers 💜 (@choi_bts2) November 18, 2018

—
Happy Birthday, Kim Namjoon!
Though I just spent a ridiculous amount of words on your person, I love you more than words can express or say. Thank you for existing. Thank your mother for birthing you. Thank you for being you.
If you like this and want to read more about my BTS Obsession, then you'll love these posts: