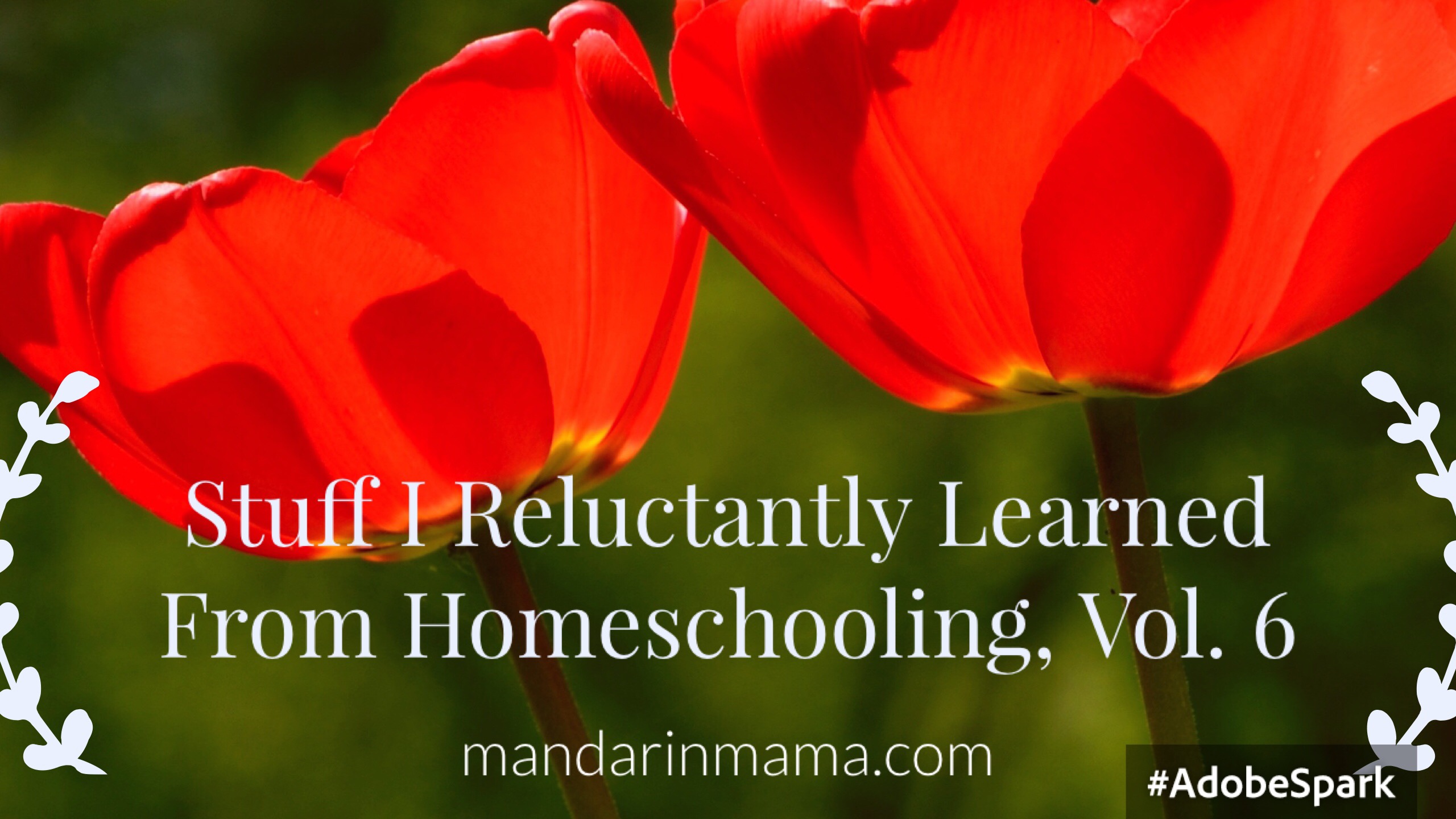 I really cannot believe September is mostly over already. I mean, that is both good (because I'm closer to birth), and bad (because I'm closer to birth). Whichever it is (likely a mix of both), it's time for another round of what I reluctantly learned from homeschooling for September 2016.
1) Provide enough time and space for the kids to work.
This way, there is plenty of time and physical room for the children to work out a problem or figure something out. No one likes to be crowded or cornered in, figuratively or literally.
I also won't be constantly looking at the clock, worrying that we have to leave in X minutes and harping on them for not moving faster. I have learned to just forget starting any type of homeschooling if there are about 15-30 minutes before we have to leave. Some of you might still be cool and calm and relaxed within that time frame. I am not that person.
2) Schedules (loosely held) are good. Too rigid: not good. Too lax: also not good.
I used to vacillate between the extremes of rigidly adhering to a schedule and then, if it gets blown in any minor way, just give up and completely blow off the schedules entirely and do nothing.
Apparently, there is a middle ground!
To bastardize a Bible verse about the Sabbath, the Schedule is made for your family, you are not made for the Schedule.
If it helps you to be as closely aligned to the schedule as possible, do that! But know that if life happens and you have to readjust your schedule or even blow it for a day/week/month, you will be okay.
Alternatively, having NO schedule whatsoever is also not helpful (at least for me). I think kids benefit from knowing generally what happens day to day isn't going to be constantly shifting (or at least, certain days of the week follow a certain schedule). This type of stability is grounding and provides "sign posts" throughout the day/week.
It also mimics real life, to a certain extent. The majority of life is repetitive and scheduled. (That is, unless you are the most interesting man alive, a super hero, or on a reality TV show.) It's good to get used to keeping to some sort of schedule.
3) What is the hurry anyway?
My brother says there is no point in rushing to be finished first at anything because it's not like you gain anything by learning addition faster than everyone else.
Eventually, you will learn addition. So what's the big deal?
I agree to a certain extent. I think at least in homeschooling, if you finish and learn something early and young, it frees you up to learn the things you truly want to learn.
Anyhow, I do like my brother's point, though. There really is no hurry and no huge change in life changing events or abilities if you go slower than the norm. Eventually, your child will get it.
Right now, the way I apply this is if I or my kids get frustrated, I just stop. I either personally walk away (or tell my kids to go away) and either come back to the subject later or just stop altogether.
This is especially helpful if my kid is no longer listening to me.
There is no hurry. Chill out.
4) Keep mornings, Mondays, and Tuesdays as empty as possible.
I get the most work done early in the morning and early in the week. If I don't get it done during that time, I feel a LOT of stress because I just feel all our unfinished business judging me.
I feel as if I'm a bad parent. Especially a bad homeschooling parent.
Thus, I find it better just to get things done and out of the way. I tend to slack off in the afternoons (hey, I'm exhausted all the time) and near the end of the week.
It's almost as if my brain just freezes and says, "Nope. All done. Brain full. No room."
Anyhow, I take advantage of my higher energy levels in the mornings and have the kids get as much as possible done.
5) Few things nip complaining about doing homeschool work in the bud like threatening the kids to go to regular school.
My kids, at most, have 1-2 hours of homeschooling instruction a day. I tell them if they complain and hate me teaching so much, they can go to school ALL day at our local school.
This terrifies them.
After all, I have spelled out, in great detail, how little free time they will have (my kids have SCADS of free time chasing after each other and watching screen times), and what types of things they have to do to "earn" video game and screen privileges.
They usually get back to work quickly when I threaten them with "Real" school.
Alright. This about sums up my latest homeschooling lessons for this past month. Good luck with everything else, my dear readers. (I'm about to keel over right now so I will be off to bed.)
Happy Monday!