BTS "Life Goes On" Review is part of my neverending love letter to K-pop boyband BTS. You can catch my ongoing series about BTS here or just sign up for my newsletter. This post also uses affiliate links.
BTS's "Life Goes On" sums up 2020 perfectly. It tenderly captures the grief, helplessness, and hope we collectively have undergone as a result of the pandemic, holding space for our sorrows and tentative tenacity to continue in the face of suffering. Read on for my full review.
Watch the BTS (방탄소년단) 'Life Goes On' MV below.
About 'Life Goes On' by BTS
Released on November 20, 2020 (KST), the lead single for BTS's new album "BE" (Big Hit, 2020) is gentle and comforting, and produced by Pdogg, RM, Ruuth, Chris James, Antonia Armato, SUGA, and j-hope. According to Big Hit Entertainment, "Life Goes On" "speaks on behalf of everyone stuck in the new normality brought on by COVID-19: one day, the world stopped without any warning, streets erased of footsteps and the way out is nowhere near in sight." BTS leader Kim Namjoon said in their press conference that core message of the title track is that no matter what happens, life goes on. He described it as weighty and soft, a consolation, full of a simple message and profound truth.
Marking the directorial debut of BTS member Jeon Jungkook, the "Life Goes On" M/V is intimate, nostalgic, and at times, heartbreaking. With no choreography, the video feels as if it is filmed by someone who loves the members dearly. Jungkook told the press he wanted to show the BTS members' "unadorned selves." BTS is depicted not on stage but as young people in their 20's going about their daily lives, coping with the consequences of a world pandemic. The video is moving and sweet — and when we see BTS perform to an empty arena, their longing glances are so poignant and sad.
The song opens with acoustic guitar and opens with Jungkook's honey vocals. The rap verses are more lyrical with only RM's verse more of traditional rap whereas SUGA and j-hope's verses are sung. Reminiscent of Jimin's "Promise" and V's "Winter Bear" and "Sweet Night," this mellow ballad is perfection.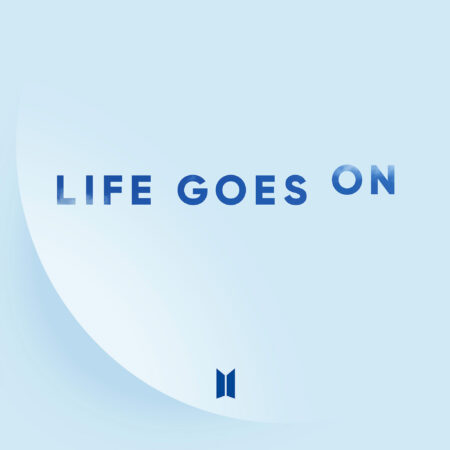 What I Loved
"Life Goes On" is beautiful, honest, and relatable. The song is a classic ballad and works in all the ways it's supposed to. The lyrics especially echo many of my thoughts this year. From the opening lines of "one day the world stopped without warning" to the chorus where they long to skip forward "to the future, let's run away" to the promise that though the world has changed, "thankfully between you and me / nothing has changed," the song comforts, heals, and restores our souls.
Also, SUGA's "Mmm mmm mmm" is sublime.
And the video? It's lovely. At times it feels as if you're spying on their private moments, and at others, it feels as if it's just the right amount of closeness. The switch between a more home-video film feel, the black and white candids, and then the full color moments bursting so bright — it's almost painful. I fully admit to crying while reading the lyrics and watching the video. Twice.
Also also, V's eyebrow lifts with that hair in black and white as they sing on bar stools are unnecessarily attractive. Actually, he is ethereally beautiful — especially during his car driving scenes. When he opens the video both literally and metaphorically removing his mask, it's a sight to behold. Taehyung is a vision.
Out of respect for all the hard work ARMY is doing while streaming "Life Goes On" on YouTube and other platforms for the first 24 hours, I will post my reaction video here later. Until then, please stream "Life Goes On!"
What I wish were different
I really don't have any criticism for the song or the M/V. "Life Goes On" is perfect.
However, I do wish that American radio would play this track — but I know that's a pipe dream. The inability of most Americans to fathom listening to music in another language — let alone one that is not Spanish — is astounding (although understandable). And while I'd like to turn this into a treatise of America's general xenophobia and racism, I won't because why should we sully the flawlessness of "Life Goes On"?
Final thoughts
"Life Goes On" is the quintessential song for 2020, epitomizing both lamentation and faith that someday, this too shall pass. Until then, we push on because to stop is to die. "Life Goes On" quietly exhorts us to live, to choose life, and to choose hope because even though "the world stopped without warning,… spring didn't know to wait."
If you like this and want to read more about my BTS Obsession, then you'll love these posts: