BTS "BE" album review is part of my never-ending love letter to K-pop boyband BTS. You can catch my ongoing series about BTS here or just sign up for my newsletter. This post also uses affiliate links.
BTS's "BE" is a solid entry in the BTS discography and a fitting cap to 2020. With more band participation than ever, this album has something for everybody — starting off melancholy and contemplative with attempts at cheer, and then post-skit, veering off into decidedly more upbeat territory. Read on for my full review.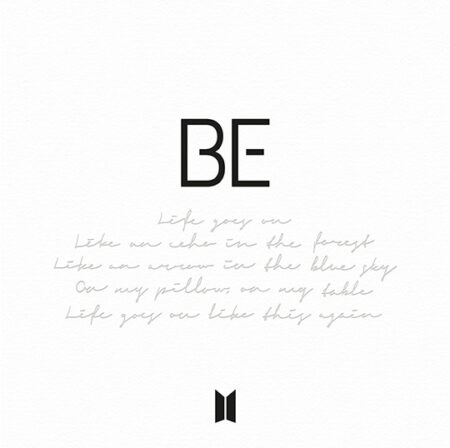 About 'BE' by BTS
Released on November 20, 2020 (KST) as the ninth overall album by Korean pop band BTS, "BE" (Big Hit, 2020) was conceived as a means to stay in touch with their fanbase known as ARMY. "BE" was also a means to tell their stories during the pandemic. Designed to convey comfort and hope, the album takes listeners on a journey similar to the arc of 2020. The eight track album opens with the wistful title track "Life Goes On" and closes with the joyful Billboard Hot 100 number one smash hit, "Dynamite."
On "BE," Big Hit Entertainment explains BTS opened "themselves up to express their mixed feelings about this situation — fear and anxiety mingled with the determination to overcome all this." At their press conference, BTS leader Kim Namjoon said that they wanted to relate their candid stories to their fans.
I review "Life Goes On" in another post so I won't retread it here. In short, the ballad is sweet, tender, and comforting, giving space for the myriad feelings we collectively feel about the global pandemic.
Watch the lead single off of "BE": BTS (방탄소년단) 'Life Goes On' MV.
"Fly to My Room" is a fun sub-unit track featuring SUGA, j-hope, Jimin, and V, and produced and written by Cosmo's Midnight, Joe Femi Griffith, RM, SUGA, and j-hope. The song sounds playful and cheerful while the lyrics are frustrated about their worlds narrowing from the literal world to their literal rooms — and how they're coping with that change. BTS went from global stars about to embark on a worldwide stadium tour to seven dudes stuck in their bedrooms.
While critics may say it's not entirely relatable because they're seven rich, extremely good-looking dudes stuck in their bedrooms, it's fruitless to compare whose suffering is greater. No one ever wins this kind of pissing contest. They may be some of the most famous humans on earth, but they're still persons in their 20's who have been greatly affected by the pandemic.
One of the primary appeals of BTS is that despite being in a highly unrelatable profession, the members manage to convey universal themes and messages of loneliness, love, fear, and healing. Jimin's line, "This year's been stolen from me" [translation courtesy of fan translator wisha] is exactly how I — and many of my peers — feel about 2020, and to see it stated so baldly in a song makes me feel seen and understood. So despite the fact that what was robbed from me (and the rest of the world) differ on scale and scope, we can empathize with the sentiment.
"Blue & Grey" is an acoustic pop ballad produced and written by Ji Soo Park, Levi, V, Hiss noise, SUGA, RM, j-hope, and Metaphor. Without even knowing the lyrics, the deep, permeating sadness hits you in the gut. I was in tears the first listen and it's definitely my aesthetic. In their press conference, V mentioned how "Blue & Grey" is a gentle song "expressing deep sadness and depression."
The musicality, the deeper registers of the vocals, SUGA's entire verse, and the lyrical rapping by RM and j-hope all work together to convey that ache of burn out. And yet, the song itself is healing, subdued and hopeful. It is most similar to the title track, "Life Goes On," which is probably why I love both so very much.
"Skit" is their reaction to hitting number one on the Billboard Hot 100 for the first time. I'm not a person who cares for skits — even in languages I understand — so I can't say I found it particularly interesting to listen to. Reading the transcript made me laugh and I loved just how happy and ecstatic they were. Of course, SUGA's response of swearing is perfection and I agree with V's opinion on the Vlive they conducted for "BE." Set Yoongi's curse words free!
I particularly found the vulnerability of sharing such a happy and milestone moment on their album with their fans. Just like the last skit of winning their first Billboard Top Social Award which they put on "Love Yourself: Her" (2017, Big Hit Entertainment), critics could call the recording self-indulgent or self-important. But why shouldn't they be happy about breaking records and racist boundaries? Why shouldn't they celebrate their achievements? To do otherwise is the height of arrogance and fear — arrogance to feel as if they're entitled to the acclaim and fear to succumb to the meaningless babble of critics.
The tone of the album shifts after the skit from the shock and sadness of grief to a more upbeat and hopeful turn. "Telepathy," produced and written by SUGA, EL CAPITXN, Hiss noise, RM, and Jung Kook, is a groovy and upbeat disco pop song. Kim Seokjin said during the press conference that it was meant to "melt down emotions" they shared with fans. The lyrics are sweet and call back to several other songs (for a lyrical breakdown, please check out wisha's translation). After overcoming my initial objection of too much autotune, I have now given myself over to the song's musical brilliance.
"Dis-ease" is the standout track of the album. Produced and written by j-hope, Ivan Jackson Rosenberg, GHSTLOOP, RM, Pdogg, SUGA, Jimin, and Randy Runyon, the song is magnificent. Starting with a sparse beat and funk guitar, it's just j-hope rapping on the beat, riding and playing with it like a master. The hook is surprising and fresh, RM's verse is sexy and hard hitting, and SUGA's verse is rapid fire, coming out swinging. The lyrics reflect what j-hope mentioned in the press conference as "uncertainty and uncomfortableness" as well as "sharing a message of a bright future."
"Stay," the last new track on the album, was produced and written by Arston, Jung Kook, RM, and Jin. The sub-unit song of Jungkook, Jin, and RM starts out promising, and the vocals are solid, and Jin's voice is especially captivating. The "stays" right before the hook are beautiful and full of longing and want. But the buildup to the beat drop sounds generic and the actual beat drop is disappointing.
The song as a whole was not my favorite and the weakest on the album. However, it does feel like an excellent club song and gives the feeling of speeding along in space and a lot of movement. The lyrics, though, are as expected. Poignant and poetic, begging their love to be with them unto the end after being apart for so long.
The album ends on "Dynamite" which I have also previously reviewed. Despite it's record breaking, I don't particularly care for the single produced and written by David Stewart and Jessica Agombar. However, I do acknowledge that it's a savvy move to cap the album with the song — both as what Namjoon called the fireworks at the end of their concerts, and to add the platinum qualifying sales to "BE."
What I Loved
On first listen, I loved the heart wrenching ballad, "Blue & Grey" the most — closely followed by "Life Goes On." Those two tracks are haunting and sad and perfect for my pain loving heart. However, after listening to the album for a day, though those two songs are pretty and comforting, the best two tracks are "Dis-ease" and "Telepathy."
"Telepathy" comes out swinging and I can't imagine it as anything but a declared fact of love. I love it. But "Dis-ease"— "Dis-ease" is so sonically provoking. All the interesting sound effects and record scratching give it an old-school feel. But hands down, when Jungkook and Jimin come in during the bridge at 2:51, it is the most glorious moment on the entire album. Absolutely stunning. Rapturous. The Jimin penned bridge is perfection.
For my initial reaction to "BE," check out my reaction video.
What I wish were different
As I mentioned above, I am not a fan of autotune. I am stuck in my ways so when I am first confronted with a lot of vocal distortion, I think of people who are trying to hide their inability to sing. But BTS members can sing — even SUGA on occasion. And because I love their natural voices, it takes time for me to get used to the effect and accept it. Sometimes, I never really do.
But usually, their tracks are so well musically and lyrically crafted that given enough exposure, I end up no longer noticing the heavy autotune effect. Thus, autotune was the main reasons why I did not immediately enjoy "Telepathy" or "Fly to My Room" despite their groove and playful sounds.
The other song I wish were better is the Jungkook produced "Stay." Admittedly, I generally despise EDM (it is too similar to the generic techno club beat of my youth and I hate it) so I was primed to dislike the song. The lyrics, again, are moving — as expected — and the bridge right before the hook where Jin, JK, and RM alternate singing "stay" is fantastic, but the beat drop is ultimately tired and expected. Even the closing sound effect used at the end of the song sounds ripped from RM's "mono."
Of course, I would be remiss to mention how though I understand why strategically, they included "Dynamite" on the track list (after all, it's difficult not to add a record-shattering song) and mood-wise, it also makes sense, I still hate the song and thus protest.
Final thoughts
"BE" is respectable entry in the BTS album pantheon. Though I initially only liked half the album on first listen, even as early as the second listen, I started to like the other tracks markedly more. And now, after repeat listens, I'm sold. Without question, the standout tracks are "Dis-ease" and "Telepathy" — fantastically crafted, rich, and endlessly rewarding.
If you like this and want to read more about my BTS Obsession, then you'll love these posts: