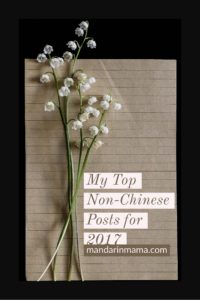 As much as I'd like to think that everyone waits for my new posts with bated breath, it's possible that you may have missed one or two (or more but WHYYYYYYYY?) in the course of this year.
Because I love you and am everything that is kind and helpful, I have compiled my top non-Chinese related posts for 2017 here for your viewing pleasure.
1) I Cut My Kids' Screen Time and This is What Happened – In my super click-baity but useful article, I talk about what happened when I cut my kids' screentime. The awesome thing is, we have kept it up.
2) Why I Homeschool – Everyone has their own personal reasons for choosing to homeschool and here are my top three reasons.
3) How I Homeschool with 4 Kids – Many people ask me how I homeschool with four kids, one of whom was a newborn. Here, I give some details into our daily schedule and curriculum.
4) Is Me Saying Fuck Really What Most Offends You in 2017? – My petty is on full display in this post when two asshats try and language police me. I keep receipts and have zero problems producing them.
5) It's Not About Me – Even though my father was an abusive parent, he got what he wanted from us. Sometimes, I would like to get what I want from my children.
6) How the Instant Pot Changed My Life (and How I Use It) – The title is pretty self-explanatory. I share three ways the Instant Pot changed my life and six ways I use it.
7)  Top Financial Things You Should Do After Having a Baby – Part of being a responsible parent is providing for our children. Here, I list the top 5 things you should do to protect and provide for your new baby.
8) Instant Pot Hacks – My top four Instant Pot hacks that I use to make my life easier.
Oh, and one other thing I did in 2017 –
 did you know I wrote a book on how to teach your kids Chinese? You can get it on Amazon and it's conveniently titled, So You Want Your Kid to Learn Chinese.
It's full of practical advice, detailed applications, and heavy amounts of snark. Find most of the answers to your questions about how you can help your kids learn, speak, and read Chinese.